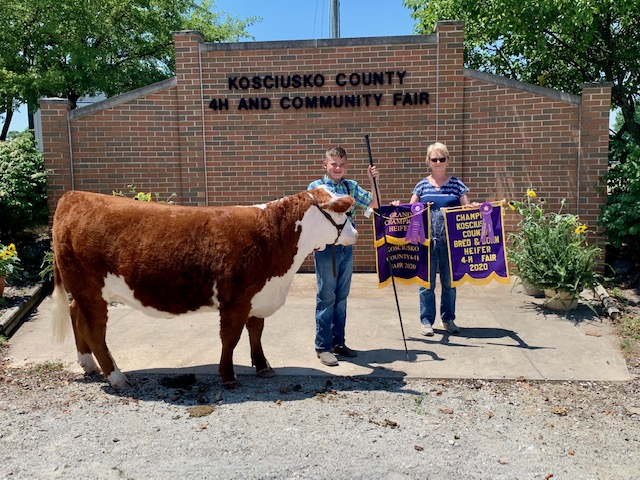 The Kosciusko County Community Fair may have been cancelled due to COVID-19, but that hasn't stopped the 4-H projects and shows from carrying on this week.
The Purdue Extension Office has allowed live animal shows to continue with restrictions. Those restrictions mean the animal barns are closed to the public, only the 4-H member and their immediate family, along with two passes for helpers, can attend, masks are recommended, social distancing is required and animals cannot stay overnight in the barns.
Last Wednesday and Thursday, judging of general projects was held at the fairgrounds in a drive-thru setting, Mindy Wise, Kosciusko County 4-H Extension Educator, said.
"Our judges had stations set up in our livestock barns and people brought their projects and literally drove through like at McDonald's but instead of taking their food they showed their projects," Wise said. "One girl brought a 2-1/2-foot decorated cake in the back of her van, and she rode back there with it the entire time."
Wise said the participation numbers were lower than usual but the ones that did participate gave positive feedback.
The live animal projects are being judged all this week in the barns. Monday was beef and rabbits; Tuesday was swine and poultry; today is sheep and dairy; Thursday is goats; and Friday wraps up with dairy feeder steers.
The families have to bring their animals each day to show them and round them up and take them home at the end of the judging. The barns are then cleaned and sanitized. Masks are being provided by Purdue to all exhibitors.
Renea Messmore said that also helps keep a limited number of people on the grounds each day, which is helpful to them following CDC and state-recommended guidelines of 250 people or less.
An option that Purdue put in place in May was that the live animal shows could also be held virtually if a family did not feel comfortable doing it live.
Wise said she doesn't have the exact numbers yet for how many participants will do it virtually but that some are choosing do to that.
"Those animals go into a separate class category, so virtual entries are judged against other virtual entries," Wise said. "That levels the playing field a little bit and makes it a little easier for our judges."
Wise said the number of participants is also lower than usual for animals, but that overall she and Messmore have both heard sentiments of gratefulness taking over during this unique time.
Heather Lechlitner lives in Nappanee and has two boys who show beef and swine in 4-H.
"The unique thing about it was it did give us more of an opportunity to have even more time to work with them," she said. "Since we have to care for animals, we were able to spend more time at the barn that we wouldn't have with schools, and we had lots more time so I?am beyond grateful that my kids had that opportunity to get out of the house."
Lechlitner's been in the sweltering heat Monday and Tuesday at the fair with her boys and said "it's smiles and laughing" in the barns.
"You have to keep pushing through. I?told somebody the other day that I think COVID changed a lot of things, but after being at the fair for two days what it didn't change is these 4-H kids – their resilience, their perseverance and their hard work. It's bred in them to keep going and keep pushing, because it's their responsibility to care for those animals, and it's evident. My kids were beyond grateful, and we've had lots of talks about how blessed we are to live in the county where people have been working so hard to get everything in place. It's given us a bit of normalcy, in all honesty."
Photos will be provided by Messmore to the Times-Union of grand champions throughout the week for publication. Neither the public nor the media are not allowed to attend.