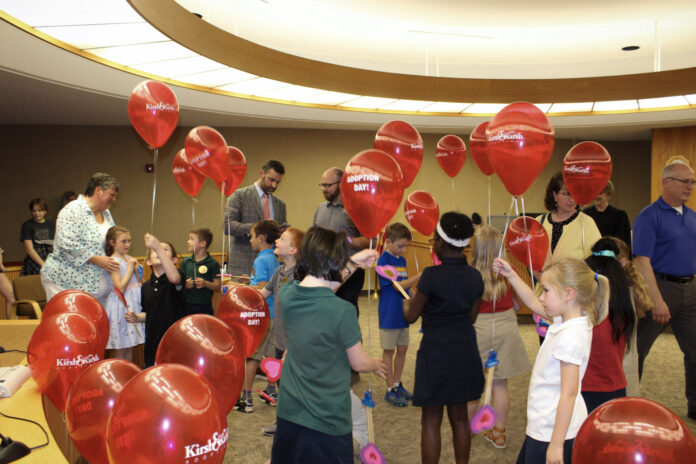 Warsaw, Ind. (NNW) – May 13, 2022, marks a day to remember for one special little girl, her family, and all who stood witness in the courtroom.
The Smithberger's Kevin and Susan talked in court Friday evening about how they have been talking about adoption for a long time; they have already been licensed to foster. Still, it wasn't until early October of 2020 that they met Summer, their soon-to-be daughter, and began to feel that it was God's plan.
Susan Smithberged stated that Cathy Parker, a mutual friend of Susan, and a skills coach of Summer, had arranged to meet at a park in Plymouth, Ind.
Summer was unaware that her life was soon to change for the better.
A couple of weeks after this meeting, Summer stayed with Susan and Kevin for three to four days. Upon taking her home, they told her she would be coming back and permanently living with them.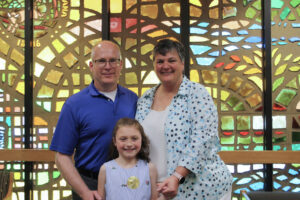 When asked how Summer took the news, Susan said, "As any other child would, confused, sad, ending one chapter of her life, but excited too."
Susan said, "We told her this was the last home she was going to be in, and that meant a lot to her.
She continued while pointing to her head and heart, "You can get that up here, but to get that down here, takes an awful lot."
Upon their arrival on the day of the adoption hearing, Summer Smithberger, eight years old, was full of excitement and life while anxiously awaiting for her classmates to arrive. She talked about feeling "nervous" while displaying a big smile when referring to meeting Judge Karin McGrath of Kosciusko County.
The room outside the courtroom began to fill with family, friends, neighbors, classmates, teachers, the principal, the school administrator, and dedicated individuals who worked closely with the adoption of Summer. Individuals talked amongst one another, brought gifts to Summer, and captured memories through pictures.
One of those pictures was of Summer's second-grade class from the Community Baptist Christian School in Southbend, where she began attending while in the care of Susan and Kevin Smithberger.
Susan stated the small Christian school Summer attends had a bible lesson on the topic of God adopting us into his family. Susan said that the lesson took place a week after their adoption date, "and the teacher Lisa Mohnacky said – Hey if summer happens to get adopted before the school year, let me know because I have an idea."
Susan continued, "The principal is also here, and he has five siblings that are adopted, so it's just important to the school." Referring to summer's adoption and the advantages of a small school supporting them.
Once court began, everyone began to fill the courtroom and excitedly awaited Judge McGrath to enter to start the adoption hearing.
"We are here on the petition for adoption," says McGrath.
When Judge Karin McGrath asked Kevin and Susan Smithberger to speak in their own words about what they're doing today, Kevin replied, "it depends – how in-depth do you want to be?" Laughter from the courtroom followed. He said that adoption was something that he and Susan talked about for a long time and at various points in their lives.
Susan addressed the courtroom by saying, "the only thing that's happening today – is her last name is changing because she's been our kid since we've had her."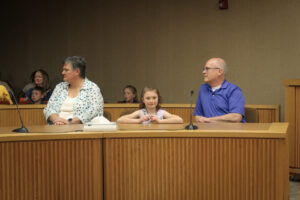 Judge McGrath asked the courtroom for someone to talk briefly about why these two (Kevin and Susan) are best suited to be Summer's parents.
One of their daughters, Grace Linhart, spoke through tears of joy, "well, I am hearing all around, Grace Grace Grace, although I am most likely to cry." While speaking on behalf of herself and her siblings, she said, "we know our parents to be the most responsible, loving, and supportive people that we know, and we love them both for it, and we know that Summer will be an amazing addition to this family."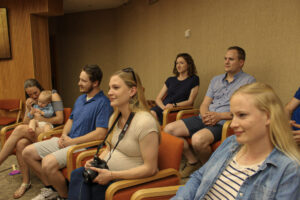 When the Judge asked Summer what she thought, Summer said, "I am ready to stay with them my whole life. I went from home to home; I waited practically 559 days.
When McGrath asked Summer if she thought they would be good parents, Summer said, "of course, they will." She spoke about how her parents know her and that all her brothers and sisters know what is best for her.
Moments later, Summer legally became Summer Smithberger. Hugs and tears of joy were shared amongst individuals in the courtroom.
Judge McGrath presented Summer with a Jockey Being Family backpack and handed her items which Summer took excitedly, hugging a blanket that was one of the items contained in the bag.
Court took place from about 2 pm to 2:36 pm.
Before finding a loving home with Susan and Kevin, Summer had five different foster homes in two years.
Grant Kirsh, Smithberger's attorney of Kirsh & Kirsh, P.C., commented on a general adoption in Indiana, "Talking particularly to DCS foster care adoptions, children can be in the foster care system for up to ten years."
Susan added, ", especially for older children."
Attorney Kirsh stated, "anybody could be an adopted parent. There is a need in Indiana and even in the country for foster care children." He went on to say, "it's not an easy job, Susan will even tell you, but anyone can adopt, and it can be a rewarding experience."
Krish said, "my law firm does 700 adoptions a year, and this is the first time I've ever had an entire class, in person, show up for an adoption hearing, so this is kind of special."
He also stated that he thinks he is the only attorney in the state who owns two professional-grade helium tanks. He said his wife and two other paralegals assisted in blowing up the balloons handed out to the children in the courtroom today.
These balloons lined the Jury seats. (Pictured below)
After the adoption hearing David Slone of time-union quoted Judge McGrath by writing, "It's been a long road for Summer to get to this point … so I think a lot of people, like the CASAs, DCS wrapping around this child to get her to a point where she's in this perfect place, position her in a forever home. It took a while, so all these people invested in that process are now extremely excited to see it come to fruition. And I think her, as well, wanting her class to be here made it extra special,"
"This is the happiest thing we do in this room. There's a lot of sadness, tragedy, and many challenging things. These are the highlight hearings of what we do. Absolutely."
When asked about their weekend plans – Susan Smithberger said they are having a celebration dinner tonight, and then it's back to normalcy.