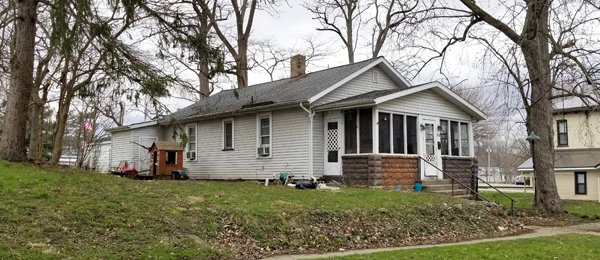 Two social service agencies are working to line up an apartment for an older man who had been living in substandard conditions in a house on South Union Street in Warsaw.
Darwin Busz's house at 316 S. Union St. had fallen into disrepair, and has been an ongoing concern for city Code Enforcement workers for more than a year.
On Tuesday, the city learned that an apartment has been reserved for Busz at 802 Center, the new senior housing complex at 802 E. Center St. That comes at the same time the South Union Street house is about to be sold.
The arrangement came after the city reached out to adult protective services, which then worked with Bowen Center.
An adult protective services caseworker worked with Busz and the Bowen Center, which helped him find an apartment and get paperwork together, according to Rob Hurford, the city building inspector.
Hurford said if the city receives a purchase agreement on the house and a move-in date for the apartment, they could likely close out the case as soon as next month.
"I think it will be good for everybody," Hurford said. "It will be good for him. The buyers will rehab the house and get it fixed up, which will make the city happy. And it will be a good house for somebody to live in."
The city was first alerted about the property after police investigated drug activity at the house and discovered people living there without water or heat.
The Warsaw Housing Authority then got involved and was working with a contractor to make repairs, but workers balked at some point because of some of the ongoing apparent activities in the house.
The city conducted another inspection and then reached out to adult protective services because of poor living conditions.
In another matter, Code Enforcement Hearing Officer Tom Earhart is specifically asking the owner of Skyteam Properties to appear at the next Code Enforcement hearing.
City Code Enforcement originally had concerns with two Skyteam properties; one of those has since been remediated.
Progress in addressing code violations at a Skyteam Property apartment building at 303 S. Indiana St., though, continues to drag on despite fines of $4,100 in recent months.
That includes a $1,000 fine levied Tuesday for two lingering code violations.
Earhart is specifically asking that Skyteam Property owner John Fussle attend the May 17 meeting to provide an update.
In previous meetings, Code Enforcement has worked with Skyteam's attorney and a manager.