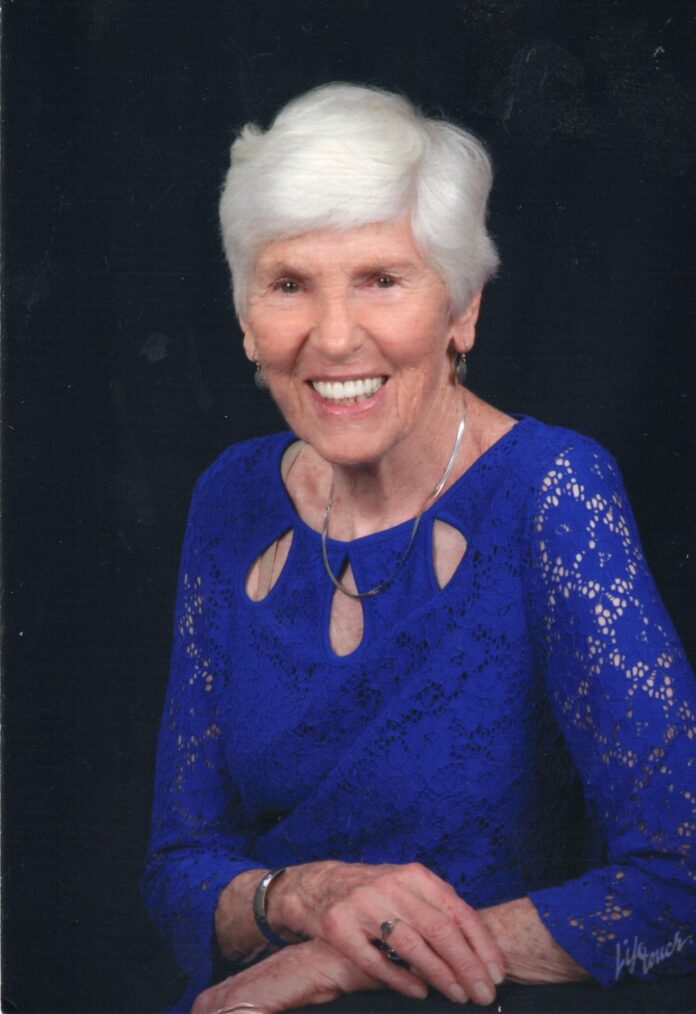 Alice Parker Brown, formerly of Warsaw, Indiana, died peacefully on February 2, 2002, at Hubbard Hill Living Wisdom Center in Elkhart, Indiana at the wonderful age of 96.
She was born on November 25, 1925 in Boston, Massachusetts to Dorothy (Tenney) Foss and Alden Simonds Foss. She grew up in Cambridge, MA, and spent childhood summers at her family's country home in Greenfield, NH. During high school she spent two summers in New Mexico. On September 4, 1948, she married Andrew (Andy) A. Brown and they settled in New York, moving to Wisconsin in 1967 and Indiana in the 2001. They raised three children and enjoyed their grandchildren and great-grandchildren together throughout 58 years of marriage until Andy's death on March 3, 2007.
Alice attended Buckingham School for girls in Cambridge, MA, and Rockford College in Rockford, IL. She earned a degree in Mathematics from Syracuse University in Syracuse, NY, and studied Early Childhood Development at Mt. Mary College, University of Wisconsin, and Milwaukee Area Technical College, all in Milwaukee, WI.
Alice worked as a bookkeeper, retail clerk, lifeguard, water safety instructor, ski instructor, and preschool teacher. She volunteered for many years as a certified teacher-naturalist at Riveredge Nature Center in Saukville, WI, and Merry Lea Environmental Learning Center in Wolf Lake, IN. She adored children and loved outdoor activities, including gardening, hiking, biking, camping, swimming, tennis, badminton, skating, and skiing.
Alice and Andy opened their home to all, including foreign exchange students, foster children, single mothers, missionaries, recovering addicts, and homeless individuals, and especially their family and friends. Their love of travel took them to places like British Columbia, Bonaire, Jamaica, England, Switzerland, Italy, Israel, and much of the United States, including Alaska and Hawaii.
Alice's greatest passion was her faith in Jesus Christ. She committed her life to the Lord in 1957 and served faithfully all her life. She was an active member of her church, Bible study, women's ministry, and children's ministry. She served on mission trips to Mexico, Guatemala, Morocco, Austria, and Russia. She was part of the Women's Auxiliary for The Gideons International for many years, enthusiastically giving New Testaments wherever she went. In her eighties she served as a trained Stevens Minister through Warsaw Evangelical Presbyterian Church.  She loved people and had a smile that could light up a room.
Alice is survived by her children, Caroline (Tom) Roy, of Winona Lake, IN, Lawrence (Carol) Brown, of Rome, GA, and Nancy (Dale) Belcher, of Independence, KS; her sister, Harriet Koch (Brookline, MA); and her eight grandchildren and twenty-two great-grandchildren. She was preceded in death by her parents and husband.
Alice will be laid to rest with her husband, Andrew Brown, at Oakwood Cemetery. Her life will be celebrated with a memorial service at 3:00 pm on Saturday, April 23, 2022 at Warsaw Evangelical Presbyterian Church, 210 S. High Street, Warsaw, Indiana and officiated by Pastor Andrew Morton.  The service will be followed by a time of food and fellowship with family and friends.  Arrangements were entrusted to Redpath-Fruth Funeral Home, 225 Argonne Road, Warsaw, Indiana.
Memorial donations may be directed to: Warsaw Evangelical Presbyterian Church, 210 S. High Street, Warsaw, Indiana  46580; The Gideons International, Memorial Bible Chairman, P.O. Box 766, Winona Lake, Indiana  46590-0766; or to The Nature Conservancy, Attn: Treasurer, 4245 N. Fairfax Drive, Suite 100, Arlington, VA 22203.
Online condolences may be sent through the funeral home's website at www.redpathfruthfuneralhome.com.