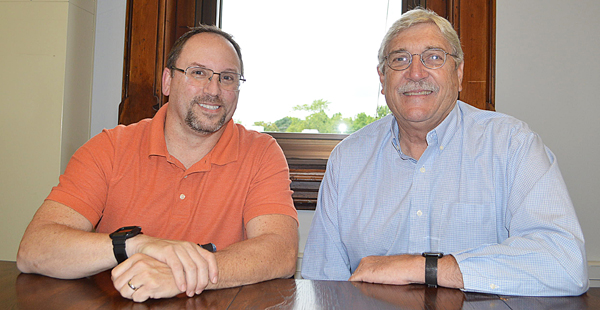 Dan Richard likes to say that he's been the Area Plan Commission director for one-third of the lifetime of the Kosciusko County Courthouse.
The courthouse was built in 1883, while Richard started with the county in June 1977.
At the end of this month, Richard will be retiring as director, while Assistant Director Matt Sandy will be taking over officially Oct. 1 in his place. Sandy has been with the county for 23 years – a little over half the time Richard has been director.
Originally from Bloomington, Minn., Richard went to grade school and started high school there. He ended up going to four different high schools, graduating from Carmel High School in 1971. He graduated from Ball State University in 1975, and went to graduate school at Indiana State University to early 1977.
He started as the Kosciusko County Area Plan director in June 1977 after being hired on by the Area Plan Commission.
"I've been here, loving it, ever since," Richard said.
He followed Bob Orcutt, who served as the second planning director for about a year. The original director was Jim Baker, who worked attorney – and later judge – Bob Burner in setting up the Area Plan Commission. The Commission started in 1969, but ordinances didn't start being administered until March 1, 1975, Richard said, because of all the work that organizing and establishing the Commission entailed.
"Things have changed so much from the start when I started here. Just think about the types of development that were going back in, in the '70s, and what we're doing now. We had to, as a planning commission, attempt to adjust to the different styles and type of development that are going on now," Richard said. "It's been a bumpy ride at times, but it's been a good ride. I think we've done an excellent job in adapting to try and fit the types of development we're dealing with now.
"Now, admittedly, it changes every year the different styles and types and our ordinances need to try and keep up and reflect those changes, and we need to try to stay as diverse as we can the whole time, and I think we've been able to do a pretty good job of this."
The one thing that really has been consistent in all the years that he's been with the county, Richard said, is members on the Plan Commission and Board of Zoning Appeals "that have really cared about what they're doing." They don't come to the meetings just wanting to put in the time, he said, but they've "really wanted to try and seek better ways to handle development in Kosciusko County and they put in the time to be able to do it."
He's read horror stories about other counties and conflicts they have between their directors and commissioners.
"But you've really got to say, in Kosciusko County, we've been so fortunate to have people that bend over backwards to work together for better planning and community growth in Kosciusko County," Richard said.
One of Richard's other passions is officiating high school and college volleyball, and he's done that for about as long as he's been the Plan Commission director.
"And I've been very lucky, I've been very successful in that. I have officiated 10 girls state final matches over my career. And I enjoy it, and because I enjoy it so much, I will continue to do my reffing because that's fun," he said.
But why is he leaving his director job after over 45 years?
"I couldn't give you a  – it's time. You just kind of feel it within that it's time, and I've been so fortunate to have Matt here that I feel like it's just like reading a book and you're just turning a page, we're going to keep right on going and everything's been well," Richard answered.
He said he's healthy, he's lucky as hell and he has a lot of family that he wants to spend more time with. He's never felt like he's been pushed or moved along, he just feels like it's a good time and he feels really good about it. Richard said he's also leaving behind "a really good situation" with Sandy taking over as director.
"Matt knows everything, does everything that I do now. They're not going to miss a beat in going with Matt. Matt's worked with us for 23 years, and I even now go to advice for some things to Matt. So, we're in great shape with that," Richard said, pointing out that it was the Area Plan Commission's decision on who to hire for director. "But I think when they got right down to it, the choice was very obvious for them. And Matt's background, his temperament, his makeup, everything he does, he's just so fitted to take on a job that's most of the time pretty thankless and people chewing on you and having to turn around and accept it and just give nothing but sweet kisses and flowers back."
Originally from LaPorte, Sandy graduated from high school there and then graduated from Indiana University – Bloomington with a degree in public affairs management from the School of Public Environmental Affairs. He came to Kosciusko County in 1999.
"The county won me over. It's a beautiful county. Not knowing what to expect then … it's been an amazing journey," Sandy said.
At the very beginning, he didn't think he'd be around here for 23 years, but as time went on he found it hard not to be in Kosciusko County.
"I was lucky enough to meet my wife in Kosciusko County. Two beautiful daughters, and we've made this home, not just a place to live," he said.
Starting out as the assistant director in 1999, Sandy said there was a huge learning curve, not just the day-to-day responsibilities but also the rules and regulations, comprehensive planning and everything else.
"I think any job you go into takes you a while. There's two sides of a job you have to get comfortable with: One is your responsibilities, the other is your office environment. Our office environment has felt like a family. Always has. We've been lucky, and I've been lucky," Sandy said.
He said Richard has been a great mentor and a great boss and he hates to lose him.
Sandy echoed the sentiments of Richard about the Area Plan Commission and Board of Zoning Appeals, the knowledge they have and the members' backgrounds.
"I've learned so much from them of where things are in the county and what they used to be, so we're lucky there, too," he said.
"I was appreciative of the Plan Commission when they did hire me. I went through the same steps I would have if I had to interview and go through that process, so I truly appreciate them having the confidence that I am the person for the job," Sandy said.
When he's not working, Sandy serves as a member of the Purdue Extension Board. He spends time a lot of time with family, enjoying camping as often as possible.
"Just spending time with people who are important," he said