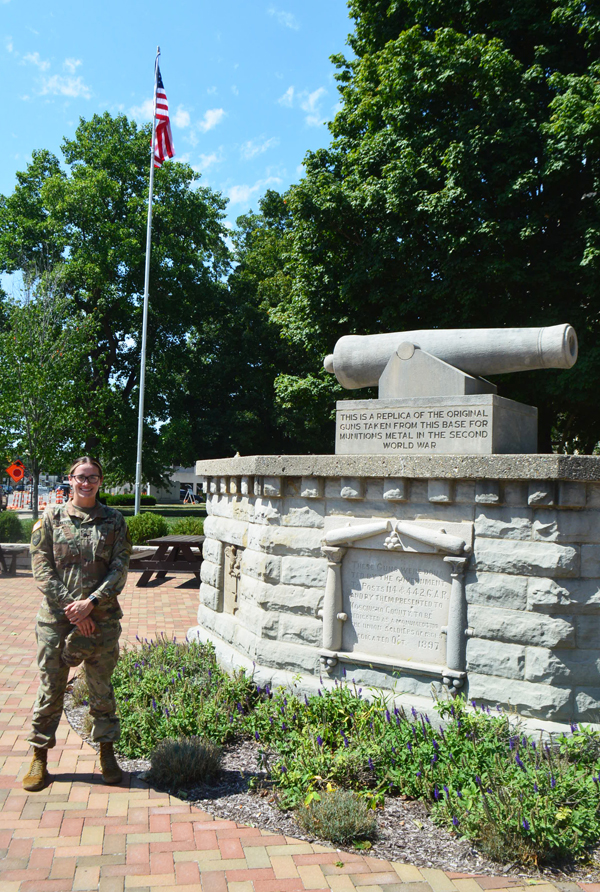 TIMES UNION REPORTS – Warsaw's first female Indiana Army National Guard recruiter served nine months in Afghanistan.
Sgt. Sarah Stankovich, 26, a military police officer, deployed to Kandahar, Afghanistan, in 2020 for nine months.
"There we did real military police operations, so I was the (non-commissioned officer in charge) of desk operations, so I was the highest-ranking non-commissioned officer for the desk operations. That means, for the most part, I was similar to a dispatcher, is what I would say," she said in an interview Tuesday afternoon. "However … the person in charge of me thought my talents were maybe a little wasted on the desk."
She was given some free reign in her job so she got to respond to things like indirect fire, which is if a rocket or a bomb is launched unto the base. Military police are in charge of responding to that.
She also got to respond to traffic accidents and enforced regular traffic laws like speeding and not stopping at stop signs. "All the same stuff you would imagine, I got to respond to that there as well," Stankovich said.
"We also got to respond to breaches. For example, an Afghan – just a regular civilian – breached our perimeter through a hole in the fence, so that was one of more base security things. A very big no-no there, so we responded to that," she said.
The civilian was detained and they made sure he was removed from the base.
She also participated in base-wide training exercises where they trained their dogs, firefighters and everything else to make sure they were prepared in case anything should happen.
From her experience, Stankovich said, "It wasn't as bad as at the start of the war where I would hear (about) all those things (IEDs, suicide bombings, etc.), too. We only had one combat-related death while we were over there. One out of all the soldiers who were in Kandahar at the time. So, that tells you right away that it wasn't as bad when I was there as 10 years ago."
The U.S. ended its war and pulled out of Afghanistan as of Tuesday. The final evacuation airlifted more than 120,000 people from Kabul airport but left more than 100 Americans behind, according to the Associated Press. A suicide bombing on Aug. 26 killed 13 American service members and some 180 Afghans. More died in various incidents during the airport evacuation.
Asked for her thoughts about America pulling out of Afghanistan, Stankovich said, "For me, it tugs a lot of different ways, I guess. It's hard to explain. I worked with a lot of Afghan civilians. A lot of people don't realize that when you deploy, the people you are employing while you are over there – like the people who work in the chow halls, people who fix your AC unit, something like that – those are just Afghan civilians who have volunteered to come work on our base. So, going to the same chow hall every day, talking to those same civilians, it really makes you wonder where are they now? Because they worked for us loyally for years and now we're not there anymore to protect them."
Stankovich was born and raised in Elkhart. She graduated from Elkhart Memorial High School in 2013, joining the Army National Guard in April that year. She shipped off to basic training in August 2013 and has been diligently serving since then.
In the Guard, she went to a Slovakia training mission; Guantanamo Bay, Cuba; and Afghanistan.
"The Slovakia training mission was a really cool, kind of an eye-opener for a young private, Specialist Stankovich, at the time," she said. "We trained with all countries under the United Nations. So I got to work mostly with Czech soliders. So they would train us in how they would do things, we got to work with their police dogs, we got to learn their military police operations because I am a military police officer. So we got to learn how they do things compared to the way that we do things."
For about nine months from Thanksgiving 2017 to 2018, Stankovich went to Guantanamo Bay, Cuba, where all the alleged terrorists – called detainees – are held.
"I got to work in the facility with those people. I can't say information about those people," she said, though she described the experience of working there as "more relaxed than you would imagine, I think. It wasn't like a high-stress job for me. I've had other jobs that are more high-stress than that."
At Guantanamo Bay, Stankovich said she did correctional tasks, nothing like military police operations. "It was the other side of the house – so MP corrections, MP regular stuff," she said.
She then deployed to Kandahar in 2020. After returning home from in September 2020, she started recruiting in Kokomo for the Army National Guard in December. In August, she began recruiting in Warsaw.
Another opportunity Stankovich has got to do while in the Guard is the German Armed Forces Badge for Military Proficiency.
"That is basically the German PT test and they allow us to do it. If you pass all the events, you get to wear a special ribbon on your dress uniform," Stankovich said. "So while I was in Cuba, I got to take their swim test. I believe it's like a 200-meter swim test in uniform. You have to do a flex arm hang, a gas mask test. There's a couple different runs, a rug march and shooting qualification. So all that, and eventually I got the gold standard for the German Armed Forces Badge. It was probably one of my favorite accomplishments. Something I would never get to do if I was here in the States all the time."
She is glad to be home with her dog Jasper, a female German Shepherd, and her nephew.
It was her best friend, Abbi Bartholomew, who went to Cuba with her, who got Stankovich into recruiting. Bartholomew had been recruiting since Cuba and she told Stankovich, "You know what, if you want to wear the uniform every day, this is going to be the job for you. It's relaxed, but you still get to wear the uniform, you still get to show people what you're doing."
She said while she knows Elkhart like the back of her hand and it's her home turf, Warsaw "is like a step up. Warsaw is beautiful compared to Elkhart. I love working here. It's really nice so far."
As Warsaw's first female recruiter, Stankovich said it was "definitely different. I grew up playing different sports. I grew up watching different TV shows. So relating to the younger men is a lot harder for me just because I don't know all the football or sports lingo. I just don't know all that stuff. But I think that opens the eyes of a lot of young females as well because … there hasn't been a female recruiter here before, so they're seeing me for the first time and they're like, 'Oh! I can do it, too!' It just opens their mind a little bit. Expands horizons."
Stankovich ended up as a MP because the recruiter in 2013 told her women can't be in the infantry. "The next best thing is MP, so that's where I landed," she said.
The few couple of years in the uniform she wondered what she was doing. But then she had that first training mission to Slovakia.
"It just opened my eyes. I was like, 'If I start volunteering for things, I get to see the world.' If all you ever do at your job is put your nose and plug your ears, you're not going to get any of those cool experiences. Looking back now, eight years in, the best decision of my life," she said.
To contact Stankovich for more information about the National Guard, call 812-725-6684; email sarah.a.stankovich.mil@mail.mil; or visit the armory at 315 W. 350N, Warsaw.
There is a free Army-style, open workout at the National Guard armory at 5 p.m. Tuesdays.