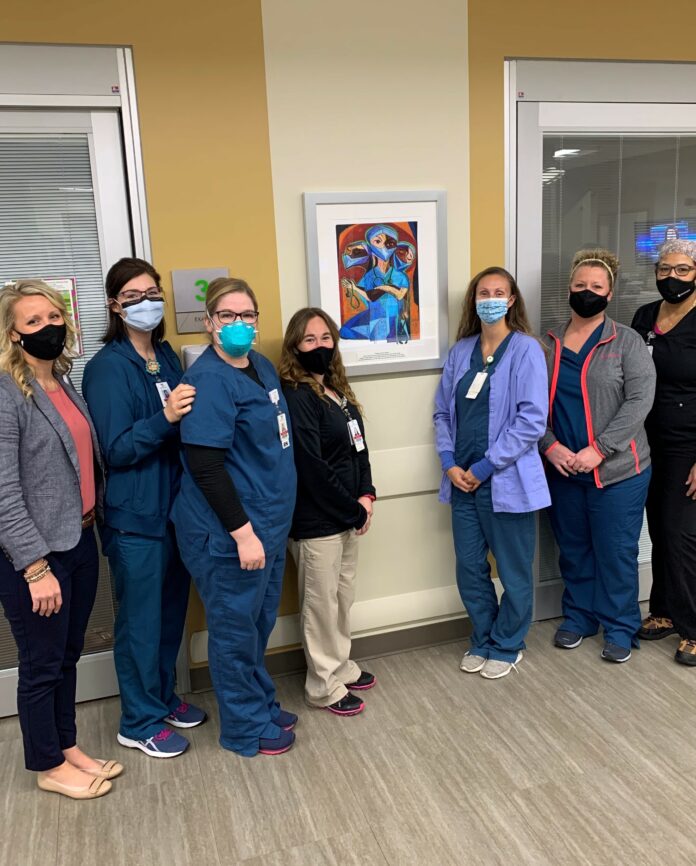 Artwork honoring nurses was installed at all Parkview hospitals Friday, culminating a weeklong celebration of the International Year of the Nurse and Midwife.
"Broken But Not Divided," which conveys the many emotions of nurses as they work through the pandemic and national conversations around race in 2020, was created by Danielle Barger-Muncie, holistic nursing leader for Parkview's Allen County Hospitals.
Originally created for the Fort Wayne Museum of Art's 2020 Chalk Walk at Home, her piece won the contest's People's Choice Award and was widely shared across social media. It touched so many people that Parkview leaders had prints created so it could be displayed in all Parkview hospital locations.
Barger-Muncie, who earned a bachelor's degree in fine art before becoming a nurse, said, "I was thinking through the events of this year and wondering how to put them in image form. There is so much fear and hostility across the globe and across populations.
"It has been my experience that nursing is a population of its own. There is a natural camaraderie in this profession. There is a kindred connection from knowing we've had similar experiences that sometimes cannot be put into words. There is enough common ground that I think nurses often see each other just as nurses rather than by age, gender, or race. Why don't we always do that?
"The COVID-19 pandemic has affected people across the globe without regard to demographics. I feel like our equality as humans should naturally rise over our differences in the wake of this. I tried to make this image gender-neutral and inclusive of all skin colors while showing some of the emotions nurses have experienced during this frontline fight."
The artwork unveiling was part of Parkview's weeklong celebration of the International Year of the Nurse and Midwife. The week included special recognition of nurses with awards, T-shirts and a virtual conference with a national nursing consultant.