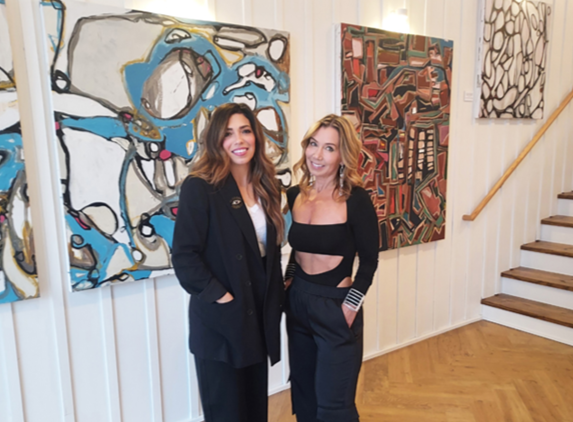 Jackie Gorski
Times-Union
WARSAW — Atelier, 104 E. Center St., Warsaw, kicked off its first exhibit, as well as the first day for the gallery, Thursday with an opening event.
Showcased is artist Andrea Granger with her exhibit "Ritual: Paintings by Andrea Granger." The show will run through April 22.
The exhibit showcases a little over a dozen art pieces, such as "Casting the Bones" and "Bewitched."
Granger, a Warsaw resident, attended the School of the Art Institute of Chicago and has been a working artist since. She does large-scale abstract work. There are some pieces in the exhibit she worked on for years, while others took a day.
There's a lot of feeling and emotion that go into her work, she said.
"For me, creating art is a ritual, a mediation in color and form. I let my intuition guide me and let the brush lead. It's a dance between me and the canvas, and I never know where it will take me," Granger said in a previous news release.
"In these paintings, we see something primitive and central to the human condition," Grandon said in the release. "It is an exploration of our core instincts and emotional commonalities and the strength we derive from them."
Granger also created a playlist on Spotify people can play while viewing her artwork at Atelier by scanning a QR code.
Thursday, Granger said music is a big part of her life as her parents loved music and her husband and children are musicians so it's become a part of their everyday existence. She hopes the music helps give people a connection to her artwork.
"Ritual: Paintings by Andrea Granger" is Granger's first exhibit in Warsaw. She's shown elsewhere, but this is her first solo exhibit.
Granger said she hopes people feel a connection to her art.
Atelier Director Sea Grandon said Atelier is the first gallery she's owned. She's been an art advisor for about nine years and most of her work causes her to travel because her clients are all across the country "and I wanted to have an art presence and just have my work here in the community."
She used to live in Chicago and New York and now lives in Warsaw and she believes "beauty and cultural experiences can happen anywhere and I wanted to bring that to our community and help the sort develop the visual arts community here in Warsaw," she said.
She wanted the gallery to be at a location in downtown Warsaw as she felt it fit the vibe. The building is also a historical building with high ceilings and a lot of natural light, which is a great way to showcase artists, she said.
She hopes people interested in buying art will have a new place to do that. Grandon also wants Atelier to operate as a place where people can go and experience art, as well as being a community gathering spot.
Grandon said there will a new artist featured at Atelier every two months. There will be events associated with each artist, such as opening events. Grandon also plans on doing a book club at the gallery and other things like art talks. She's also hoping to work with Warsaw Community High School and possibly do a show for some high school students.
Grandon said she all ready has five artists lined up this year, with "Ritual: Paintings by Andrea Granger" being the first. Other artists Grandon said she has lined up for the gallery include a painter from New York, an artist that does installation artwork, a photographer and a sculptor.
During Thursday's opening event, Grandon said people could go into Atelier, have some food and drinks, talk to her or Granger, look at the art and maybe patronize some of the restaurants in the area. She hopes people come back to see Granger's show and all of the shows the gallery offers.
If anyone is interested in purchasing any of the artwork they see at the gallery, they can call Grandon at 312-218-7316 or email sea@seagrandon.com.
Atelier hours are Tuesdays and Wednesdays, 11 a.m. to 4 p.m.; Thursdays, Fridays and Saturdays, 11 a.m. to 8 p.m.