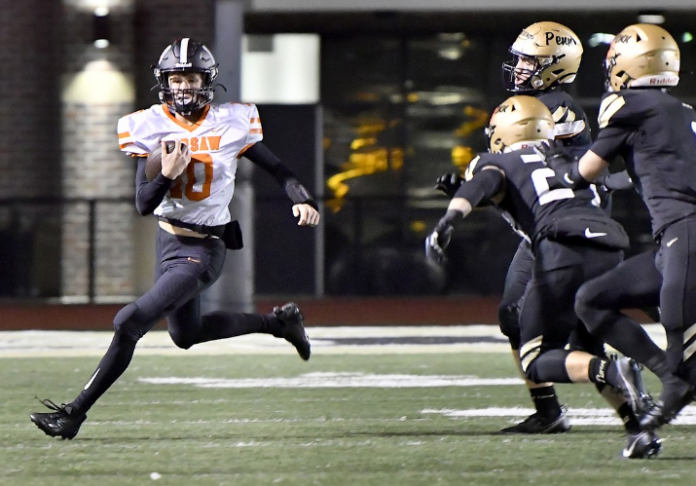 By Anthony Anderson
Times-Union correspondent
MISHAWAKA —  Warsaw coach Bart Curtis called it "an avalanche of things" that Penn inflicted upon his visiting Tigers in Friday night's Class 6A sectional championship that the Kingsmen won 31-10 at Freed Field.
A variety of things, like a rapid-quick Penn touchdown on the ground after Warsaw went three-and-out on its first series; later a slick Penn touchdown through the air; and later still a touchdown off an interception; but besides all that, some plain crazy things in that avalanche as well.
Foremost was when the Kingsmen's Dominic Bonner picked up a ball that Penn had just punted — one that went untouched by Warsaw — and raced all the way to the end zone for what officials signaled as a touchdown, leaving some on both sidelines scratching their heads.
The bizarre TD was ruled as such because the ball, off the popped-up punt, was picked up, the officials decided, on the Kingsmen's side of the line of scrimmage, which was the Tiger 37. A punt is a live ball for either team short of the line of scrimmage.
That made the score 21-3 midway through the third quarter and Warsaw never fully recovered.
"The rule was interpreted correctly," Curtis said. "Even if the ball crosses the line of scrimmage and comes back, it can be advanced by either team — as long as the whistle doesn't blow. Our kids thought they heard a whistle, but this is a really good crew and they vehemently said they got together and made sure nobody blew a whistle. So, live ball. I didn't do a good enough job preparing our kids for that situation, but it was certainly unusual."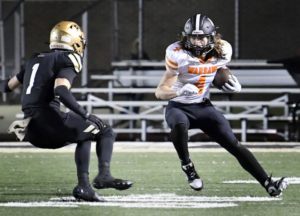 Warsaw junior Ethan Egolf puts on the brakes while trying to elude the tackle of Penn's Taylor Bauer. Photo by Gary Nieter
The No. 11 Tigers (9-2) closed with their best winning percentage since 2001.
The No. 8 Kingsmen (10-1) will host No. 4 Crown Point (11-0) in next week's regional.
"There really was an avalanche of things that happened, that we didn't react well to, but Penn made them happen," Curtis said. "That's how they play. They wait for you to mess up. Now, we're not gonna throw that pick six if we're not already down three scores, but they're just a good team, a team that can score and a team that is really, really good defensively."
The Kingsmen went into the game with six shutouts in their last seven outings, including blankings in each of their last four.
Quarterback Nolan McCullough raced for a 53-yard touchdown on the hosts' third play from scrimmage for a 7-0 lead.
Warsaw kicker Mason Smythe ended Penn's shutout string with a 46-yard field goal early in the second quarter to close the Tigers to within 7-3.
"I felt pretty good about 7-3 at the half," Curtis said. "The only thing I didn't like is we could've made it 7-6 or even (gone up) 10-7 (before halftime) if we don't get a 15-yard penalty."
Warsaw had gained possession at the Kingsmen 43, but a personal foul on an illegal block turned a first-and-10 into a first-and-24 on a drive that went nowhere.
Penn drove 80 yards on nine plays to start the third quarter, capped off by McCullough's third-and-13 slant pass to wideout Elijah Coker for a 37-yard TD and a 14-3 spread.
Then came Bonner's wacky TD, then came the pick six Curtis referred to, on the first play of the fourth quarter, a 48-yard score by linebacker Maverick Brown.
The Kingsmen added a field goal late in the final period, before the Tigers finally found the end zone with 2:56 remaining on sophomore Quinton Brock's 74-yard touchdown burst along the left sideline.
\Brock finished with 88 yards on four carries.
Senior fullback Reed Zollinger had 43 on 13, while junior quarterback Drew Sullivan closed at 38 yards on 12 keepers.
Both of Warsaw's lone two passes were intercepted, the other one snagged by Vince Horner for Penn. The Kingsmen finished with three takeaways in all and no giveaways.
Senior defensive end Isaac Beam turned in a monster game for the Tigers, getting in on at least five tackles for loss or no gain.
"He may be undersized, but in my opinion, he's one of the best defensive lineman in Indiana," Curtis said.
The coach, his players and assistants engaged in some extended hugging after the game was over.
"I'm really proud of this group," Curtis said, "because this season could've gone a different way. We won a lot of tight games. We gotta get better at some things and at how we respond when things don't go how we want them to go, but it was a great season and I'm so darn proud of these seniors."