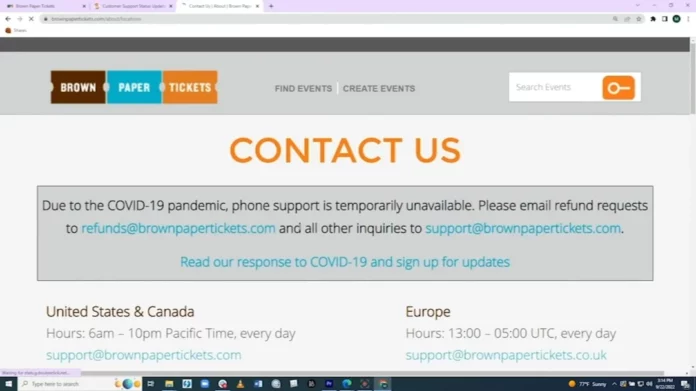 Staff Report
WARSAW — The online ticketing service Brown Paper Tickets (BPT) has delayed paying thousands of organizations, including Kensington Digital Media, their share of ticket sales since 2020, and still owes money to many of them.
When reporting on this story began, BPT still owed more than $6,000 to Kensington Digital Media, as well as thousands of organizations nationwide, many of them not-for-profit groups that depend on the income raised from ticket sales via the BPT ticketing platform.
BPT was founded in 2000, is based in Seattle, Wash., and has long been a popular service among venues, promotors, not-for-profit organizations, and companies who sell tickets for events. Many of the organizations came to rely on BPT's ease of use and low ticketing transaction fees, which aided in savings for users purchasing said tickets.
But when the pandemic devastated the live events industry in 2020, organizers and ticket buyers quickly began to notice that BPT wasn't promptly refunding tickets purchased for canceled events.
In September of 2020, Washington Attorney General Bob Ferguson sued to motivate BPT to pay out millions of dollars in refunds. In March 2021, BPT settled the suit and agreed to pay up to $9 million to about 45,000 different parties. By October of 2022, BPT had only paid about three-quarters of those.
At about the same time, the company announced Events.com would be acquiring its assets and continuing operations. In a statement at the time, Events.com wrote "In advance of the acquisition, Events.com has partnered with BPT to support its efforts to refund ticket holders and assist event organizers impacted by the COVID-19 pandemic."
"To accelerate BPT's recovery and provide customers with cash refunds rather than credits that much of the industry has issued, Events.com will continue to advance additional payments to BPT, enabling them to accelerate their payouts," the company said.
Fast forward another year, and both companies appear to be doing business as usual, but many of their customers were still problems.
Thus, this is the obvious and inherent problem with BPT's business practices. Upon visiting the company's homepage, a once industry-leading ticketing solution for small businesses and not-for-profits across the country, users wouldn't think anything is amiss.
The company continues to sign up unsuspecting users and customers who are otherwise unaware of the three-years of apparent fraud. New users to BPT can activate immediate credit card sales, and charge patrons for tickets sold. BPT will debit the fees immediately from the patrons' accounts, knowing full well there is no intention to ever pay the BPT users and customers the money they are owed.
The problem has spread far beyond pandemic-driven cancellations and now includes many events just recently held. BPT has failed to return any attempt at communication. The phone number listed on their website for support is not in operation, and email communications have gone unanswered.
The Better Business Bureau currently has a slew of active alerts issued for Brown Paper Tickets. These alerts don't have any meaningful impact, except perhaps to deter would-be customers from using the platform. The BBB doesn't have any authority to require specific performance from Brown Paper Tickets — but sometimes serves as a mediator between individuals with complaints and a company and note on their platform when a complaint is resolved.
The Bureau's alert notes: "On June 9, 2020, BBB recognized a pattern of complaints from consumers regarding contract and refund issues. Consumers allege they hired BrownPaperTickets.com to manage their ticket sales and have not received the funds for the proceeds from their events. Consumers claim the company is blaming COVID, reduction in staff, and failure of their operations. Consumers who purchased tickets through BrownPaperTickets.com are also alleging they are having difficulties receiving refunds for events that were canceled due to COVID. BBB reached out to the company in an effort to address the underlying cause of its pattern of complaints.  As of June 23, 2020, BrownPaperTickets.com has not responded to BBB."
"At this point, it's our mission to warn unsuspecting individuals from ever using Brown Paper Tickets or Events.com," said Woody Zimmerman, Chief Operating Officer of Kensington Digital Media. "To know that both websites are still fully operating on a status quo business, with millions owed in back payments is despicable."
Kensington Digital Media has attempted to recoup back payments from BPT and Events.com nearly a dozen separate times, with no communication or response from either organization.
Kensington also submitted an official claim with the Washington Attorney General's office. Bob Ferguson, Attorney General of Washington, responded, in part: "The Consumer Resource Center has completed its informal complaint resolution process regarding the consumer complaint you filed about Brown Paper Tickets and your complaint has been closed. Brown Paper Tickets did not provide our office with a written response to your complaint as requested. We regret that we are unable to provide further assistance to you regarding this complaint."
The Attorney General's Office effectively refused to pursue this claim further.
"This is a fraud," said Zimmerman. "They are charging credit cards left and right with no intention to ever pay the money back to those it is owed to. Steer clear of these businesses, and spread the word."
Zimmerman said Kensington Digital Media is committed to spreading the word about these deceitful business practices.
Brown Paper Tickets has not responded to multiple requests for comment.
Events.com has never publicly addressed the backlog, and did not reply to multiple requests for comment on this story.