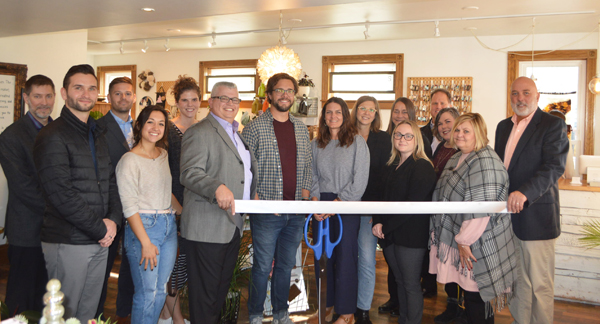 WINONA LAKE – Kosciusko Chamber of Commerce held a ribbon-cutting ceremony for Belove Gift Shop, 801 E. Canal St., Winona Lake, Monday.

The shop originally opened in 2013 by owners Luke and Whitney Wright after their marriage the year before. They merged their businesses, MudLOVE and Bel Kai, to create Belove, according to a provided news release.

Bel Kai is Whitney's jewelry business and MudLOVE is Luke's ceramics business, Whitney said.

Belove was previously located in a small garage space in The Village at Winona, Whitney said.

Monday was the first day Belove was open at its Canal Street location.

Luke said it's an expansion, more so than a new shop. Whitney said they've tripled their size by moving to the new location.

Belove sells various items, including jewelry, coffee, fresh cookies and stationary.

Some of the items are local. Whitney said she happens to know a lot of people that are creators in the area and found a few at local Farmer's Markets or Canal Days. Some of the local items are consignment and others Belove outright buys.

One partnership Belove has is with Anderson's Greenhouse, so Belove has plants for sale, which is new, Luke said.

Belove decided to partner with Anderson's because Anderson's has such a strong presence in the community and "the plants give this place a lot of life." The plants are all for sale, Luke said.

Belove gives 5% of every sale back to the community.

"We basically just build a pot and then we wait to hear about needs in the community," Luke said. The money could go toward things like adoptions, Fellowship?Missions or Women's Home.

It all depends what needs there are and what comes to Belove, Luke said. "So if people have ideas, they're more than welcome to reach out to us and let us know."

Since 2016, Belove has contributed more than $42,000 to global and local needs. In 2017, the giving focus changed to create a positive impact in the Kosciusko County community. Belove has been able to give to Fellowship Missions, Raise the Dough, Beaman Home, Mentone Elementary Special Needs Class, Jefferson Elementary, Spoonful of Imagination, Design Outreach, Kate's Kart in memory of Ezra Verhage, Room at the Table (a ministry of WLGBC giving basic needed items to foster parents) and the Head Start Program, a division of Cardinal Center, according to the news release.

Hours are 10 a.m. to 6 p.m., Monday through Saturday; and 1 to 5 p.m., Sunday.