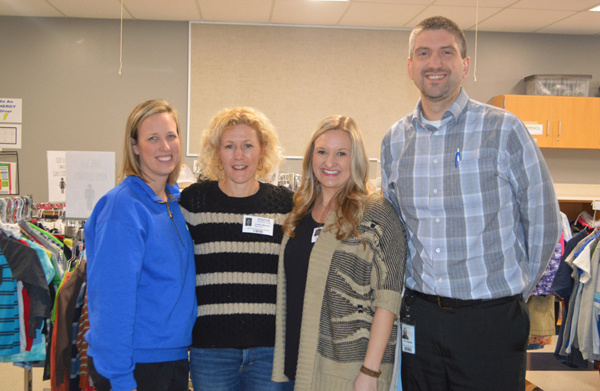 Leesburg Elementary is the home of Blazer Boutique, a new clothing bank serving students in need.
The boutique will have two main shopping times during the school year, one being in the fall and one in the spring, said Principal Nathan Polston.
The first shopping time will be April 1 to 3. It's going to be staffed with volunteers and "it's just going to be shopping throughout the school day when it's convenient for the teacher to send kids to the store," Polston said. The hours are confined to school hours, and teachers would have prearranged plans to send the kids there who have been identified and referred.
Leesburg Elementary school nurse Rachelle Himes said the school will go with teacher referral if they know something is going on in the student's household, whether it be a loss of a job or a recent move and the family had to leave things behind. The school will contact parents and get their permission.
There is a form that parents need to fill out with the student's clothing size, Himes said. The size information is to help getting conflicting information on what size of clothing the student wears. Verbal permission will be taken if necessary.
Leesburg community member Sara Nycz said the boutique is looking for size 5 to adult small, and for shoes, they're looking for 10 to adult 7.
Parent Judith Warner said the boutique has a lot of toiletries items as well, including toothpaste and shampoo.
Nycz said the boutique is looking for gently used clothing, but will also accept new clothing, as well. The only pieces of clothing that need to be new are underwear and socks.
Items in the boutique have been donated by the community. If Blazer Boutique gets something they cannot use, for whatever reason, they will make sure it goes to a place where it can be used, Nycz said.
A post in regards to the Blazer Boutique was put on Warsaw Community Schools' Facebook page Jan. 30 and the boutique has seen a lot of donations in the past two weeks.
"The community support has been amazing," Nycz said.
On top of community members' help, some other organizations have assisted in the set-up of the boutique.
Warner said some of the things in the boutique were donated by Kids Market Inc.
"For the stuff that doesn't sell, they donated a lot stuff. They gave us a lot of stuff," Polston said.
Businesses also have made donations.
The racks the clothing is hung up on were donated by Claypool Elementary and Our Father's House.
Leesburg Elementary School is not the only school in the school district to have a clothing closet.
According to Warsaw Community Schools Superintendent Dr. David Hoffert, Claypool Elementary School and Lakeview Middle School also have clothing closets.
Hoffert said he is proud "that our schools are stepping up to meet the needs of our community at every level."
The group spoke about how the boutique at Leesburg got started.
"It's just something that has been on my heart for the last few years," Nycz said. "I have a lot of teacher friends and they've been saying they needed a place where kids could go get things. It just kept popping up and I approached Judy if she would partner with me" and they then went to Polston and Warner with the idea. "So it just all worked out."
"It's just a big labour of love," Himes said.
"I've always felt like when I donate things to Goodwill that I wish that I would know a kid that could use the things I was taking there, so it's really nice to be able to know it's going to a kid in the community who really needs it," Nycz said.
Nycz said the name just popped into her head to give it something unique and something fresh.
Donations of funds, clothing or toiletries should be brought to the school during normal school hours.
Anyone interested in contacting the boutique with questions can do so through the boutique's Facebook page or by e-mail at leesburg.blazer.boutique@gmail.com.