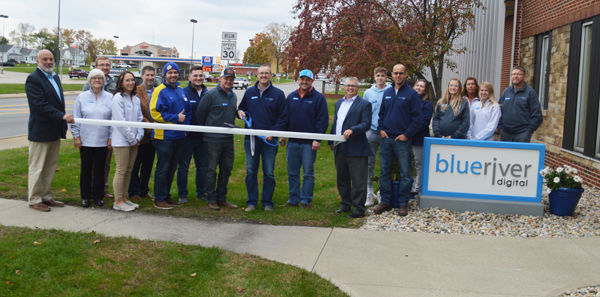 TIMES UNION REPORTS – BlueRiver Digital already had connections to the Warsaw community, but now the Columbia City company has an office at 523 S. Buffalo St. in Warsaw.
Thursday afternoon, the Kosciusko Chamber of Commerce had a ribbon-cutting ceremony for BlueRiver.
Wes Sigler, owner, said BlueRiver "is a marketing and design firm. We've also expanded into printing, so large format printing, digital printing and then signage, car wraps, a variety of different things."
He said he stemmed out of the company's graphic design. "So as we've been working with clients, we've seen the need to expand our services and provide stuff beyond just the design. So we've gotten into having actual printing presses, mailing services and then we've also moved into screen printing and embroideries, so we do a lot of corporate apparel for our clients as well."
BlueRiver Digital started in September 2014 in downtown Columbia City on Ellsworth Street, in a very small building, he said. The company expanded from there.
In spring 2020, during the start of the COVID-19 pandemic, Sigler said BlueRiver moved into a large production facility on Towerview Drive in Columbia City. He said they have two buildings in the industrial park there where most of the company's printing equipment and large format printing is done.
"So as we've expanded, we have seen the need for services here in Warsaw. A lot of our clientele is coming from this area, and then we have half of our staff either lives in Winona Lake or Warsaw. Some of them have been commuting over to Columbia City," Sigler said. "We've just seen a lot of potential growth here in Warsaw and decided to move this way and try to help service those clients better."
Most of BlueRiver Digital's clients are small to medium businesses, but it does have some larger corporate clients.
Sigler said BlueRiver has added about one or two employees each year since it started and currently has 12. He said BlueRiver is growing quite a bit digitally, but there are niche areas where they still do a lot of printing and direct mail.
"People still want to receive things, handle things, open things. That's still a large part of our (business)," Sigler said.
Nick Prentice, sales manager, said, "Out of our nine service categories, the printing is still in the top 15% of what we do. That comes from postcards, flyers, business cards, any printed type pieces."
The Warsaw office is mostly for graphic design and video production, as well as social media management.
"Anything digital comes out of this office. We don't have the space here to do production pieces. We kind of have adopted the term of design office, but graphic design, web development, video production, social media management, Google, digital marketing," said Prentice.
To contact BlueRiver, Sigler said the best way is through the website at BlueRiverD.com, which has a simple form that can be filled out. The form then goes to a number of BlueRiver's employees, who then get back to the person right away.
"One of the key things for us is just response, so we're very quick at responding and servicing that way," he said.
Another option to contact BlueRiver is to call them, and the phone number is available on the website.
"We have a very diverse staff that has a lot of background in different areas, so I think that's one thing when we're serving or helping our clients, we have a lot of different skill sets that can help," Sigler said. "We're very involved in our communities, so that's another very big thing. We're very passionate about where we live and being involved."
Some of that involvement has included sponsoring Little League and soccer teams, working with or donating to nonprofits, donating to mission works in different areas of the world with printing and other services, and employees are involved with their churches.