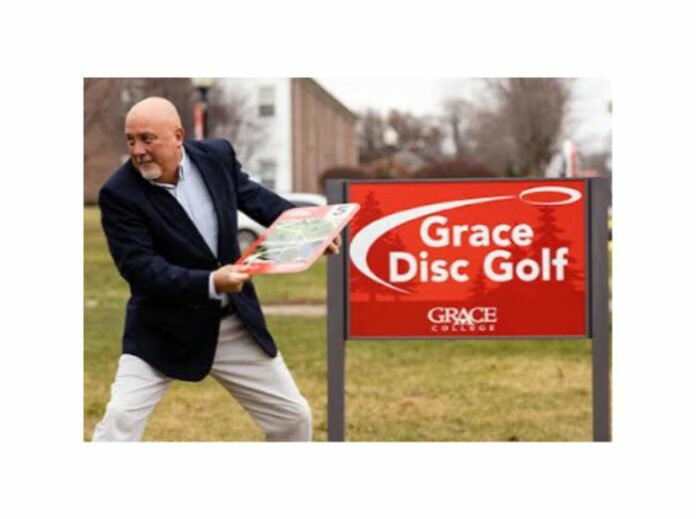 News Release
WINONA LAKE — Eleven local entities have donated to cover costs for Grace College's new pads and signs for its nine-hole disc golf course.
Those include Wildman, Tecomet, Silveus Insurance, ScoutIQ, Sacred Heart, H&D Insulation, Maumee Paint & Supply, Dream On Studio, Kosciusko Chamber of Commerce, Circle Disc Golf and Integrity Roofing are all generous sponsors of the course, which is free for the community to enjoy.
"In the past, disc golfers would show up and have no idea where the holes were," said Matt Metzger, director of marketing at Grace College. "It was one of those things where you had to be introduced to the course prior to playing to know where to go. Having these new course pads and signs, which are aerial shots custom designed by the Grace marketing team, will increase our legitimacy as a course and hopefully bring new visitors onto our campus."
According to Metzger,  Jonathan Vida, an area resident, was instrumental in making these sponsorships a reality.
"I love the Grace disc golf course," said Vida. "I play all the time there with my family, and I noticed that the dirt patches were not very good. I got to thinking, Grace is such a big part of our community, it would be awesome to get local businesses to sponsor the costs of updating the course."
Vida approached Metzger with the idea, who was already planning to make some updates to the course. He offered to help get the sponsorships through Business Networking International (BNI), a business referral group of which he is a member.  According to Vida, half of the sponsor businesses came from BNI, and the rest came through the Chamber of Commerce and even a few cold calls.
"I just asked the question, is there something we can do?" said Vida. "And when I pushed the door, it opened."
Other nearby courses can be found at Lucerne Park in Warsaw and at The Lodge in Syracuse that is run by Grace Community Church.
Vida believes that Warsaw has the opportunity to be a disc golf hub in the area and that making the courses a little more official is a good start.
"This is a great sport to do with families," said Vida. "I have three kids under five years old, and we will bring the whole family along and walk from hole to hole together. Not to mention, it's an affordable sport! You can buy one disc for $15 – $20 and you can use it for years."
Grace College is looking into the idea of opening a "back nine" in the future. The course can be found on UDisc, an app with more than 13,000 disc golf courses in its online directory.
For those interested in giving the free course a try, the first hole can be found on the lawn in front of Indiana Hall (the corner of Wooster Road and King's Highway).