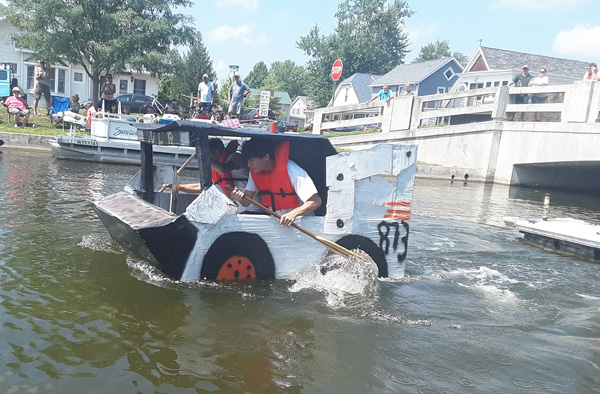 TIMES UNION REPORTS – Approximately 13 boats were entered Saturday to race during the fifth Regatta Boat Race during Canal Days.
Eric Lane, executive director of Fellowship Missions, said any proceeds for voting and donations go toward supporting Fellowship Missions for its homeless shelter and addiction recovery hub.
Lane said he and Nick Hauk, managing director at The Village at Winona, met about doing an event during Canal Days that would be fun with the community and raise awareness for Fellowship?Missions. They saw other places do something similar and they thought "we have a beautiful canal, a great environment to hold it in and so we started it five years ago. We said we might as well try."
Lane said the event has grown in size each year, with the first year having four boats and 11 boats last year.
The idea behind the race is fun, teamwork, "it brings them together, people know they're doing it for a good cause and they do it together," Lane said.
For the boats, only cardboard, paint and duct tape can be used.
For awards, Lane said people are able to put tickets in a bucket for the best of show and the rest of the category winners are timed. There is also the Titanic award for the best boat that sinks. Every year, Lane said they have at least one boat that sinks.
During the race Saturday, the adult award category winner and best time winner was MudLOVE Way, raced by Luke Wright and Silas Hill.
The youth category winner was Flash, raced by Kyle Williams.
The kids category winner and best in show was Hope Prints, raced by Zach and Maelle Hauck.
The corporate category winner was Winona Lake Restoration for the boat Bobcat, driven by Noah Dickerson and Titus Ewery.
The Titanic award went to Flushed, raced by Adam and Marcus Jackson.