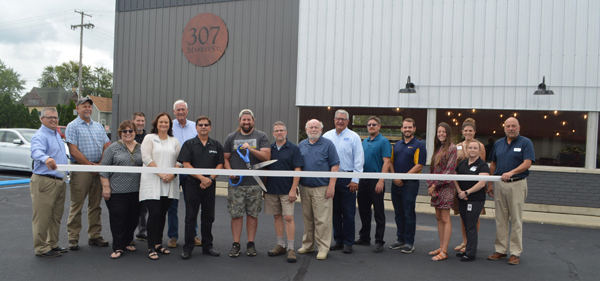 TIMES UNION REPORTS – HopLore Brewing is bringing its beer to downtown Warsaw, and the Kosciusko Chamber of Commerce recently held a ribbon-cutting ceremony with Columbia Ventures for the business at 307 W. Market St.
Co-owners of HopLore are Stefan King and brothers Keith and Steve Wehmeyer.
Before the ribbon-cutting, Keith thanked everyone for coming.
"It's funny, when we started talking about doing this almost a year ago now, we winded up closing on the building at the end of August," Keith said. "If any of you had walked through … you would have seen that things looked a little bit different a year ago. Lot of hard work, but a lot of help from all of you – to make loans available, to make grants available, to give us some encouragement along the way to help link us to some people who could help us get a lot of this work done."
Warsaw Community Development Corporation provided a $5,000 facade grant to HopLore this year and one in 2020.
Keith said with everything happening with the city of Warsaw right now, specifically what potentially may occur with the old Owen's property across the street from HopLore and the "way the downtown is expanding, everything, it's great to be a part of this and we can't thank you enough."
Owen's is going to be transformed into a mixed-use building with a commercial component to it and upwards of 150 apartment units, according to Warsaw Mayor Joe Thallemer. A parking garage is still under consideration, and "we're trying to involve a smaller grocery store in there. We've got a big wish list. We're really trying to make it a transformational project for the west side." He said there really is a need for a grocery store on the west side, and parking continues to be an issue downtown. "The most important thing to it right now is the workforce housing component to it."
King said he was just excited to make more beer.
Thallemer said when Keith, King, Warsaw Community Economic Development Director Jeremy Skinner and he sat down, there were some questions, including where HopLore was going to go as there was property on Argonne Road being considered.
"They committed right from the beginning to get this done. We knew this was going to happen, and we worked hard – we all worked hard – to find the right spot. Thankfully, this came up and it was very fortuitous because I think this is going to be one of the initial projects and a pretty significant transformation on this side of town," Thallemer said.
He said County Commissioner and WCDC Board member Cary Groninger started his Gateway subdivision project of over 60 homes on North Union Street a little before. "Obviously, we've got the bike trail coming through here and we're looking at a significant transformational project right out these windows here across the street," Thallemer said. "I couldn't be happier to be here today and seeing what's going on here."
With HopLore's beer garden on the east side of the building, with a view of the county courthouse, "It's a great addition. A new transformation on the city's near-west side," Thallemer said, thanking HopLore's owners for their investment, hard work and willingness to come to the city.
Skinner said, "I think this is kind of a stepping stone to future projects downtown. We're excited to have you here. All the hard work you put into this is much appreciated, and, hopefully, continued success of this area and your business."
Kosciusko Chamber of Commerce President and CEO Rob Parker thanked HopLore's owners for their investment. "This is going to be huge for this side of town and it's going to be a cornerstone. Congratulations," he said.
After the ribbon-cutting ceremony, King explained the Warsaw location will be a little different concept than HopLore's Leesburg location.
"The Leesburg location is still going to remain as our primary restaurant. It has more taps, has more guest beer. It's more of a craft beer bar all around. This is going to be more of a tasting room, so production is happening here. And then our tasting room is going to serve small plates and shareables," King said. "It's going to be more of an atmosphere that's geared more toward the beer as opposed to a restaurant."
He said a reason they went with the Market Street location rather than Argonne Road was because they liked the idea of being closer to downtown.
"We also were looking for something that had dedicated production space, and this fit the bill for that as well," King said. "It's not an either-or, it's more like what fits us the best."
On occasion, he said they'll have two- to three-piece bands. The majority of HopLore's big events like All Stouts Day and their Christmas party – because of space – will continue to occur at the Leesburg location.
King said they'll have beers specifically for the Warsaw location. One already made and ready to go is called Dumpster Fire. "It's a celebration of when it's time to move on, and it brings a little heat. So it's got a little burn to it. It's a grapefruit, habanera, West Coast IPA," King said.
Initially, hours will be just weekday evenings, so Monday through Friday, 3 to 9 p.m., he said. It is all ages.
The Warsaw location provides HopLore with a beer production floor. King said, "We'll be able to triple our capacity being here."
In explaining how he and Steve got involved with HopLore, Keith said Steve bought a bed-and-breakfast in Culver. He's been doing that for the last four to five years. While Steve has been up here in northern Indiana, Keith said Steve likes to check out breweries and he came upon HopLore in Leesburg. Steve met King, they got to know each other and Steve learned King was interested in getting some investors. Steve, with his background in industrial and graphic design, was interested in helping. King thought Steve's background would be a big help and he King said he could really use some help with operations, too. Steve called Keith – about a year or two before Keith retired from Intel – and asked Keith if he wanted to be partners with him in HopLore. Keith agreed.
"So, I'm the managing partner, so I'm sort of doing the CFO duties and the numbers guy," Keith said. "… So we each kind of have our roles, right. And Stefan is the head brewer and really understands how the restaurant side runs."
Keith said it's been fun and they have a great group of employees, with more needed to be hired.
"It's been a lot of fun. I've been at it now with Stefan for about 2-1/2 years, since we've been investing. And we found this building about a year ago. We had been trying to find other locations, but it just didn't work out, and so we kind of lost a year on the expansion plan. So, we bought this building so we could control our own destiny on it, and went about the process of rehabbing the building," he said.
Keith said a lot of the work he and Steve did with Stefan, with the rest of the work to the building done by local contractors. He said a "significant" amount of money was put into the Warsaw location and that money "stayed in the county," which they felt was important.
"Just all about doing what we can to keep the growth in this area," he said. "It's sort of the nice ideal location, too. You've got what may transpire across the street. You've got a nice location here. The post office people have just been wonderful."