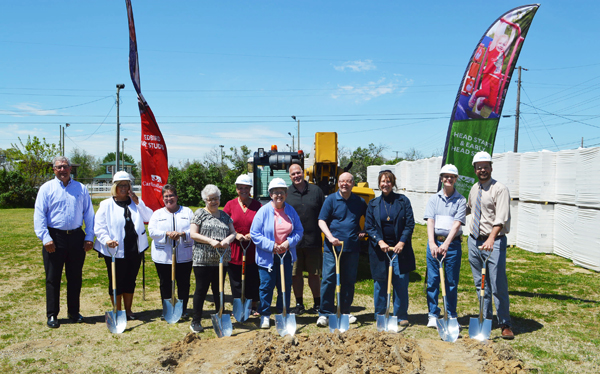 Cardinal Center – now Cardinal Services – provided services to children with disabilities for the first time in 1954.
It moved to its current location at 504 N. Bay Drive, Warsaw, in 1966.
Over the years, Cardinal has grown to include job placement services, Kosciusko Area Bus Service, group homes, Head Start, RedBird Art Studio and expanded services to other counties. In 2021, Cardinal Services aligned with Easterseals Arc of Northeast Indiana out of Fort Wayne.
To kick off the public phase of its capital campaign to fund major renovations to the main campus, Cardinal Services held a groundbreaking and celebration Tuesday from noon to 1 p.m. in the Cardinal Courtyard, 504 N. Bay Drive, Warsaw. It featured an exhibit by RedBird Art Studio artists, a performance by Lincoln Head Start children and food trucks.
Speaking to the many people who attended the event, Cardinal Services Executive Director Matt Boren said, "Seeing all of you here, and how many came out to support Cardinal, it's just overwhelming and inspiring and really the reason we're here to begin with is because we have a community like this that believes in the work that we do, believes in our purpose and stands with us and behind us in that."
He said they've been at the capital campaign since about 2017.
"Who would have predicted the challenges that we were up against? Workforce crisis. The global pandemic. At times, I think many of us were thinking, 'Are we ever going to get there?' But yet we had a community that said, 'No, we're going to make sure you get there,'" Boren said. "And so we are so excited to announce that we are 85% of our way toward an $8 million campaign."
Boren said with the groundbreaking Tuesday, Cardinal Services is officially kicking off the public phase of the "Ability Campaign."
Warsaw Mayor Joe Thallemer said, "Cardinal (Services) has been a fabric of our community for many years and I know there's been some tough times the last few years for everybody, and Matt and the Board picked themselves up by the boot straps and said, 'We've got to get this done,' and here we stand today to get this done."
He said he was "really, really excited that this is all going to continue right here on this campus. It's very exciting to me. The city has worked well with Cardinal and will continue to, knowing how important this is for our community."
Vickie Lootens, chief development officer for Easterseals Northern Indiana, said, "For us, today, the word 'groundbreaking' stands for far more than literally the breaking of ground. It stands for more opportunities for the people we serve in our communities. It stands for the groundbreaking generosity of our amazing supporters and communities who invest in the critical work we do every day. Without the help of all of our partners, supporters and collaborators, this project would not be possible.
"Our purpose is to lead the way to 100% equity, inclusion and access for people with disabilities, families and communities."
She recognized the Ability campaign cabinet, led by Jim and Jennifer Lancaster; the Board of Directors, executive team and staff.
"A special thank you to CTB and the K21 Foundation for your leadership gift. Thank you to Robinson Construction for your expertise, cost-savings and more importantly your patience with us," Lootens said. "Thank you for the Investing in People Society for your long-time commitment and leadership."
She also thanked Cardinal Services' faithful supporters and community, as well as the leaders, volunteers, staff and sponsors in making Tuesday's celebration a reality.
After she thanked a number of other people and businesses for their support, the groundbreaking ceremony commenced.
In an interview after the ceremony, Boren explained the purpose of the groundbreaking.
"In 2017, when we initiated, the dream was to create a facility that better meets the needs of the individuals in the community that we were serving and really expand upon some of the interests and desires that they had to interact with their community and pursue employment. So the campaign was really to get this building and create some strategic space for programming," he said.
"So we're going to have space for an opportunity lab, which will be specific on workforce development for our community. Hands-on experience, credential programs. We're going to have a wellness area that is going to be sort of like a gym experience, or feeling, where there will be adaptable workout equipment, but also you can move it away, you can do Yoga, you can do dance. Revise the cafeteria, replace the roof."
One of the main things, Boren said, is adding overhangs at both of the primary entrances so that individuals who have to utilize a lift when they arrive won't have to sit out in the snow or rain.
RedBird Art Studio will be getting a facelift.
Other renovations will include making areas in the building more accessible than they are.
"We want to be leading the way for creating a space where everybody can access the building and enjoy all aspects of it. So, with the assistance of Robinson Construction, we've been able to realize what that vision would look like and recreate the space internally. And, really, most of it is focused on the space in our building that serves those that come there every day. We're just excited. We've already started some of these new programs, new exciting programs," Boren said.
The renovations will probably take about two years to finish. Construction will start in July, he said, and it will take two years because it will require some phasing as Cardinal Services will still be operating out of the building.
The actual footprint of the building won't change much. There's about 3,000 square feet on the northeast side that will be add-on.
"We're moving our loading docks and bays," Boren said, to the back of the building.
To contribute to the capital campaign, there's a couple of options, including through the Cardinal Services website. Anyone can donate and donations should indicate it's for the building campaign.
"We actually, also, would love for people to stop by and we can talk about how their gift can matter. But the public phase really is when you start engaging the public, and it's a whole bunch of little gifts that get you to the finish line, and so we're actually having small group gatherings in the building where 10-15 people come in at a time and we share our vision with them and ask them to join us in this project and to partner with us in realizing this," Boren said.
Cardinal Services' website is at https://cardinalservices.org/.