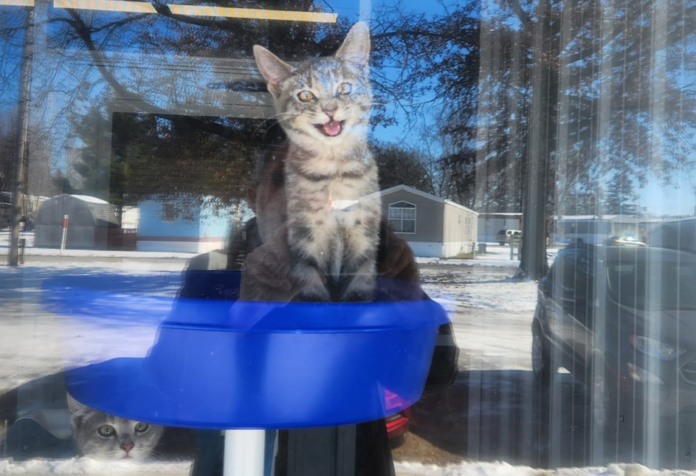 By Dan Spalding

News Now Warsaw
WARSAW – The folks at Animal Welfare League are taking two more steps forward this week.
First off, the animal shelter on U.S. 30 near Pierceton, finished moving cats into the new Cat House, a separate building to the north of the office.
The move was required to put more distance between the cats and dogs after the nonprofit realized the floor plan for the facility that opened three years ago was flawed.
The Cat House opened in November, but not all cats were shifted over until this week. Only a handful of cats are still lodged in the main office building.
The building features numerous large windows that provide plenty of natural light inside while also allowing arriving visitors to see some of the cats that are available.
Interior improvements inside The Cat House are continuing.
(Scroll down for photos)
That's been one of the issues confronted by Executive Director Tonya Blanchard and AWL Board President John Lantz who both stepped into their roles within a month of each other in 2021.
Another project: AWL hopes to have a newly established website up and running this week after going weeks without one during the transition.
The new website, awlwarsaw.com, will provide a better platform to accept donations, attract volunteers and boost animal adoptions, Lantz said.
The site will also enlighten the public on how to work with the office in handling stray animals and other issues, Lantz said.
On Wednesday, Lantz sat down with News Now Warsaw for the public affair show, In The Know.
After retiring from a career in business, Lantz became involved with and eventually became board president for a pet food pantry program in Fort Wayne where the all-volunteer operation provided 100,000 pounds of pet food for those in need in his final year with the group.
He and his wife moved to Warsaw two years ago and he soon became involved with AWL.
Blanchard had 13 years of experience with the shelter and stepped aside from a family business to lead Animal Welfare League.
After a series of changes in leadership in recent years, Lantz said they have a new sense of stability. The organization has also added newer, younger people to the board.
Lantz said that's intentional.
"When I was with the pet food pantry, we worked with Youth Leaders of Northeast Indiana and brought in board members through them and other professional organizations," Lantz said. "I'm all about that, getting youth on board."
Lantz spent much of his time in 2022 reaching out to communities in hopes of making a connection and generating more financial support for AWL, and he plans to continue that this year.
AWL also issued its first-ever annual report, which is available to the public.
As he talks with groups, he always reminds them that AWL is not a county department.
The concern is that if people believe AWL is a county department, they are less likely to donation.
"I think a lot of people still think that," Lantz said.
Much of their funding comes from the county, Warsaw and North Webster.
Chief among concerns this year is the need to reduce the $465,000 mortgage that remains on the new facility, he said.
"That limits our spending and our payroll and the kind of care that we can offer these pets.  We're going to do a big push this year to get that whittled down," he said. 
Tough time for animal shelters
Lantz agrees with others who believe the animal shelter industry is currently in a crisis fueled greatly by an increase in animal intakes, a lack of funding and struggles to staff operations.
He said he thinks circumstances are more difficult now than during the pandemic.
He said they've not seen that many cases of people returning pets after adopting them during the pandemic – although he hears about that elsewhere.
Regardless, in 2022, the shelter took in 367 animals – a 28 percent increase from a year earlier, he said.
In November alone, they saw a huge spike with 161 animals being taken in.
"That's huge," Lantz said. "And we never euthanize for space, and we work hard with our volunteers and our foster homes to take care of these pets."
Indeed, Animal Welfare League was one of five facilities in the country awarded with Touchstone Award for maintaining a remarkably low euthanasia rate.
In 2021, 38 animals were euthanized, which is 2.3 percent of all intakes at the facility, Lantz said.