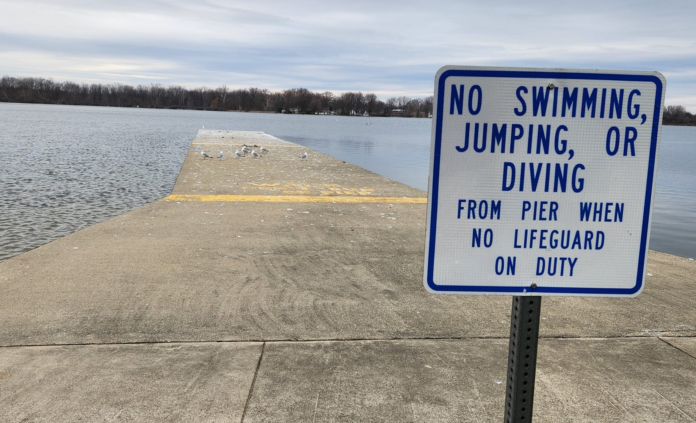 By Dan Spalding
News Now Warsaw
WARSAW — Nothing has been finalized, but it appears Center Lake beach in Warsaw will likely be closed for at least part of the upcoming summer.
Parks Superintendent Larry Plummer tells News Now Warsaw that several issues will complicate the situation this summer – including the removal of the existing cement pier.
Officials have planned to remove the pier for several years and will do so as part of the Center Lake trail that will be constructed along the shoreline this year.
The pier was first installed in 1978, but officials eventually realized that that structure contributes significantly to stagnating water, which has occasionally led to the development of ecoli.
The pier could be removed as early as May or June.
On top of that, renovations of the adjacent pavilion and the construction of the trail will make the beach less conducive to quiet recreation.
"If there's any way we can have swimming and have it safely, we'll have it. But if there's construction concerns, we want to make it safe for everybody," Plummer said.
The city does not plan to replace the pier in the same location.
Instead, two other piers to the west and east will be constructed as part of the recreational trail.
The pier won't be replaced in the same location.
The Center Lake Recreational Trail plan calls for two piers to be constructed. One will be where the old pump house sits and will accommodate fishing and boat docking. The other will be at the north end of the trail in Bixler Park and will be intended for fishing, Plummer said.
In related matters, Plummer said the parks department is in good position with the number of lifeguards for the summer and that it is possible that only one of the two beaches will be staffed.
He also said the parks staff hopes to move into its new offices at the corner of Fort Wayne and Indiana streets by the end of March.