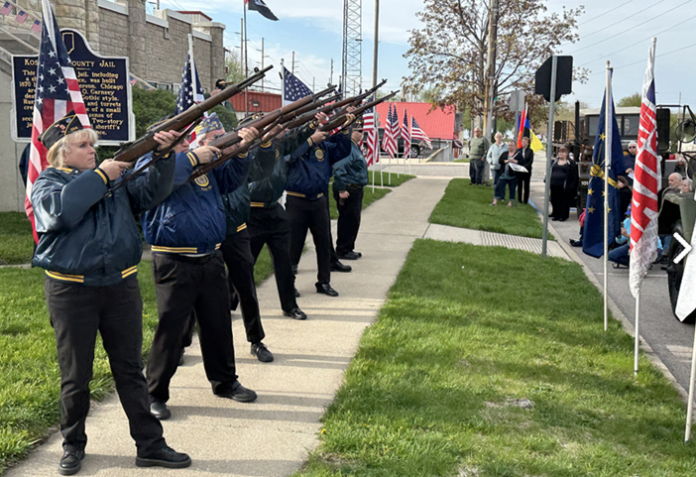 By David Slone
Times-Union
WARSAW — Over 58,000 U.S. servicemen died in the Vietnam War, including a number from Kosciusko County.
At a Vietnam Veteran Tribute Ceremony Friday evening at the Kosciusko County Old Jail Museum, the names of the 23 veterans whose names are found on the war memorial on the courthouse lawn were read by veteran and Salvation Army Envoy Ken Locke as a bell tolled.
Greg Steffe, co-director of the Old Jail Museum, 121 N. Indiana St., Warsaw, welcomed everyone to the ceremony.
"The Vietnam War was a very controversial war. It was not a popular conflict. We could stand here and we could debate from now until doomsday whether it was right, whether it was wrong, whether we should have been there, whether we should not. The fact remains that the young men and women who went and fought that conflict were not asked for their opinion, their political position or their thoughts. They were asked to go and serve their country, and they did so with honor, valor and distinction. And it is our honor to gather here today to honor them for their service and sacrifice for our nation," he said.
While we are ever grateful to them, Steffe said, "may we ever remain mindful of the 58,000 of our generation who did not return from that war. Theirs was the ultimate sacrifice that others might live in freedom."
Quoting Georgia's former U.S. Sen. Max Cleland, who was a disabled Vietnam veteran and was awarded the Silver and Bronze Stars, Locke said, "Within the soul of each Vietnam veteran there's probably something that says 'bad war, good soldier.' Only now are Americans beginning to separate the war from the warrior."
Locke said he thinks that's true.
"We are at least starting to get a little bit wiser with Vietnam when people are talking and realizing that the soldier did what they were called to do," he said. "We serve a government that makes mistakes sometimes. I don't know what your opinion is on Vietnam, but the one opinion I have is that the American soldier did what they were called to do. That's the most important thing to remember."
The other things will be "cussed and discussed" way beyond when we all leave this earth and to eternity, Locke stated.
"The reality is no war is good. War is hell," Locke said before telling the crowd about being raised by a World War II combat veteran.
"One thing we do know for sure, from history, is that Communism kills. Communism kills. Since 1917, it's estimated that over 100 million people have been killed at the hands politically by Communists," he said. "We should be ashamed of ourselves in this country to even be entertaining the thought that Socialism or Communism is something that we want in this land. May it never be. May it never be because it's not good."
The one thing that there is to say about Vietnam veterans is that they went partly to prevent Communism and that service is honorable and should be valued, he said.
One thing that must be learned from the Vietnam War is that political wars never work. "You need to let your field generals run the war. You can't run it from Washington. And it's a mistake we made and we need to learn that and let the generals run the war. Let them fight the fight, and make sure that our soldiers are being taken care of," Locke stated.
Many, many men and women served with honor when their country called them.
"There are 58,220 names on the Vietnam Memorial Wall. They gave the ultimate sacrifice. We should never forget them. Some of you sitting here know they are not just names on the wall to you. They're your buddies, they're your comrade, they're your friend," Locke said.
Men and women served even when they were rejected at home and when they came home. Locke went into the service in 1975. He can remember being told not to wear his uniform off base then because things were not good.
"I was shocked. I also saw what happened to some of those who came home and how they were treated. I hope that never happens again in our country. To come home and be rejected after you've given your all for our country. What a horrible thing," he said.
Many bare the scars of battle with PTSD (post-traumatic stress disorder) and other things, but didn't talk about them because they were told to be quiet about it when they returned home. Locke said, "That's basically how they felt. And, unfortunately, Agent Orange continues to take its toll on our Vietnam veterans."
The good soldier goes and serves their country even when it may not be popular.
"So we salute you today, those of you who served, because you deserve our honor. You deserve a thanks from each one of us," Locke said.
He talked about the impact America leaving Vietnam had on the country and the 125,000 Vietnamese refugees who came to the United States in 1975. Many of them have become model citizens in the U.S., Locke said, including his granddaughters' grandmother.
"I look at them all the time and I wonder, 'What would their life have been like if their grandmother had stayed in Vietnam?' I don't know, but I'm telling you they certainly enjoy their life in southern California," he said. "So to the Vietnam veterans, I tell you thank you from my granddaughters because they're precious."
He thanked each of the Vietnam veterans who attended Friday's ceremony, and told the story of his best friend who was killed during the fall of Saigon. Locke said all of the blessings in this country are because of our veterans of all wars.
"I hope we are always a nation that is grateful for our veterans, and I hope you realize and understand how much we appreciate your service when our nation called," he concluded.
Locke then read the names of the Americans who are on the war memorial at the courthouse as Steffe tolled the bell, followed by a prayer. The American Legion Post 253 Color Guard out of North Webster conducted a gun salute and the playing of taps in honor of the Vietnam veterans.
Friday's event featured a display of military vehicles, including a 1967 M35 Vietnam-era diesel truck owned by Adam Heckaman.
"I'm just really intrigued by history and I got the opportunity to buy one, and I wanted to restore it to its factual original as much as I could, and that's what it turned out to be," he said, adding that it took him about a year to restore it. "A lot of hours to redo it."
Heckaman said he likes taking the 13,000-pound truck around to events like Friday's and supporting veterans and doing Honor Rides. He also takes it to tractor events and kids like to get in it. "Just show it off to the next generation to experience what our veterans had to use and drive," he said.
After the tribute ceremony, the museum had an open house where the public could see a Vietnam exhibit and other artifacts and displays in the 150-year-old museum.
Steffe said the Vietnam exhibit includes a collection of dress uniforms from each of the service branches, a copy of the honor roll and a fully-dressed combat soldier from Vietnam. He said they had to buy reproductions because actual uniforms from Vietnam are not out there to buy.
The idea to do an exhibit on Vietnam came from a volunteer's suggestion and Steffe thought it was a great idea. The display will be at the museum through the end of the year for the public to check out. Regular hours are 10 a.m. to 4 p.m. Wednesdays through Fridays and 10 a.m. to 2 p.m. Saturdays.
"Please come out. Actually, our featured exhibit this year is on the Native American heritage and history of Kosciusko County. We're planning on doing a program on that later this summer," he said.