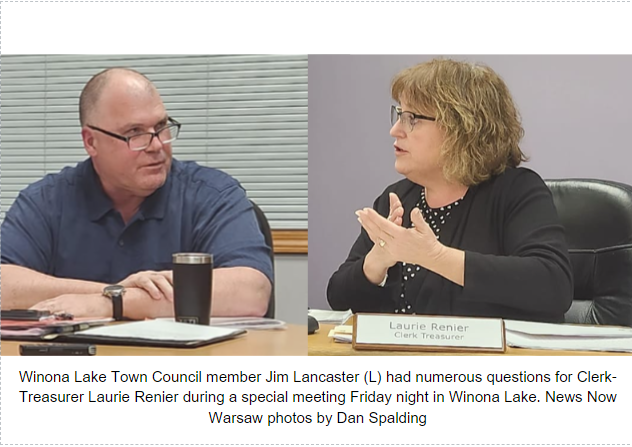 By Dan Spalding
News Now Warsaw
WINONA LAKE — For the second time in a week, members of the Winona Lake Town Council grilled Clerk-Treasurer Laurie Renier over bookkeeping and payroll concerns.
Friday night's special meeting was called Tuesday after council members questioned Renier over numerous issues and delayed approval of claims until they could get more details by Friday.
After an hour of contentious questions, the council approved the claims.
Council has expressed concern over a late year-end report for 2022, delays in issuing other types of reports to department heads and sporadic problems with payroll.
Renier, who was appointed after the death of clerk-treasurer Kent Adams 16 months ago, blamed much of the problems on a big learning curve she and her staff have faced.
She said the office ran into difficulties with the year-end report in December when an employee quit with three days notice in December. 
She repeatedly took responsibility for the problems, apologized for errors and pledged multiple times that it would not happen again.
Most of the questions came from Council President Rick Swaim and Council Member Jim Lancaster.
Council was also upset that checks had been sent out prior to council approval.
"All I can say is I apologize and that it won't happen again," Renier said.
"I'm struggling with, frankly, how it's going to be different going forward," Lancaster said.
"It's going to be different going forward," Renier replied.
Hours before Friday's meeting, it came to light that not all employees were paid correctly earlier in the day. It was unclear what those problems encompassed.
Swaim said the issues had raised concerns about "trust" in the clerk's office.
"When I get word today that not all employees were paid on time – these are all concerns for people and for our reputation, honestly, as a town," Swaim said. "So that's where we're coming from and asking all these questions and putting you on the hot seat." 
"It's not our desire to tell you what to do, but to tell you it needs to be done as stated," he said.
The concerns come just weeks before a primary election that includes a race between Renier and Heather James, a town council member.
James had been seeking re-election to council earlier this year, but changed gears just days before the filing deadline and decided to challenge Renier.
James attended both meetings this week but has been quiet in public discussions about the clerk-treasurer's performance.
Swaim acknowledged the political realities and shut down at least one comment concerning election ramifications.
Attorney Jack Birch, representing Renier, said all clerks face a learning curve and at one point accused council members of slinging mud.
Birch contends the town never met state recommendations in 2017 to establish standard operating procedures.
Without those documents, the clerk-treasurer is flying blind and should be given a "little slack," Birch said.
"What I see here is an attempt to tear her down and throw mud at her," Birch said.
"I completely dismiss that," Lancaster replied. "I was asking legitimate questions."
Birch's role also came up.
Renier confirmed that she had hired Birch to represent her. As an elected official with a legal fees fund, she said she could use town money to pay for Birch's representation.
That drew a few gasps from those in the crowd.
Birch said afterward he is unsure whether he'll seek payment for representing Renier.