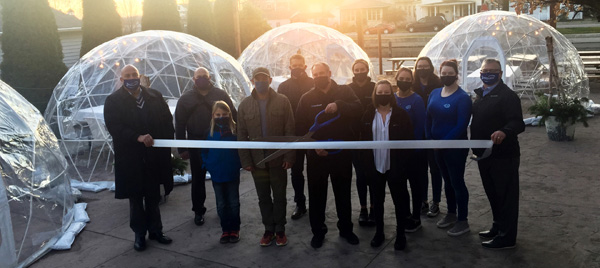 If you've ever wanted to eat dinner inside of an "igloo," now is your chance.
Cerulean Restaurant, 1101 E. Canal St., Winona Lake, is weathering the COVID-19 storm – and winter temps – with new outdoor "igloo" dining huts.
Cerulean owner Caleb France said they purchased the outdoor igloos from Europe. They're domes, really, he said, and each one can fit six people inside and are heated to 70 degrees.
"We're going to do it all winter long for just dinner right now, so they'll be open from 5 to 9 p.m. Monday through Saturday," France said.
France said a couple years ago, he was in Chicago and he saw people up on a rooftop of a building.
"So a few months ago, we kind of saw the writing on the wall that indoor dining was going to be limited or shut down, and in the winter we want to keep operating and be in business, so we just kind of thought ahead in the summer and ordered these things to keep people safe," France said.
Once again restaurants in Indiana are facing limited capacity restrictions, and it's hurting and even shuttering some completely.
Kosciusko Chamber of Commerce President and CEO Rob Parker said Cerulean is a great example of a business that was able to pivot during the pandemic to keep their operations going. These igloos are an example.
France said they recently put them on social media and "they're starting to go pretty crazy, so if anyone wants to guarantee a spot and request one, we encourage that."
Cerulean is at about 50% capacity inside in order to keep tables 6 feet apart, France said, and they still offer carryout. Starting next week, Cerulean will be available to order for delivery through Door Dash.
To make reservations or order from Cerulean, call 574-269-1226 or visit www.ceruleanrestaurant.com.