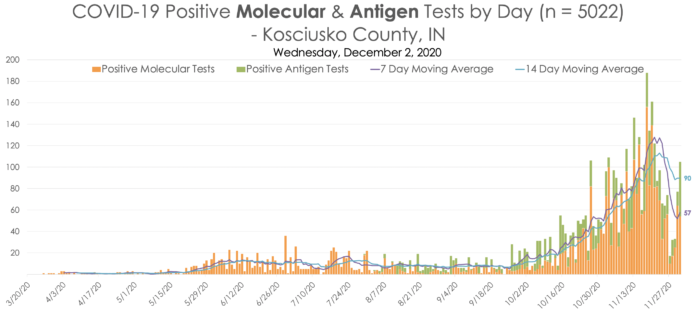 Over 2,600 positive cases of the coronavirus were reported in Kosciusko County in the month of November.
The latest data coming out from the Kosciusko County Health Department also showed that 16 deaths related to COVID were also reported during the month. As of Tuesday, there have been 5,022 cases of the virus in the county, along with 46 deaths.
Out of those cases, 1,853 remain active and nearly 3,100 people have now recovered. On a positive note, hospitalizations in the county have dropped from a peak of 49 on November 17th to 35 as of Tuesday. The number of active cases is also down from a peak of 2,033 that was seen on November 22nd.
The seven-day average of cases per day has dropped to 57, while the 14-day average is down to 90.
MANY COUNTIES REMAIN AT ORANGE METRIC, LESS RED COUNTIES IN NEWEST STATE UPDATE
Nearly all of Indiana remains in the greatest-risk categories for coronavirus spread in a state health department update that also shows a new high for average daily COVID-19 deaths for the state.
Sixteen of the state's 92 counties were listed in the most dangerous red category in the health department's weekly tracking map. All but one other county was assigned the next riskiest orange rating. Gov. Eric Holcomb is holding a Wednesday afternoon briefing on the state's coronavirus response.
Kosciusko County remains at the orange level, while Whitley and Wabash Counties remained in the red status. Elkhart County was downgraded also to the orange level. Health officials on Wednesday added 91 confirmed recent COVID-19 deaths.  The state's seven-day rolling average of COVID-19 deaths has now reached 60 per day.