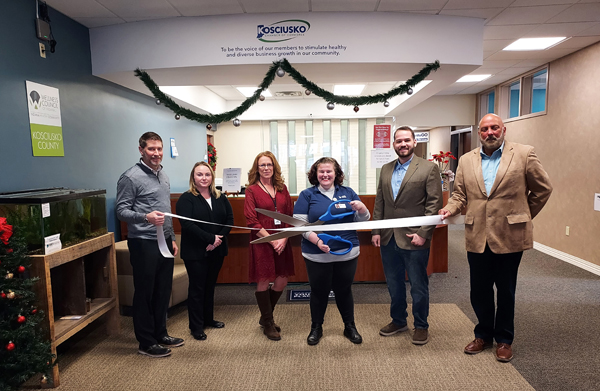 Kosciusko Chamber of Commerce held a ribbon-cutting for Amanda Sautter, Liberty Mutual Insurance, Wednesday.
Sautter, an insurance agent for Liberty Mutual Insurance, doesn't have a brick-and-mortar office. Instead, she works out of her home or meets people in coffee shops or their home if clients want to meet there.
Sautter said she offers home, auto, life, boat "all of it except health." She covers all of Indiana, South Carolina and Missouri.
She has be in the insurance industry for three years and has been with Liberty Mutual for six months. She has been providing insurance to people in Warsaw for three months.
"I actually started in the investment space. I was helping high-network clients invest their funds and kind of decided I want to go more into the insurance side and be able to help the everyday (person) and not just the high-network people," she said.
She hopes she can provide people education about insurance.
"I want homeowners, drivers, I want them to understand what they have, what it means, what they should invest in," she said. She does that by explaining all the coverages to clients. She explains all the scenarios, when the insurance would kick in and when it would be useful.
If people want to get in touch with Sautter, she said they can call her at 765-465-6449 or email her at amanda.sautter@libertymutual.com.
She said her normal hours are 9 a.m. to 6 p.m. Monday through Friday, but she is open to work weekends if someone needs coverage.