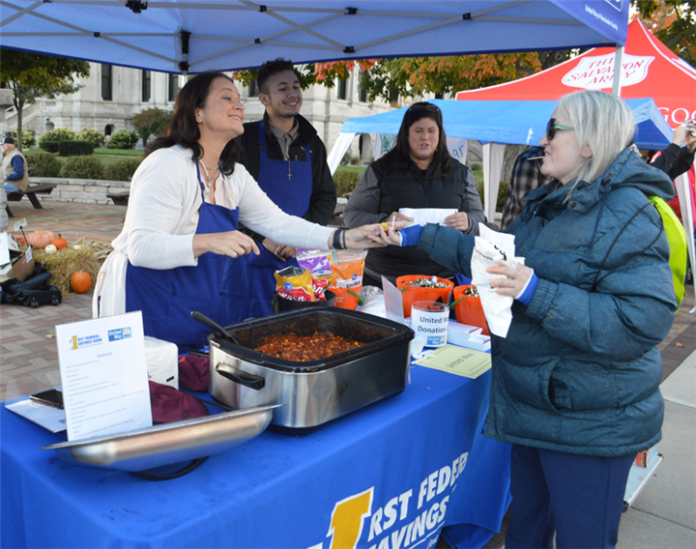 There was a lot of chili to sample during First Friday downtown Warsaw Friday, but some of the booths were still running out after the first 90 minutes.
With a theme of "Chili for Charity," Main Street Warsaw Executive Director Rob Parker said, "It's really just a great fall day for everybody to come out, be together and experience community."
To sample the chili at the various tables and tents, attendees gave a donation toward the nonprofit featured at each location.
"For a small sample, we ask a $1, and for a larger sample, we ask for $4, but, again, at the end of the day it's a donation, so if you want to give a $20, if you want to give $50 or $100, that's awesome. We appreciate it," Parker said.
Whoever had the most donations at the end of the three-hour event was to be declared the chili champion. As of deadline Friday night, the results weren't all in yet.
While some organizations provided their own chili, others had sponsors. For example, First Federal Savings Bank supported United Way.
"So that was the idea: Get people to make your chili for you so you have no expense, then you take in all the revenue so it helps the nonprofit and people on the board are making all the chili," Parker explained.
Juli Eckel, First Federal Savings Bank of Huntington vice president of commercial lending and United Way Board of Directors member, said the chili they were offering had organic ground beef, kidney beans, black beans, Great Northern beans, sweet corn, a bunch of seasonings, onions, peppers, salsa, a four-cheese pasta sauce and some cinnamon.
"It's all kinds of yummy," she said.
Eckel just came up with the chili and recently added the cinnamon after a friend made chili with chocolate and cinnamon.
"We support the United Way completely any chance we get. Making the chili so we can have people donate funds," she said.
United Way President Darren Bickel said one of the things they were promoting Friday was Dolly Parton's Imagination Library, which United Way does for any child under 5 years old in Kosciusko County.
"Once you sign up, it's a new book mailed to their house every month at no cost to the family and it's a partnership we have with Dolly Parton's Imagination Library," he said.
The books are "high quality" that age with the child, Bickel said. When the child is 1 years old, they get the thicker board books and then go until the child reaches 5.
"And we know that one of the best predictors of early literacy skills, when they get to kindergarten, is how many books were in their home. And it's been so much fun for us. It's probably been the most countywide initiative we've done because we get the list of addresses every month, and they're everywhere from Milford to North Webster to Mentone to Pierceton. It's just been really fun to get involved and we have about just over 1,800 kids right now who every month get new books sent to them," Bickel said.
Ashley McGinnis, with the Winona Lake Limitless Park, said they were selling chili to raise the last bit of funds the park needs to finish the upgrades going on at the park.
"We are going to be doing resurfacing the whole park, we're going to put in new play equipment with shades, more shade systems, more benches, new bathrooms, the whole kind of revamp of the park," she said. "We've gotten a lot of grants and donations, but we just have a little bit more to go."
She said they need to raise about $100,000.
As for the chili they were selling, McGinnis said it was made by the Smoke N Swine Co.
"It's my husband that made it, Brandon McGinnis. It's kind of a sweet heat chili made with brisket and I hear it's really delicious but I don't like chili so I don't know," she said.
The Diner provided the chili for the Salvation Army's tent. Envoy Ken Locke said they weren't raising money for anything specific, just to help out the Salvation Army.
"We just wanted to be out tonight to tell everybody thanks for your support. What a great night, beautiful weather, so we just appreciate everybody coming out tonight," he said.
If you had the chili at the Court Appointed Special Advocates (CASA) of Kosciusko County tent, you got to sample retired Grace College men's basketball coach Jim Kessler's recipe. It was made by his daughter, Janelle Meyer, who is the program manager for CASA. Meyer's children also made some monster cookies.
Erin Rowland Jones, executive director of CASA, said CASA is a nonprofit organization.
"We recruit, train and support community volunteers that advocate for abused and neglected children in the court system through no fault of their own. They meet with their child at least every 30 days, develop a relationship with them so they can walk alongside them during the most traumatic time in these children's lives. They also gather information and give a report to the court so the court knows what's best for the child, just looking through those child's eyes. So we become the voice of the child as well," she said.
Being a nonprofit, she said they are always looking for donations and funds to train and support new volunteers. CASA of Kosciusko County typically serves over 190 children annually that represent the most severe cases of abuse and neglect and it has about 55 volunteers.
"We could always use more volunteers because there are other family law cases with safety concerns that courts want to appoint us to, so we're always looking for volunteers," Rowland Jones said.
To be a volunteer, a person has to be at least 21 years old, go through 33 hours of training and pass a background check. Anyone interested can visit the website at casachildren.com for more information.
Other organizations represented included Animal Welfare League of Kosciusko County, Beaman Home, Fear is a Liar Ministries, Fellowship Missions, Kosciusko Senior Services, LaunchPad, Live Well Kosciusko, Magical Meadows, One Dog at a Time, One Warsaw, Operation Read, Real Services and Warsaw Education Foundation.
Main Street Warsaw provided the organizations participating in "Chili for Charity" with some guidance on how much chili to make. Parker said they suggested about 1-1/2 to two crock pots worth of chili.
"I think it was something like 12 to 16 quarts was what we thought would be good for 18 vendors and how many people would show up," he said. "But, you know, if the whole town came out, then the chili would be gone in 30 minutes. But as it's going right now, they'll probably be completely gone by within an hour, would be my guess, at the rate they're going."
Parker said this was the first "Chili for Charity" First Friday event and they hope to make it an annual event.
"It's a great event. It's all about the people that are here," he said.
Politicians and vendors also had booths up, including Hogs R Wild and the Indiana Department of Natural Resources, while some people came out in Halloween costumes.
There will be no First Friday in November because the Downtown Spooktacular is a week before, on Oct. 28. The December First Friday will celebrate the Christmas season.