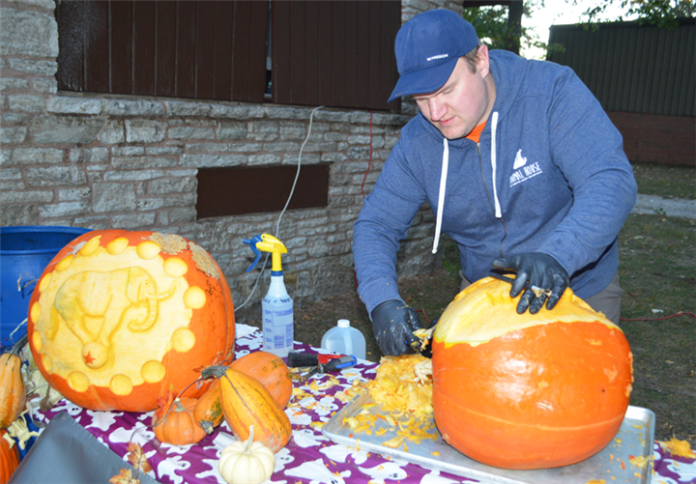 Lines were long for most of the activities Friday evening at the annual Fall Family Fun event at Lucerne Park
"This has been our biggest turnout ever," said Warsaw Parks and Recreation Department Recreation Director Stephanie Schaefer.
In the first hour of the two-hour event, she said they had about 1,000 people.
The first big line was for the tractor hay ride. Via Credit Union provided the ingredients and a camp fire for s'mores, which drew a constant stream of people in.
Volunteer students from the Warsaw Community High School Student Council worked the haunted house. Families could walk through the dark cabin and put their hands in boxes on tables featuring ooze, cockroaches, rats and spiders. Next to the tractor hay ride, it may have had one of the longest lines Friday night.
Shelhart Acre Farms, Claypool, brought out their alpacas. Duane Herendeen, from the Warsaw Community Public Library, read books to children and their parents.
Kosciusko County Senior Services had an information booth, while Ice Creations provided a pumpkin-carving demonstration. Main carver Matthew Larsen carved an elephant in one pumpkin, a cat in a second one and was working on a frog by the second hour.
Laughing Stock Productions had their balloon artists on hand making balloon animals and other things for kids.
Vendors included Anderson Florist, Poppers Kettle Corn and Kona Ice Truck.
Incredible Bats returned this year. Along with his Egyptian fruit bats and African straw-colored bats, owner Daniel Peterson brought along a skunk, a sugar glider and a snake. It was the first year for the snake at the Fall Family Fun event, but it drew a lot of attention from the children.