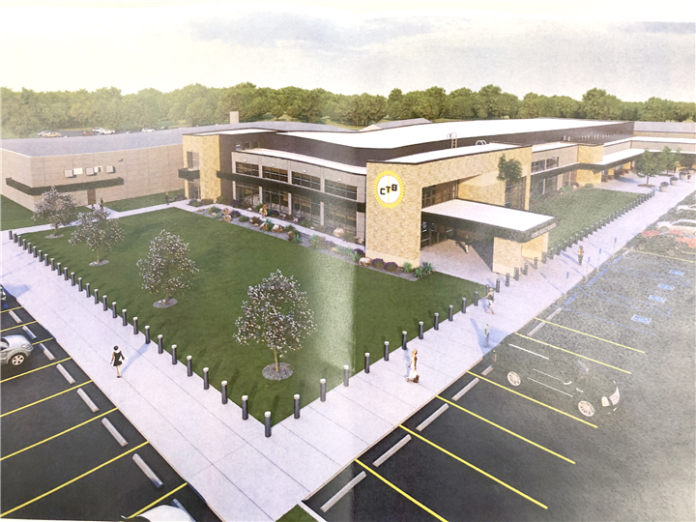 The following by Denise Federow, Times-Union Correspondent
Chore Time Brock is planning a $20 million upgrade to its facilities in Milford and is seeking tax abatement. Representatives from the company and lawyer Stephen Snyder attended Milford's Town Council meeting on Monday to request tax relief on the project.
Snyder told the council the plan includes $19.7 million in real property demolition and reconstruction and $1 million in IT equipment. He said it was a "very significant project." He said currently the company has 518 employees with annual salaries of $24,400,000 and they plan on adding 10 new employees with a total of $446,000 in annual salaries.
Snyder said beyond adding new employees it's important to retain current employees. He said there are help wanted signs everywhere so employers want to make facilities where employees work more acceptable.
Beth Cripe, executive assistant and project manager for CTB gave more details of the project, which she said has been in the works for three years. Cripe said they're renovating approximately 38,000 square feet of the existing facility on the east side of Ind. 15. Demolition is scheduled to begin May 1 and new construction to begin by late August. The new facility is expected to be operational by the end of 2022, according to Cripe.
She said there'll be telecommunications upgrades and a new employee break room.
"The employee break room has not been upgraded in the 29 years I've been there," she said.
There'll be indoor and outdoor space for employees. The parking lot will be redone and refigured with green space added. The largest part of the project involves expanding and upgrading the conference and communications center. According to a press release, "The conference center serves CTB's Chore Time Brock and PigTek divisions based in Milford and will enable the company to better host large employee and corporate meetings as well as distributor network conferences and training events."
Cripe said the conference center will have the capacity for 400 people and will be able to be separated into two rooms for smaller meetings. There will also be two smaller meeting rooms added and a catering kitchen.
Snyder said they considered a Tax Increment Finance District but there wasn't sufficient income to do so, therefore they were requesting 100% tax abatement for 10 years.
Dan Brown of Milford's Redevelopment Commission was present and confirmed that. He said the request for the TIF came through the Kosciusko County Economic Development Corporation. Brown explained the redevelopment commission gets funds from TIF District number 1, which takes in all of the Chore Time Brock property and others and was established in 1995. He said that district expires in 2026. By the time the project gets on the tax rolls the district would collect very little, "and the funds we have are committed to other projects."
Brown said, "The 10 year tax abatement at 100% in support of this project and that would generate the amount of money they were asking for with no up front money."
He said the RDC and KEDCO both supported the abatement and investment. "CTB is a world class company making a world class investment to bring a world class facility to its world-class headquarters in Milford."
He added that the majority of the income from the TIF district over the years has come from CTB and "RDC wholly supports this initiative to give 100% abatement for 10 years."
Council President Doug Ruch said, "I want to express my gratitude to RDC and what you do and express gratitude to CTB for keeping Milford its home. It means a lot to a small town to have world headquarters."
The council approved a declaratory resolution for the tax abatement and set a public hearing for May 10 at 7 pm.
In addition, the council renewed the current tax abatement for CTB which began in 2014. They reviewed the annual compliance form, and noted that while they were down 11 employees, the anticipated salaries were increased by $2 million. After the meeting, clerk-treasurer Tricia Gall confirmed that if the new abatement is approved there will be two separate abatements.
Milford Family Fun Fest Being Planned
Tom Beer of BAJA (Beer and Jessop Amusements) Amusements came to the council to say the annual Milford Fest was back on but will be called Milford Family Fun Fest and they were asking for street closings. He said he called the Lions Club, who had been sponsoring Milford Fest to confirm they had canceled it. Beer said they got approval from the health department to go ahead with the festival "in a different way than had been done by the Lions."
He said they'd practice CDC requirements, would have hand sanitizing stations and it would be up to the public whether they wear masks or not.
Citizens in attendance had plenty to say about this announcement. One gentleman asked why they were changing the name of the festival and asking the town for all sorts of help. Ruch explained that the name Milford Fest belongs to another entity and there are funds set up under that name and the requests BAJA was asking for were the same as the town has always done for the May festival.
BAJA Amusements have been the rides and concessions provider for the festival for many years. Council member Robert Cockburn said he was concerned they weren't requiring masks. Beer said he couldn't enforce it. Council member Kenneth Long said he felt it was up to the public and whether they choose to attend or not and wear a mask or not.
"The last thing I want is people getting upset because someone does or doesn't," he said.
Another member of the public said they commended the Beers. "Milford Fest goes back to the Great Recession and they've come in and done things for us for cheap. We're fortunate to have a company in Milford stepping up."
Another woman said, "As a former member of the Milford Fest committee I want to thank Tom for all he's done. He's provided good service for less money. I applaud him for doing this and for what he's done in the past."
A young woman who said her name was Amber and was also on the Milford Fest committee said they decided not to hold the festival because of the uncertainty and then with the shortened time frame they didn't believe they could do the event justice. She wondered what was going to happen next year and whether the festival would go back to the Lions or stay with the Beers.
Tom said that was a conversation for next year as it's an annual contract.
Gall told Beer she thought it would be a good idea for him to attend the Lions meeting next week and share with them his plans. "There may be some that want to help you," she suggested.
The council approved having Milford Family Fun Festival the weekend before Memorial Day weekend.
In other business, the council:
• Set spring clean-up on April 15 to 17 at the street department building, 600 N. Main St. Hours are 8 a.m. to 4 p.m. April 15 and 16 and 8 to 11:30 a.m. on April 17.
• Had a presentation from Robert Bucher of Office Concepts regarding a new printer, copiers and door fobs. Bucher told the council with just the printers and copiers they'd be getting unified upgraded equipment for what they're currently paying. The council decided they needed to get additional quotes prior to making a decision.
• Approved new doors for the utility building at a cost of $4,885 from Culp Door.
• Approved a new PO4 well and mixer for the well house from EMD, Inc. at a cost of $2,025.71. The purchase will get them into IDEM compliance.
• Approved renewing a preventative maintenance agreement for the seven town generators with EvaPar at a cost of $3,695.
• Approved repairing the fire department generator at a cost of $1,315.83.
• Approved advertising for concession help and lifeguards for the parks department.
• Approved Gall virtually attending an AIM clerk treasurer school and e-budget workshop at a total cost of $150.
• Approved the clerk treasurer joining the Association for Public Treasurers for $159 and attending a three-day conference in South Bend at a cost of $499.
• Approved obtaining staff photos to update the Web site for $300 and a free staff directory.
• Approved purchasing Town of Milford postcards from Kosciusko County Visitor's Bureau for resale at town hall.
• Heard an update on the  David Hizer litigation and the attorney's request to get on the trial calendar under unsafe buildings code and authorized Jay Rigdon to have an outside court reporter transcribe notes from a recent meeting regarding the litigation.