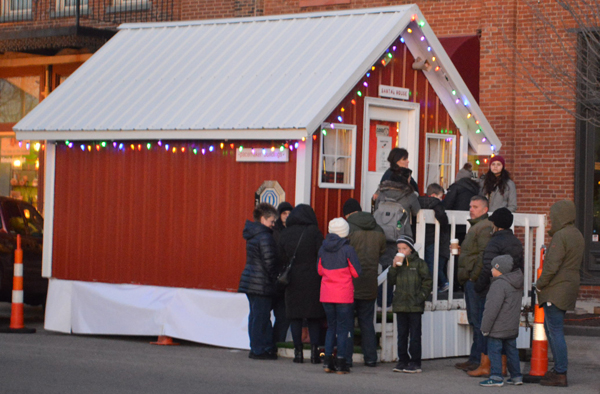 Get in the holiday mood this weekend with a number of Christmas events, from a Twinkle Light Parade and Light Up the Night in Warsaw to Breakfast with Santa in Syracuse, KringleFest in Winona Lake and a tree-lighting ceremony in The Village at Winona.
First Friday
Friday's First Friday in downtown Warsaw is the last for 2021, and goes from 5 to 9 p.m.
Carriage rides go from downtown Warsaw to Central Park to check out the Christmas lights and back, and they will be available during the entire event. Cost is a donation of a nonperishable food item for local food pantries or a new, unwrapped toy for Toys for Tots.
At 5:30 p.m. Friday, Marc Eckel is doing his Splat Experience, First Friday coordinator Paula Bowman said. He will be doing a five-minute 8-foot by 8-foot performance art presentation of "The Little Drummer Boy."
At 6 p.m. Friday, the carriages will pull away and lead the "Twinkle Light Parade" through downtown and to Central Park. The parade will include Santa Claus, Mayor Joe Thallemer and more than 40 lighted vehicles. Different churches and other organizations will have a variety of floats in the parade.
"It will be so much fun," Bowman said.
When the parade is over, Our Lady of Guadalupe will present a Pasada, the journey of Mary and Joseph to the town of Bethlehem, on the courthouse square.
There will be two booths downtown. One will have Christmas wreaths, and the other will have vintage clothing.
Again downtown will be the Breakfast Optimist Club's Santa's House at the corner of Center and Buffalo streets. Children can tell Santa what they want from 5 to 9 p.m. Friday.
Light Up The Night
The first lighting of the Central Park holiday light display is 6 to 8 p.m. Friday. With more than 200,000 lights, Light Up the Night, a free event, has become a yearly tradition for many families, according to a news release from the Warsaw Parks and Recreation Department.
Santa Claus is expected to make his arrival at 6 p.m. Be on the lookout for him as he will be walking through Central Park during the event. Kids will be able to talk with Santa, get their picture taken and even deliver their wish lists to him.
The first 500 children will get a glow necklace and a goofy bag filled with crafts, coloring pages and more.
Light up the Night is sponsored by Paragon Medical, Via Credit Union and Steve and Jill Beehler.
Breakfast With Santa
Stop in the Syracuse Community Center Saturday from 8 to 11 a.m. to have Breakfast with Santa.
Join Santa for a pancakes and sausage breakfast. After breakfast, kids can make a craft, enjoy cookies and milk while listening to the Wawasee High School Christmas band.
Admission for adults is $4 and free for kids.
The event is hosted by Wawasee Kiwanis, Knights of Columbus Council 6323, Boy Scout Troop 728 Syracuse, Syracuse Parks and Recreation, Lakeland Youth Center, Syracuse-Wawasee Historical Museum, Neighborhood Fresh and the Syracuse Public Library.
Christmas Open House
The Mentone Chamber of Commerce will be having its Christmas Open House from 9 a.m. to 3 p.m. Saturday at the Mentone Fire Department, 201 W. Main St., according to the Chamber's Facebook page.
There will be a Christmas tree decorating contest, silent auction, Santa Claus arrives at 10 a.m. and a craft show.
KringleFest
At the Winona Lake Limitless Park Saturday is KringleFest, from 1 to 3:30 p.m.
Children can get their photos with Santa, and there will be a face painting, petting farm and crafts.
Children can shop at the Holiday Shoppe in secret for $2 gifts for a loved one. Visit the Winona Lake Community Center, 1590 Park Ave., Winona Lake; the website www.winonalake.net; or call 574-267-2310 for more information.
Village Tree Lighting
The Village at Winona Tree Lighting Ceremony is a drive-through event Saturday from 6 to 7:30 p.m.
Bring the whole family for an evening of fun at the ceremony. Enjoy the Christmas lights display with coordinating music and free hot chocolate in your car, according to the Village's website. Signs will be posted indicating which radio station drivers should turn their radios to, according to Village Managing Director Nick Hauck.
Carolers will be in The Village from 4:30 to 6 p.m.
As admission into the event, bring a new, unwrapped toy to be donated to Toys for Tots. The drop-off location will be between Green Earth Multisport and Rocket Fizz.
For a drive-through route, visit https://villageatwinona.com/events/tree-lighting-ceremony/.