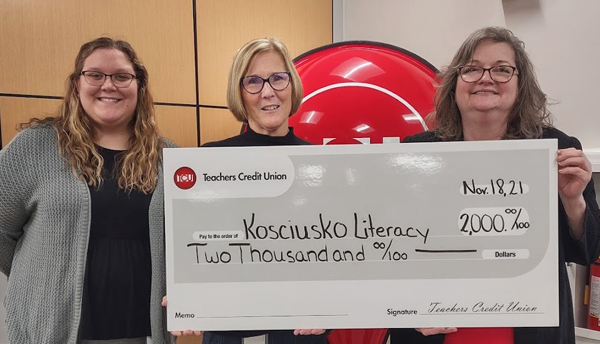 The TCU Foundation recently awarded $2,000 to Plant the Seed, Read!, a program of Kosciusko Literacy Services.
The grant will support the 2022 Plant the Seed, Read! Community Book Read.  The book selection is "Christmas Jars" by Jason Wright. Wright  is a New York Times, Wall Street Journal and USA Today bestselling author. Wright's column has appeared in more than 100 newspapers, magazines and websites across the United States, according to a news release from KLS.
Charitable anonymous giving is a theme in "Christmas Jars" by Wright. Newspaper reporter Hope Jensen uncovers the remarkable secret behind the Christmas jars, glass jars filled with coins and bills anonymously left for people in need. Along the way, Jensen discovers much more than the origin of the jars. When some unexpected news sets off a chain reaction of kindness, Jensen's greatest Christmas Eve wish comes true, according to the website https://www.goodreads.com.
KLS Board of Directors believes that the message in the book aligns with the shared values of the many generous people, companies and foundations in Kosciusko County, the news release from KLS states. Placing Read-Alike books or books on philanthropy with elementary children is being planned as well. With additional funding, KLS plans to have the author speak at the launch of the book read.
Donations from individuals and grants from corporations are vital to support KLS's mission. The support of the TCU Foundation helps to ensure the success of adults and children in Kosciusko County.