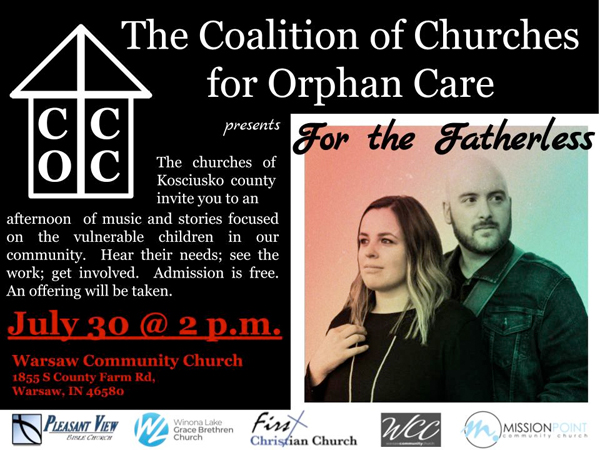 Five local churches have formed The Coalition of Churches for Orphan Care to rally around the vulnerable children in Kosciusko County, along with the participation of Big Brothers Big Sisters, Lost Sparrows and the Department of Child Services.
A free concert on July 30 is planned to help spread the word.
The churches in the Coalition include Pleasant View Bible Church, Mission Point Community Church, Warsaw Community Church (WCC), Winona Lake Grace Brethren Church and First Christian Church, but more are welcome. Each church has agreed to take on different parts of the "battlefront" for vulnerable children so as to not duplicate efforts, according to Jason Alley, children's and worship pastor at Pleasant View Bible Church.
In an interview Thursday with Alley; Jeff Pfeifer, pastor of care ministries, WCC; and Tammy Smith, Kosciusko County director of Big Brothers Big Sisters; Alley said Pleasant View is taking on trying to create more foster families.
"So we run a couple of cohorts of people who are interested in becoming foster parents a year and we do everything we can to help facilitate them getting licensed and certified to become foster parents," Alley said.
He said the church has a team of handyman who will make minor repairs to potential foster parents' homes if DCS needs that done before the parents are licensed.
Winona Lake Grace Brethren Church has a ministry called Room at the Table. "That is a supply closet for people who have either foster or kinship care placements in their home, so if somebody gets a 4-year-old boy and they've never had a 4-year-old boy before, they need things for that 4-year-old boy, Winona Lake will give them stuff to facilitate taking care of that kid. The foster supply closet is a big beautiful thing," Alley said.
Mission Point has a "deep part of their culture being foster and adoption," he said. They promote adoption very heavily and many of the church members have adopted children.
As for First Christian Church, Alley said they are doing various life-coaching and mentorship activities.
"So if a family is in danger of losing their children because of something wrong with their house or something wrong with their financial situation or nutrition or health or cleanliness or whatever, First Christian Church will come in and try to keep the kids in that home by fixing the problems that are in the home in the first place," Alley said. "So they have people that will go and teach families how to clean, teach families how to shop on a budget and get nutritious meals, teach a family how to make minor repairs to their house so that DCS doesn't have to get involved in the first place or have to take the kids out of the home."
Pfeifer said WCC is similar to Mission Point as to where they're at regarding encouraging adoption. "We've also been blessed to be able to host events. We've had a couple conferences at our church and now this (concert) coming up," he said.
Smith said BBBS has a population of vulnerable children that they work with.
"The churches want to facilitate the ministry to vulnerable kids and it doesn't just have to be the church doing it, so churches would like to see people sign up to be Bigs, so we talk about their ministry at our churches and try to get volunteers to be Bigs for Big Brothers Big Sisters," Alley said. "Similarly, there's an organization called Lost Sparrows, and Lost Sparrows is a ministry that started out trying to get people to adopt from foreign countries."
The COVID pandemic "clipped the wings" on that because of travel bans and related issues, Alley said, so recently Lost Sparrows pivoted to trauma training.
"Especially if you adopt from some Eastern European countries, kids are broken, kids come from hard places and you need to know how to handle that so Lost Sparrows now is a trauma-training organization, training foster and adoptive parents how to most effectively deal with, cope with, work through the obstacles that some of these wounded kids will have when you take them in. And Lost Sparrows hosts the only support group in our county right now for foster and adoptive parents," Alley said.
The last member of the Coalition is DCS. He said the director of DCS participates in the Coalition's meetings.
"We've decided not to duplicate efforts. So, if somebody from another church hears that a family is interested in being foster parents and needs to get certified, that other church doesn't need to learn what it takes and come around them to get foster certified, they'll just let us know and we'll reach out to those people and say, 'Hey, here's who you need to call, here's the next time we're putting together a cohort of students, here's the phone number for the head contractor if you need something done at your house.' So, we refer to each other," Alley explained. "We don't duplicate each other's efforts, we just refer freely with whoever will meet that need for those people. So that's why we call ourselves a coalition and not an organization, because I'm not anybody's boss. We all do our own thing – we just agree not to step on each other's toes."
Smith said her understanding is that each church in the coalition takes a focus area and everybody knows what their specific area is to not duplicate services.
"We would love to see more churches get on board. There's certainly more to do than what any one of us is doing right now," Alley said. As an example, he said the "whole realm of CASA" is not being supported by any church right now. "So we would love to see a church adopt the CASA?community and train new CASA workers and facilitate what they're doing. That's not happening.
"We need more support groups. Lost Sparrows is doing the only one in our county and there's way too many people in our county who need that for there to be only one support group in the county."
There's Safe Families, which Alley said is essentially Christian fostering, and they provide short-term care for families in crisis.
"They provide short-term care for the kids, so if a family gets evicted or power gets shut off or some kind of crisis where it's not safe or healthy or good for the child to be in that home right now, Safe Families will take them in short-term and Safe Families would love to have a church in our county to host them and develop volunteers for them and help facilitate what they're doing and there isn't one yet," Alley said.
He said there's other opportunities like that but churches are needed to step up and do the work. Alley said the churches can reach out to him as he's the default facilitator of the Coalition and he will happily meet with them. He's met with three pastors in the last six weeks and invited their churches to come on board. "I'm actively pursuing other churches to be a part of this," he stated.
One way to learn more is the concert at 2 p.m. July 30 at Warsaw Community Church, 1855 S. County Farm Road, Warsaw, with For the Fatherless performing. Admission is free, but an offering will be taken.
Alley said For the Fatherless has been to Pleasant View twice before. Both of them will share their stories as both were fatherless for different reasons and are motivated toward helping people from broken homes.
At different points of the concert, Coalition members will share what service opportunities are available for people to get involved.
"We'll hopefully raise some volunteer interest in the people that are there to get involved and support the work of the Coalition," Alley said.