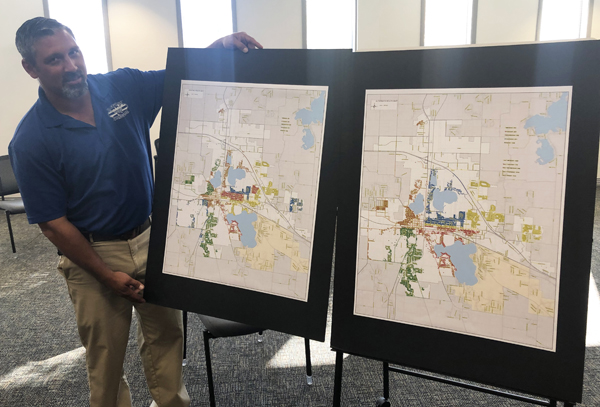 TIMES UNION REPORTS – More than 40% of the trash routes for the city of Warsaw will change beginning Oct. 4, and the Street Department has a plan to make sure all residents know about it.
Street Superintendent Dustin Dillon gave a presentation Friday to the Board of Public Works and Safety about why the changes were being made and how residents will be informed.
Mayor Joe Thallemer said the trash route changes were deliberated for a long time. The primary goal was to make the routes more efficient as over time they got more spread out because of annexation and the increase in users.
Dillon had two large maps with him, one of the existing trash routes and one of the new routes. An interactive map of the new routes, as of Friday morning, can be found on the city's website at https://www.warsaw.in.gov/294/Trash-Service.
He said there was no real rhythm to the old trash routes, which were due to annexations, new developments and, numbers-wise, where they fit.
"It's a long time coming. It needed to be done," Dillon said. "We kind of struggled with getting some consultants and things involved. The cost was very high. We were able to get with our city's GIS coordinator and go right through the Elements program, which saved the city over $10,000 and just being able to do that, to draw these maps and make it more efficient for our guys."
With the old routes, Street employees spent 2.5 hours of "deadhead" time driving, Dillon said.
Beginning Oct. 4, Monday's route "will be everything on Center Street, coming across (Ind.) 15, going east over to Harrison, everything across (U.S.) 30," he said.
On Tuesday, the trash route will be south of Center Street, east of Ind. 15, including everything out on Country Club Road. Wednesday will include everything north of Winona, west of Ind. 15 including Northwest Woods. Thursday will be east of Ind. 15, north of Center Street and inside the "loop of 30," Dillon said. Friday will be south of Winona, west of Ind. 15 and Ranch Road.
"So this does a few different things," Dillon said. "This keeps our trash trucks and our follow trucks that are picking up other items, it keeps everybody concentrated in the same area. You're not driving clear across town, you're not spending 45 minutes going from one side to the other, running over to pick up something that was missed. They're both in the same area, creating more team goals instead of dividing the two crews – one trash truck is on one side of town, the other is on the other side of town."
Once all the quirks are worked out after the first 30 days, Dillon said he thinks trash pick-up will be completed every day by lunch.
"At five individuals running trash every day, that's going to be 15 to 20 man hours they can be doing another project for the city and doing something else," he said.
Dillon recognized everyone is a "creature of habit," but the new system will be more efficient.
To get the new routes started Oct. 4, starting the week of Sept. 27 residents will get a packet of information, including the holiday trash schedule for the rest of 2021 and for all of 2022, taped to their trash can.
"If that's not enough, you're also going to get a sticker on your trash can that tells you Monday, Tuesday, Wednesday, Thursday or Friday, which day your trash will be picked up and when the start (date) will be," Dillon said.
He said the mayor's office will be putting out several city alerts and there will be the interactive map on the city's website.
Even if a person's trash date is not changing, Dillon said they will still get the information.
"This new route, we're really excited about it. I think it's going to be so much more efficient and give the taxpayers a little more bang for their buck on just employee time and efficiency," he said.
One of the things that always bugged Dillon with the old trash routes, which also bothered many others, is that "one side of the street was Tuesday, one side was Thursday, one side was Wednesday, one side was Friday. So you were constantly looking at trash cans out. … I don't personally care to look at trash cans all the time myself, so that was another big (impetus) to get this done. Now the only divided street is Center Street, which east of (Ind.) 15 is Monday, west of City Hall is on Wednesday. You're never going to notice it because it's completely polar opposite sides of town."
He said that should help clean up the look of the city.
Thallemer said as of 11 a.m. Friday, the information was posted on the city's website. All the information and press alerts will come out next week, and the following week, the week of Sept. 27, letters and sticks will be delivered to homes. Then, starting on Oct. 4, the routes will change.
"The Street Department has done a marvelous job of getting this done, doing it properly, making sure citizens are all aware," Thallemer said.
He asked Dillon if nothing was changing on the recycling days. Dillon said that was correct as Borden was happy with the city's new schedule and will keep the recycling schedule the way it has been for several years.
Thallemer said he received a letter from an individual asking about the paper bags for leaves and other yard waste. "But just to clarify, during our normal leaf pick-up, we're not putting leaves in those paper bags. It's still continuing the way it always has. Would you talk about that, and also if this new trash route will impact our leaf pick-up days?"
Dillon responded, "With our leaf pick-up, it is coming around. That was one of the biggest (reasons) we were wanting to roll this out in October. Usually, we don't have leaves turning and dropping until Halloween or about the time we get our first freeze. But this is going to be a huge impact. In years past, we're driving clear across the city. Our leaf pickers, they fill up fast. Certain parts of town, you get over across (U.S.) 30 into Timber Ridge addition where you've got those huge Oak trees and Maple trees. When those things come down, you'll pick leaves for 10 minutes and your truck is full, so we're driving clear across town again."
Having a centralized area for leaf pick-up will make the work 10 times more efficient, Dillon said.
The loose leaf pick-up will be advertised once leaves start coming down. Dillon said there won't be a need to put leaves in the paper bags as they will be picked up the same as they always have.
"We got our new automated one-arm leaf truck, last year was the first year of using that, which is an extreme time saver, as well as our trailer vacs that we've always used in the past, also," Dillon said.
Residents can still pick up five paper bags a month.
"I think the public, honestly, is in huge favor of that. We get very little rebuttal from the bags. A lot say we should have done this years ago, so it's kind of been met with open arms and we're excited about that as well," Dillon said.
"So, again, just to clarify, that's where leaves go until we start our loose leaf pick-up," Thallemer said.
Loose leaf pick-up is ran in coordination with the trash days.
Council and Board of Works member Jeff Grose asked if the trash cans still need to be out on trash day by 7 a.m. Dillon said yes.