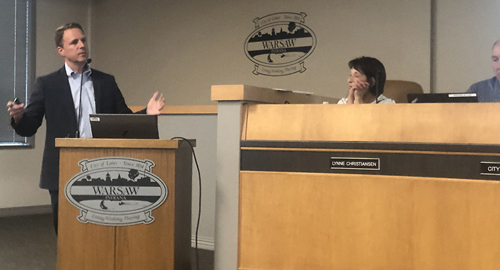 At the end of his presentation Tuesday to the Warsaw Common Council about the city's comprehensive financial plan, Baker Tilly Municipal Advisors partner Jeffrey Rowe said overall, the message is positive.

And his recommendation was that they keep doing what they're doing.

Prior to Rowe's executive summary on the plan, Mayor Joe Thallemer told the Council, "The last several years, this has become part of our budget process, to look back on our actual spending and look ahead on our projected spending. I think it gives you all a much better idea when you look at what you're charged to do, handling this budget, to know where we've been and where we're going. I'm very pleased with the comprehensive financial plan's role in that process."

Rowe said the purpose of the plan is for it to be a useful tool going into the budget process, and beyond that to expand the city's planning horizon to make sure budgeted operating expenses are covered and there are adequate cash reserves. It also will help the city develop a plan and strategy to pay for capital project needs.

"At a very high level, the city remained very resilient coming out of the pandemic … and finished the 2021 calendar year in a strong financial position," Rowe said. "When we look at the projected or budgeted cash balances for 2021, any cash balances, compared to actual cash balances at the end of the year, actual actually outpaced the budget by roughly half a million dollars. So good positive trends through 2021 and good, strong cash position."

At the end of 2020, the city had roughly $34.5 million and that has increased by about $5 million in cash and investments, he said.

"More specifically, the general fund, at the end of the year, had $7.8 million. You'll see that equated to roughly 67% of the annual operating expenses. And the reason why that's important – the city has certain established cash reserve policies and one of those is that within the operating funds, that cash balances never fall below roughly that 15 to 20% thresholds. You can see that the city's general fund is well within that. You're in strong cash position," he said.

Rowe then showed the Council a graph that represented a 10-year history of the net property tax dollars that have been collected by the city and also the circuit breaker tax relief that the city has lost because of circuit breakers.

"In looking at the last 10 years, what we've seen is that there's been sort of a positive and sort of a negative," Rowe said.

The negative is that the circuit breaker has increased over the last 10 years "north of 80%," he said. "So we've seen those losses actually grow over time."

The good news, he said, is that they've seen an increase in the net property tax revenue coming in.

"Not at the same level, not at the same pace, but still growth of over 50% over the last 10 years. So, certainly, it's good to see that positive trend and that property tax dollars coming in so that it's still being offset and outpaced by circuit breaker credits within the county and then as that fumbles down to the city," Rowe said.

A second graph on property tax relief illustrated how much of the county's circuit breaker losses – or property tax relief – the city absorbs. Out of $2.4 million in 2022, the city absorbs 39.22% of the total circuit breaker within the county, which is the largest percentage of any of the overlapping units. It's followed by schools, 33.42%; county, 9.96%; city/towns, 7.19%; TIF, 5.05%; library, 4.48%; and township, 0.68%.

The third graph displayed the trend and history of net assessed value over the last 10 years, overlaid with the tax rate for each of the years.

"We've actually seen tax rates remain fairly steady over 10 years, so we've actually seen an increase but just a very small increase in tax rates, about 8 or 9% for that 10-year period," Rowe said. "So, obviously, a part of that is controlled spending, managing of spending the city's budget, but also a larger portion of that is a result of the increase in assessed value within the city."

He said the assessed value within the city has increased about 44% over the last 10 years.

Since 2013, tax rates increased 8.8% from $1.1381 to $1.2388. During the same time period, net assessed values increased 44.1% from $797 million to $1.15 billion, according to a copy of the comprehensive financial plan.

"So we've seen good, steady, healthy growth of assessed value, which is certainly a positive within the city," Rowe said.

In terms of operating cash balances, he showed another graph displaying the trend in the major operating funds over the last 10 years.

"We've seen an increase of about 29% from 2012 up to 2021. So, at the end of 2021 we saw a historical high of roughly $14 million of cash within the major operating funds," Rowe stated.

The next graph looked at spending over the last 10 years. Rowe said it's increased but at fairly low levels. "We've seen spending since 2012 go up by about 17% … on an annual basis," he said, which is right around the annual inflation rate.

The graph shows that in 2012, expenditures were $17.01 million; $14.90 million in 2013; $20.93 million in 2020; and $19.88 million in 2021.

Rowe said that one of the benefits of the comprehensive financial plan as a tool was that it allowed the Council to look at its capital project needs and how to fund them. He didn't go through all of them, as it's quite a list, but he said, "All in all, the total plan includes about $38 million of capital projects for the three-year period."

The majority of the projects are anticipated to be paid with cash on hand. Some projects will use grant dollars or other contributions.

Thallemer told the Council that they know they don't do capital projects unless they have them funded.

After going through nine alternatives for the city to raise more money or pay for capital projects, Rowe concluded his summary of the comprehensive financial plan by stating, "So, overall, I think the message is positive. We're seeing growth financially. We're seeing stronger cash balances. Obviously, there's a large demand for capital needs and capital projects as the city grows. We're seeing that as well. But, all in all, I think, looking back at 2021, looking ahead, the financial outlook is positive for the city."

Councilman Mike Klondaris asked Rowe if he had one recommendation for the Council, what would it be?

"I don't know if it's a recommendation, but maybe just an observation, is to keep doing what you're doing," Rowe responded. "If the growth and assessed valuation is really key, we've seen growth in your industry, which certainly helps."

He said where they see communities that tend to alter their plans financially are those communities that are stagnant or receding in terms of economic development.

Rowe said the city needs to continue to grow its assessed valuation, continue the process of looking at its multi-year planning process and continue to live within its means.

Councilwoman Diane Quance said she's seen a difference in the Council's ability to plan since looking over a comprehensive financial plan over the last four to five years. She said it's made a really big difference for them.