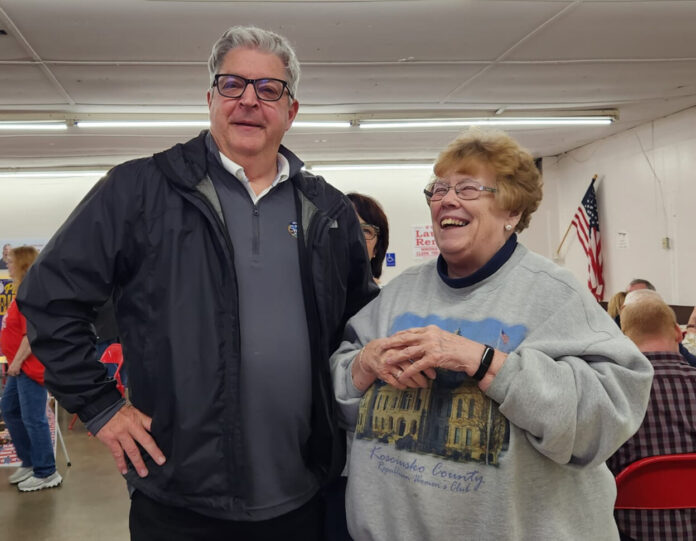 By Dan Spalding
News Now Warsaw
WARSAW — The GOP fish fry at the fairgrounds was a bustling scene Wednesday afternoon and one common point of discussion was a proposal to convert the municipal airport to a city-county airport authority.
If the proposal is eventually approved, it would result in a new tax for all county property owners.
The all-Republican Warsaw city council has already unanimously voted to support the measure and the all-republican Kosciusko county council will begin debate on the issue tonight when it hosts a special meeting on the proposal.
The county council won't vote on the issue tonight but is expected to hear a pitch on the issue from city officials.
Exactly what county council will do with the plan remains unclear. County Council President Mike Long has already spoken against it and floated the idea that voters address the issue in a referendum.
Warsaw Mayor Joe Thallemer and Airport Manager Nick King, who is expected to present the city's case, both attended Wednesday's fish fry.
King said he intends to explain the rationale, answer questions and attempt to clear up misconceptions.
State Rep. Craig Snow, a proponent of local economic development, is expected to address council on the issue if he can make it in time after a day in Indianapolis.
County Republican Party chairman Mike Ragan said he's talked about the issue with several on the county council. He said some are "dug in" in support of the idea.
Ragan declined to say whether he supports the plan but adds that something needs to be done to further assist the airport.
The meeting starts at 6 p.m. at the old courthouse and the public is encouraged to attend.