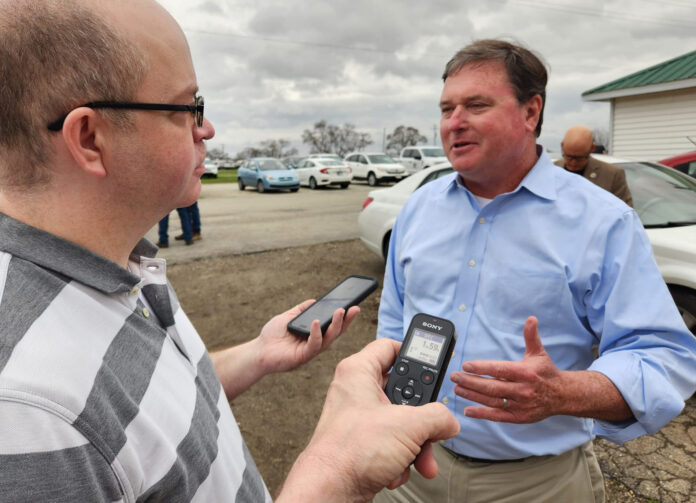 By Dan Spalding
News Now Warsaw
WARSAW — Just hours after Gov. Eric Holcomb signed legislation banning gender-affirming care for minors, one of the bill's leading proponents – Indiana Attorney General Todd Rokita – applauded the move.
Rokita was at the annual Kosciusko County Republican Fish Fry hours after the bill was signed into law and talked with reporters about the development.
The legislation was opposed by some parents, doctors and the trans community.
The Indiana ACLU quickly announced plans to appeal the new law.
The approval by Holcomb came a day after he called the bill clear as mud, leading some to think he might veto it.
Rokita said he didn't understand the thought process but was nonetheless pleased with the result.
"He did the right thing … he got to where he needed to get — I'm not sure what was going on in his mind — but I will tell you that northeast Indiana legislators that I talked to just today didn't think it was muddy," Rokita said.
"This is a very reasonable law. I look forward to defending it," Rokita said.
Rokita often refers to surgical procedures for trans as mutilations when discussing the issue.
"I think doing these procedures as a first option is actually child abuse. It's irreversible," he said.
During the legislative process, supporters were unable to document whether surgical procedures that support transitioning arfe happening in Indiana.
Rokita conceded that he doesn't have any documented proof of mutilation.
Rokita said his office inquired but did not get any answers from hospitals when the attorney general's office sought details on whether they are providing such services.
He said he now plans to issue subpoenas.
He also said he thinks the medical community supports it in part because there's money to be made.
"We know from whistleblowers in other states – why would Indiana be any different? E Especially when as much money can be made here?"