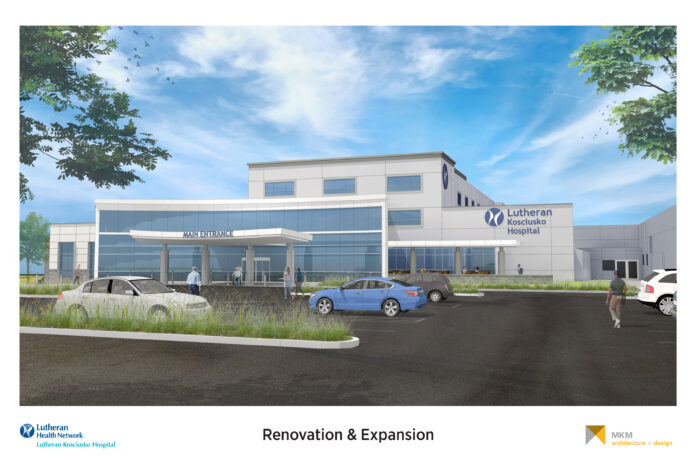 By Dan Spalding
News Now Warsaw
WARSAW — Lutheran Kosciusko Hospital on Tuesday broke ground on a $30 million capital investment project that will be highlighted by expanded surgical services.
Community leaders gathered for a ceremony Tuesday in front of the entrance, which will be one of the areas that will be renovated.
The project entails 25,000 square feet of new construction and renovations.
Construction around the entrance has already began. After exterior changes are complete, work will focus on interior changes, much of which will involve expanded surgical units.
Construction is expected to continue for a year.
"Lutheran Health Network is committed to the residents of Kosciusko County and the surrounding area," said Lynn Mergen, CEO.
"I couldn't be prouder of our physicians, our talented local leadership team as well as the members of our board. I know they will make sure Lutheran Kosciusko Hospital continues to bring value to this community through the excellent care we provide."
Changes in the surgical area will provide increased patient privacy as well as more room for family members; renovations to operating rooms will help better accommodate surgeons, and an expanded sterile processing area featuring new technology will allow for faster equipment sterilization, according to information provided by LKH.
Among the speakers were Mayor Joe Thallemer and Kosciusko Chamber of Commerce CEO Rob Parker.
"The commitment to grow and add medical services over the years has broadened local access to care that keeps families close when the time is of great importance," said   Thallemer.
"When the need for hospital care becomes a necessity, newer modern facilities more confidently welcome patients. That investment in facilities is what we celebrate today."
Parker pointed out the growth the community is seeing.
"This expansion is another great example of the dedication and commitment to Warsaw and all of Kosciusko County," Parker said.
Alan Tio, CEO of Kosciusko Economic Development Corporation, said health care can be an economic driver.
"Quality healthcare is a key factor in determining where business leaders consider where to
grow and start their businesses as well as where individuals choose to live," said Tio. "This hospital has long been focused on providing specialized services right on this campus, which directly contributes to the brand promise we have when we say you can find your way in Kosciusko County."
LKH is part of the Lutheran Health Network.
Construction has already begun and the projects' progress will be periodically updated at lutherankosciuskohospital.com.