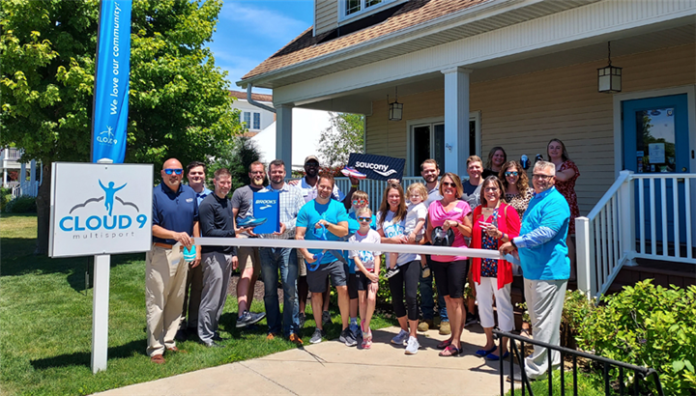 WINONA LAKE ­– Kosciusko Chamber of Commerce held a ribbon-cutting ceremony Thursday for Cloud 9 Multisport, 1009 E. Canal St., Winona Lake.
Owner Keither Sampson said before Cloud 9 Multisport was at the Canal Street location, the location was home to Green Earth Multisport LLC. In 2019, Sampson said he developed plantar fasciitis after running in bad shoes, which led Sampson into Green Earth Multisport.
After visiting Green Earth, Sampson said he understood what was happening and was fitted with proper footwear to fix the problem.
On Feb. 6, 2022, Sampson learned Green Earth was closing its doors in March and moving out of state. Sampson thought the community couldn't lose that type of market. Sampson ended up buying some of Green Earth's assets and got with the town of Winona Lake to see what was needed to take up the lease at the Canal Street location when it was up.
Sampson said he wanted to set something up that was similar but different than Green Earth Multisport.
He said Green Earth was a "tri" store, focusing on the run, bike, swim people and the triathletes. Cloud 9 Multisport is a lifestyle store, which focuses on the walking, running and standing communities.
"We're here really to serve anybody that's on their feet. I don't care where you are, where you wanna be, where you've been. We want to help you," Sampson said.
Some of the ways Cloud 9 Multisport can help customers is through its insole system, which allows the store to properly digitally measure the dimensions and the standing pressure, as well as their walking pressure, of someone's foot. After those measurements are taken, Cloud 9 staff then recommend off-the-shelf orthotics and custom orthotics to address the person's issues.
Cloud 9 Multisport also sells items like sunglasses and Winona Lake apparel.
Sampson said he wants to help people create those cloud nine moments, where they feel they've accomplished something, and help customers build experiences and memories that last a lifetime.
Hours are currently Monday through Friday, 10 a.m. to 7 p.m.; and Saturday, 8 a.m. to 6 p.m. Cloud 9 Multisport is also open for appointments.
There is also a grand opening Friday from 4 to 8 p.m. At 3:30 p.m., wristbands will start being checked because Cerulean Restaurant is going to do a bar in a tent next to Cloud 9 Multisport. There's also going to be food and music.