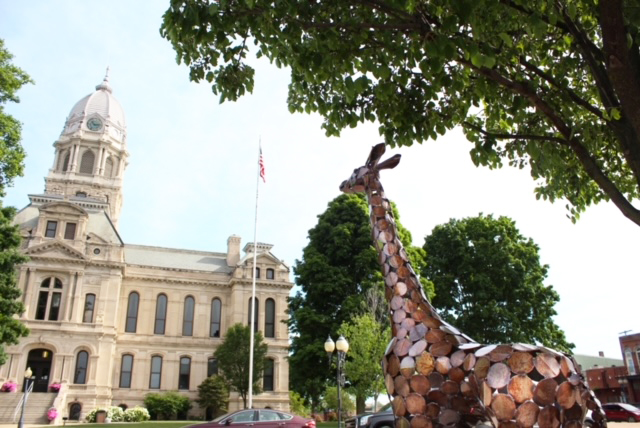 There are a couple of giraffes in downtown Warsaw.
And a peacock, along with a number of other temporary art pieces for the public to enjoy.
If you haven't checked out all of them yet, you have until Oct. 15 to do so before they're gone.
"The Warsaw Public Arts Commission in the past did temporary art installations of Seward Johnson sculptures and we've done permanent art installations. And we know that those temporary art installations bring people downtown so we wanted to replicate that, but on a smaller, much smaller, budget," said Suzie Light, WPAC president.
The Commission decided to do a call to artists that are in college or recently graduated from college. Requests for proposals were sent to area universities and colleges. Professors there then passed out the information to their students. A few press releases also were sent out to reach parents and grandparents of local students away at college.
"Once we did the request for proposals, we received three proposals and the proposals all were really cool," Light stated. "So we said, let's just do all of them."
One of the artists was asked to expand her work from one mural to four. Abigail Smith, a visual communication design major at Purdue University, West Lafayette, provided the four temporary murals featuring Warsaw landmarks and the sculpture titled "Fractured."
Chelsea Waltermire, an art major at Manchester University, North Manchester, provided "Flowers & Lattice," a tile, wood and concrete piece.
Sunday Mahaja, a Goshen College graduate specializing in metal sculptures, who lives in Goshen, provided "The Proposal," "The Arrival," "Spring Dancer," "Royal Highness," "Lake House in Nebraska" and "Sunflower Tree."
"We said we wanted to start in June. The artists were OK with that. It's going to end Oct. 15. They're going to be responsible for de-installing their artwork. They have to leave it up the whole time. I imagine that some of those artists would be willing to sell art, especially Sunday. His metal sculptures are fantastic," Light said.
The WPAC was excited about doing something on a more limited budget, and the students are excited because the displays give them and their artwork exposure, she said.
"In fact, I received a call from somebody who is on the Hoosier Salon Board of Directors and she was asking about one of the artists because she wants to connect with her to make sure that this woman is aware of what Hoosier Salon is. So it's exciting! People are paying attention to these talented individuals that live in our community or near our community," Light said.
To help visitors find all of the new art pieces – along with other art and art-related businesses around Warsaw – the WPAC, Kosciusko County Visitors Bureau and Kosciusko Economic Development Corporation established an all-things-art Google map.
"You can scan the QR Code that is on each of the information posters by each of the art installations and find out more about the art and where they are all located. So they are on the all-things-art asset map," Light said.
The map was started by a KEDCO intern. More about the map can be found at https://visitkosciuskocounty.org/all-things-art-3/.
"There are big cities that don't have this," Light said. "Ours is pretty cool."
All the college student art pieces are within walking distance downtown Warsaw – Market, Buffalo and Center streets.
The mission of the WPAC is to develop Warsaw as an engaging place to live, work and play through increasing awareness of the arts for all ages.
"Quality of place is very important and it ranks up there along with safety and being able to work in a place that you want to work in. Quality of place really has an economic benefit to attracting employees and keeping employees and keeping businesses. That's why KEDCO got involved in it," Light said.
When Seward Johnson's statues were in downtown Warsaw six years ago, Light said Mayor Joe Thallemer saw how busy downtown Warsaw was with people coming. Tour buses even brought people to downtown Warsaw to see Johnson's work. Another "robust" art installation is being planned for summer 2023.
Light said the current art installation is lovely.
"Those artists exceeded expectations that the Commission had. They were great to work with. They were happy to be here. It was really exciting," she said.
A meet-the-artist tent will be at First Friday today where people will be able to meet Smith and Waltermire. Mahaja was unavailable to attend. First Friday is 5 to 8 p.m. downtown Warsaw. There will be commemorative postcards that Smith and Waltermire can sign.
"Doing this call out to artists, and then vetting the submissions and then planning the installation, planning the de-installation, making sure that the contracts are correct – there's a lot that goes into it. It's not just calling somebody and saying, 'Hey, can you stick your lovely art on the corner of Market and Buffalo?' It doesn't work that way, so there was a very intentional process," she said.
WPAC started the process in August.
The funding source for WPAC comes from a fund at the Kosciusko County Community Foundation called ArtFULLY Warsaw. Donors can contribute to that fund, and then that's the working capital that the WPAC has to do art installations.
"No tax dollars support the work of the Warsaw Public Arts Commission. We are a commission convened by the mayor and we were tasked with making sure that we raise philanthropic dollars, charitable dollars, to do our work," Light said.
The Kosciusko County Community Foundation is at 102 E. Market St., Warsaw, IN 46580. Donors may support this effort by making a donation online at www.kcfoundation.org/donate; select ArtFULLY Warsaw Fund.