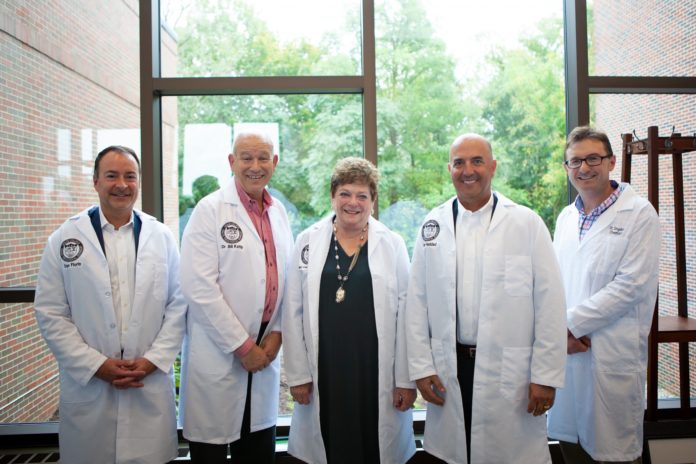 Hundreds of community members, Grace College students and alumni, and friends of the late Dr. Dane Miller gathered for an open house and dedication of the new Dr. Dane A. Miller Science Complex Friday.
Dr. Drew Flamm, vice president of advancement at Grace College, kicked off the dedication ceremony by recounting the facility highlights.  "The Dr. Dane A. Miller Science Complex contains 22,500 square feet of renovated space and 13,000 square feet of new space, including Grace's first classroom-in-the-round, two new multi-purpose learning labs and the first specially designed space for the Lilly Center for Lakes and Streams."  Calling it a "state-of-the-art facility," Flamm said science and mathematics classrooms and labs have been updated throughout, and the facility will be a field trip destination for K-12 students.  "Many students will enjoy field trips to the Lilly Center to see the 850-gallon hexagon aquarium and interact with the augmented reality sandbox and virtual fresh water aquarium as they learn about our region's most valuable natural resource: water," he said.
A unique demonstration came next as a group of community and college leaders conducted a science experiment to illustrate the contributions of the many people and organizations to the new Science Complex.  President of Grace College Dr. Bill Katip, Chair of the Science & Mathematics Department Dr. Chad Snyder, community leader and lead donor Mrs. Mary Louise Miller, Executive VP & Chief Financial Officer of Zimmer Biomet Mr. Dan Florin, and President & CEO of K21 Health Foundation Mr. Rich Haddad contributed ingredients to make ice cream for the celebration.
Dr. Katip recognized the community leaders by saying, "Without each of you and your organizations we wouldn't be here. You saw a vision and met it with your generosity."  Katip also gave special thanks to general contractor Weigand Construction, BHDP Architecture and artists Christi Ziebarth and Mary Pat Wallen.  He said that in all, more than 200 donors contributed to the Science Complex and enabled Grace College to far exceed its $8 million fundraising goal.
Katip noted that nearly 1,000 alumni have graduated from Grace with science and mathematics degrees to date, and because of the new Miller Science Complex, "hundreds more will now be equipped to serve our world and make a difference in the fields of medicine, research, education and more."
He concluded by thanking everyone who made the new facility possible, saying, "Thank you most of all for investing in the lives of our students and the countless lives they will impact with their work for decades to come."