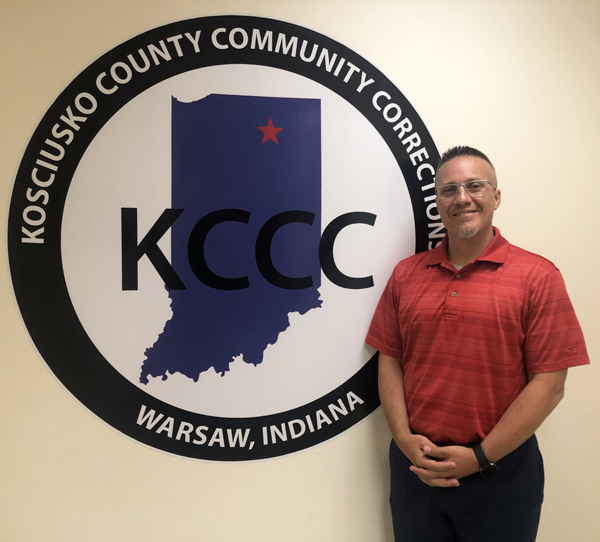 When God opens a door, Kosciusko County Director of Community Corrections Barry Andrew has learned not to close it.
So after 19 years with the county working in the Alcohol and Drug Program, Drug Court and Community Corrections, Friday is Andrew's last day. He has taken the associate director position with the Lilly Center for Lakes and Streams at Grace College.
Andrew was born and raised in Warsaw, graduating from Warsaw Community High School in 1994. He earned his undergraduate degree from Grace College in counseling and sociology in 1998. In 2012, he finished his MBA from Grace.
In 1997, Andrew started at Bowen Center part time. "So between my time at Bowen and then my time here, it's been 25 years," he said in an interview in his Community Corrections office this morning. "But then, I think about two years ago, God started stirring some things in my heart and I started making some changes and thought, 'Well, if this is where I'm meant to be for the long haul, then he'll make that evident. If not, he'll make that evident.' I've tried really hard over the years, as God opens doors, not to slam them in his face. I've done that in the past and it's never worked out well for me."
About four to six weeks ago, Andrew said he had an interview opportunity with the Kosciusko County Community Foundation for a vice president position, but that didn't work out. But in that process, Alex Hall left the Lilly Center to take the vice president position at KCCF, so the Center's executive director, Dr. Nate Bosch, called Foundation CEO Stephanie Overbey to see if she had any recommendations to fill Hall's position. She thought of Andrew.
He looked the position over, talked to his wife Joye about it, prayed about it and decided to go for it. The interview was May 27, they offered him the associate director position on May 30 and he accepted it May 31.
"I feel like, like I said, about two years ago God just started stirring things in my heart. I look back on that now and I realize now he was just kind of planning this, getting things rolling in my heart because I really thought I'd be here until it was time to retire," Andrew said. "When you've been somewhere for 19 years, you've invested a lot, done a lot. I've helped develop and create two new programs here that are still running and thriving. So you literally have a lot of blood, sweat and tears, and that's not something you take lightly when you're thinking about moving on to the next chapter. So I think God knew it would take a while for me to get to the point where I was ready to go. That time has come, and I'm super thankful for the 19 years I've had here."
He said he's thankful for the friendships he's developed, the opportunities and trust that have been given him and for what the county has allowed him and trusted him to do.
"It's not every day that you get to, on a daily basis, work with judges and prosecutors and attorneys. And, most of all, you get to work with the folks that come through the legal system and have an opportunity to help change lives and help change hearts and help do the work that gets done here. That certainly has been an honor for me and that's probably been the biggest reward, just the people I've got to interact over the last 19 years and knowing that I played a small part in helping change lives. And I think we left it better than we found it," Andrew said.
Prosecuting Attorney Dan Hampton said, "When I began working with Barry Andrew, I was struck by his kind nature, intelligence and work ethic. He puts his heart into everything he does, even the most difficult or thankless tasks; and he undertakes these challenges with integrity and a positive attitude. Through his tireless efforts, he left an indelible mark on those who received services or participated in the Kosciusko County Alcohol and Drug Program, Kosciusko County Drug Court and the Kosciusko County Community Corrections Program. Barry is a man of great faith, and is the epitome of 'servant leader,' never seeking any accolades for himself. He has been a great partner in the criminal justice system in Kosciusko County, and his presence and input at the Justice Building will be greatly missed."
Andrew's presence at the Justice Building began when he was hired in August 2003 by Kosciusko County as the director of the Alcohol and Drug Program, which was only about a year old at that time. He had been working at the Bowen Center for five years by that time. Andrew replaced the first director who left for other opportunities. Andrew was the only employee in the program initially, but it grew to him and three full-time staff members.
In 2012, conversations began about starting a Drug Court program. Since Andrew did the Alcohol and Drug Program, it only made sense that he would spearhead that development. They spent all of 2012 researching and developing the Drug Court. The Drug Court began in Judge Mike Reed's court with the first participant in January 2013.
"So, I've held three full-time jobs here over the years, and sometimes all three of them at the same time," Andrew said. "Between the director of the Alcohol and Drug program, the Drug Court coordinator and then I was part of the team that helped start the Community Corrections program."
He estimated the Community Corrections program started in 2016. The first director left for other opportunities. The second director had some legal issues and Andrew replaced her. He was first named the interim Community Corrections director in October 2019 and then became director in January 2020.
"The journey here has been quite a journey," Andrew said. "Coming into a program that was in the position that it was in and knowing that the challenges that were in front of you were pretty daunting. You had the former administration here that obviously made some choices that weren't healthy and put this program into a pretty bad spot. Very bad light. And so, the first task was just to reassure the community, reassure the team here that this program was staying and that it had a lot, a lot of work to do. We had a lot of work to do to prove to everybody that we're trustworthy, that we can do what you've asked us to do and that we're going to provide a service that's rooted in truth and integrity and honesty. And that we're going to provide an opportunity for an offender to serve their jail time here instead of in jail and that it's going to be ran with the utmost integrity."
He said a lot of trust had to be rebuilt because the former administration had destroyed that and that didn't happen over night.
"It took us some time to get there, but I'm thankful that we're here today and that we have a team here that is a solid, solid team and we have rebuilt this program. The foundation is solid. It's moving in the right direction, and it was obviously a good time God saw fit to say, 'OK, buddy, you've done what I've called you to do. You've got it back to where it belongs and it's time for the torch to be passed and it's time for the next generation to take this program to the next level,'" Andrew said.
As of Thursday, his replacement has not been found.
"God's really done probably just as much work in my life over the last 19 years in this field than he has me helping others. So, God's journey and God's plan, I think, is obviously different for all of us," he said.
Andrew then quoted Proverbs, "Man plans his path but God plans his heart."
"Sometimes my path gets a little crooked because of my selfishness, my pride, but God has a way of bringing me back in line," he said. "So I try to heed those warnings."
He and his wife, Joye, recently celebrated 23 years of marriage. They have five children: Tate, Reed, Max, Ben and Lucy.