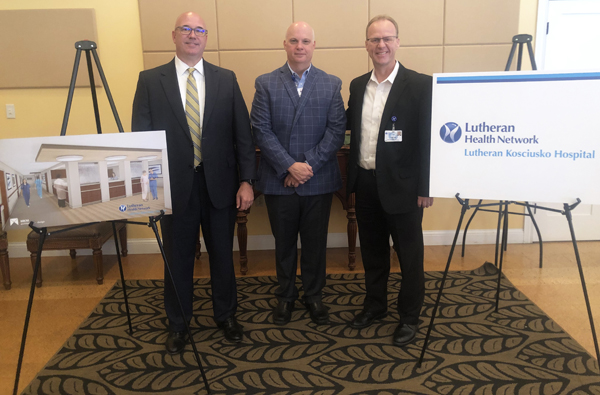 Lutheran Health Network is investing $30 million toward the expansion and modernization of its hospital in Warsaw, and renaming the facility from Kosciusko Community Hospital to Lutheran Kosciusko Hospital.
The investment and name change were announced by LHN leadership Thursday morning to community leaders at a breakfast at Noa Noa.
Scott Teffeteller, LHN chief executive officer, stated, "We're going to invest $30 million into KCH. That's the announcement today." He said the biggest impact will be enhancements to surgical services, including pre- and post-surgical bays. "So, obviously, we need more. This is all about the experience for our patients and for the experience of our caregivers providing the care."
He said they're adding three additional spaces, which will bring the hospital's number of bays up to 23. "The unit will be larger and allow for better patient experience and privacy." There will be more room for family members to participate in the care that the hospital provides.
"The existing operating room is going to be renovated and enlarged, which allows surgeons more space," Teffeteller said.
The sterilization and equipment room will be updated as it needs to be modernized.
"We're also going to focus on patient experience. We're expanding and redesigning the front lobby. I think the front lobby is nice, but we're going to redesign it so it's much more user-friendly and a little bit more for wayfinding," Teffeteller said.
On the inpatient side, he said they'll be doing a complete "refresh" of all patient rooms. There also will be renovations to all public spaces, nursing stations, surgical and intensive care units.
"We're also working on the exterior and help patients get around outside of our hospital," he said. "We're expanding and resurfacing the parking lot."
New campus exterior signs will be added to improve patient wayfinding.
Teffeteller said LHN has been committed and continues to be committed to Kosciusko County and the surrounding areas. "Our patients are at the center of everything we do," he said.
He then announced they would rename the hospital to Lutheran Kosciusko Hospital.
"This will really help to reflect that we are a fully, integrated healthcare delivery system. We have all aspects of continued care from birth to grave. And I don't think the people really recognize and understand how important that is when you need that continuity of care," he said.
The new Lutheran Kosciusko Hospital logo and a rendering of what the hospital will look like were then revealed.
Asked about a timeline for the expansion and changes, KCH interim CEO Denten Park said, "We started the refresh on the inside, it's ongoing now. It'll be over the next two years. It takes a little while to do something like this at hospitals. So over the next two years."
Teffeteller said construction now is a little bit different than it used to be, but they believe they'll have it done in 24 months.
The project will result in an additional 13,600 square feet being added to the 170,000-square-foot hospital, according to a news release provided after the announcement.
Earlier in the announcement, KCH Board of Directors Chair Alan Alderfer provided some history and statistics on the hospital.
"So as the area's only full-service, 72-bed hospital since 1976, we're proud of what we provide to our community. Over the past 10 years, 5,000 babies have been born in KCH. We have provided more than 107,000 cancer visits and treatments. And there have been 198,000 emergency department visits," Alderfer said.
In fall 2020, "we expanded our hospital's heart services to include a cardiac catharization lab. This means patients experiencing serious heart issues can stay close to home for emergency heart care," he said. "In the last 22 months, more than 500 people have done just that."
The hospital's cancer program is "very comprehensive," Alderfer said, "delivering state-of-the-art care, education, patient support provided by our cancer navigators. Our linear accelerator provides access to advanced technology often unavailable to communities our size."
Surgical services also is a major strength with a focus on robotic surgery, general surgery, orthopedics and neurology, he said.
In 2021, Alderfer said, the hospital performed more than 5,300 surgeries, an increase of 12% over the year before.
"Another point of pride is the certified stroke center and heart center facility. The only one in this local area. Because of the advanced care offered in our hospital emergency room and 14-bed intensive care unit, family members don't have to travel far to visit loved ones when they're in the hospital," he said. "We continue to invest in our services, as well as expand access across the region with urgent care services, primary care and specialties."
In the last decade, he said they've added 27 new providers and invested $69.5 million toward capital projects.
"Our overall payroll surpassed $67 million annually, and just last year we paid more than $7.5 million in taxes and provided more than $19 million in uncompensated charity care," Alderfer stated. "When you look at KCH and our 2021 community impact, it exceeds more than $100 million. And given all that we've accomplished and how we've grown, and expanded our services to meet the needs of the community, we are continuing this momentum."
After the announcement, community leaders were elated with the announcement.
Rich Haddad, K21 Health Foundation president and CEO, said, "I was just reflecting with a couple people that back when KCH sold to a for-profit system, the leaders at that time at KCH were wise enough to go, 'We require you to build some of these additional services as part of the sale.' And we're reflecting now and going, 'the cancer center, the women's diagnostic, so much of what makes KCH a more holistic approach to healthcare here came out of those sort of expectations.' The win-win is that K21 has been grantmaking now for over 20 years and KCH has continued to grow and serve our community, so it's really been neat to see that happen and I'm excited for what KCH can over in the future."
K21 was created from the proceeds of the sale of the hospital.
Warsaw Common Councilwoman Cindy Dobbins said of the announcement, "I think it's great. Anything we can do to help improve healthcare within our community so that people can get as much care as possible locally, I think, is really a good thing."
Rick Swaim, Winona Lake Town Council president, said, "What's going on is we're making a great community better in terms of services provided and facilities available for people to come and get the help that they need."
Kosciusko Economic Development Corporation CEO Alan Tio stated, "This is an exciting aspect from Lutheran Kosciusko Hospital about their investments. I think it speaks to the growth in the community, the opportunities we have here with the clear base, with the growing population base, the quality of life amenities. Just really excited to see what they're investing and how they're building on existing partners they have with the school system, with the colleges in the area, with amenities like Bowen Center, and they're just an important part of our community fabric."