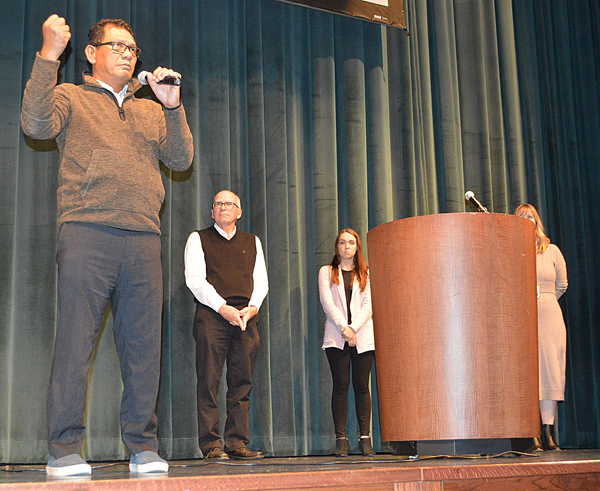 TIMES UNION REPORTS – Up to 100 people attended the community meeting Wednesday night at the Warsaw Performing Arts Center to learn how they can help the Afghan refugees who have been brought to Indiana.
The one-hour discussion – which also was livestreamed – was opened up by retired Warsaw teacher Dick Rooker who said he was moved to do something after seeing the images of America's withdrawal from Afghanistan in August.
"Picture with me, please, people climbing aboard the outside of an airplane taking off from Kabul airport in Afghanistan. Moments later, human bodies are falling to their deaths from the transport plane," he said. "I saw those images on Aug. 16 and I knew a few things: I knew I had never been in any sort of desperate situation, desperate enough that I would think, even for a moment, that my best possible move in life would be to climb aboard an airplane that was taking off I don't know how high, I don't know how far. I also knew, I could and I must help people with that sense of desperation coming to our country, to our state and to our local area."
Representatives of Catholic Charities attended and spoke at the community meeting. Rooker said Catholic Charities is the one government-designated organization assigned to relocate and resettle refugees in this part of Indiana.
After seeing the images of the Afghan refugees on television, he said he and his wife, Nancy, began to explore ways that they could help and they learned a lot.
"We learned 6,700 refugees would be coming to Camp Atterbury 30 miles south of Indianapolis. We learned that refugees are being housed on military bases, only temporarily, and soon will be sent to various communities across the country to be resettled. We learned that each section of the country, each section of each state has a government-designated organization responsible for resettling these refugees. Catholic Charities of Fort Wayne is the one organization given that responsibility in northern Indiana," Rooker said.
He said he and Nancy contacted Catholic Charities; met with a group from their church, Valley Springs Fellowship, who also were eager to help; and met with folks from Sacred Heart Church, who already were learning how to be a help to the refugees.
"Together, we put together this community meeting to explore and learn how our generous and giving community can best serve these strangers in a strange, strange land as they join us as neighbors and friends," he said.
Jessica Durando, of Valley Springs Fellowship, said she was at the meeting because she felt called to help the refugees "coming to us."
"For me, it doesn't feel like an option to do nothing when there's such a great need and I can do something," she said.
Brad Durcholz, Sacred Heart parish liaison with Catholic Charities, told one unique story about an Afghan refugee named Kedmatullah.
Kedmatullah got a computer science degree in Kabul in April 2020. When things started "going crazy" in August 2021, Kedmatullah and his family made their way to the airport, Durcholz said. The family included Kedmatullah, his parents and a sibling.
"When they got there (to the airport), they wanted to get out because they knew things were going to get crazy. They did apply for an emergency visa and did get approval to leave the country, but they had to stay at the airport for an entire week," Durcholz said.
During that week, the Taliban came into the city and things "got really crazy." Kedmatullah and his family knew that things were getting crazy and checked daily as to when they could get leave Afghanistan.
Kedmatullah did make an attempt Aug. 26 to go and find another way out. That's when suicide bombers attacked the airport, killing 60 Afghans and 13 U.S. servicemembers. Kedmatullah was injured badly.
"The crazy part was, as he was injured, he said the Taliban was actually whipping him with cables and chasing him. So he desperately tried to get away from them and then he finally got to the … U.S. military side and they took him in," Durcholz said.
He was taken to a hospital with a pretty bad head wound that night and was stabilized. The next day, the hospital told Kedmatullah he had to leave. His family had no clue where he was.
Kedmatullah got on a plane and was flown to Frankfurt, Germany. His family is still there today, Durcholz said, but Kedmatullah was flown to Walter Reed Hospital in Maryland, then Virginia. Since Oct. 13, Kedmatullah has been in Indiana.
"So, when you hear the story, you have to think, 'Is this crazy or what?'" Durcholz said, adding that there are probably many other stories like Kedmatullah's.
He pointed out that the refugees weren't necessarily here by choice, but we all have to make the best of it.
Catholic Charities Mission Advancement Manager Nicole Kurut said Catholic Charities is the human service arm of the Catholic Church. It serves all 14 counties that make up northeast Indiana and focuses on poverty relief. Over 50% of Catholic Charities' programs help people with basic needs, like utilities, rent, mental health and food.
"Our main goal is to help people become self-sufficient as quickly and efficiently as possible," Kurut said.
Nyein Chan Oo, Catholic Charities director for refugee and immigration services, said before the refugee resettlement program, "Refugee had no place to call home. They are not able to live where they were born, where they have family members, they've left all their family. They're no longer safe," he said.
A refugee about 30 years ago himself, he said his story was like most other refugees' stories. "They had to leave their life behind, their family members, to save their own life," he said.
A person can become a refugee because of their race, religion, nationality, belief in politics or faith, social group or political opinion. A record 82.4 million people worldwide have been forced to flee their homes. In the U.S., the president, in consultation with Congress, establishes the number of refugees by geographic region eligible for admission each fiscal year. The highest level was 207,000 in 1980, and the lowest levels were 11,814 in 2020 and 11,411 in 2021, according to information provided at the community meeting. The refugees do not get to decide where they go.
"There are three things they consider," Chan Oo said. "National security, foreign policy or cost."
Catholic Charities established its refugee resettlement program in 1975 as part of a national effort after the fall of South Vietnam.
Catholic Charities agreed to assist with 75 Afghan refugees, Chan Oo said. Within three weeks, it's already seen 52 people. "No matter 75 we committed to, we said, we're not going to shut the door," he said.
Kurut said Valley Spring, Sacred Heart and a lot of Warsaw community members have gathered around the idea of Warsaw having something to offer to the people coming into the Fort Wayne area. She explained the different ways people can get involved, which included offering permanent housing, volunteering in Fort Wayne with the refugees, providing employment or giving donations.
To host a virtual fundraiser, visit www.bit.ly/ccfwsbfund; Amazon wish list, www.bit.ly/ccfwsbafghan; text to give, text "Give" to 260-264-8634; or provide in-kind gifts of housing, materials, appliances, etc.
The email for more information on helping is warsawafghanhelp@gmail.com.