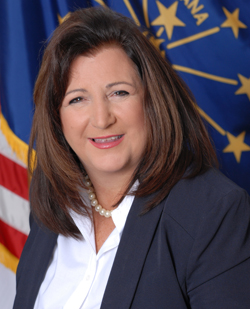 Republican Kimberly Cates announced that she intends to run for re-election for Kosciusko County Council District 1.
She has served in that position since a June 7, 2021, caucus chose her over three others after Councilman Doug Heinisch resigned May 18 because of his work schedule.
In 2017, Cates was selected through a caucus for the County Council's at-large seat after the death of Bob Sanders. She ran for re-election in 2020 but was unseated.
District 1 includes Turkey Creek and Tippecanoe townships, the eastern part of Plain Township and a little more than half of the northern half of Washington Township.
In information Cates provided Thursday, she said the reason she is running is because, "Now more than ever, we need fiscally responsible people on the council. I listen to constituents' concerns and ask a lot of questions. I have been asked to be in the AIC (Association of Indiana Counties) state legislative committee again and excited to see how the  state decisions will affect the county's budget directly. I am informed and involved and hope to serve District 1 this election cycle."
According to her campaign card she provided, Cates has a professional background in business management and ownership, marketing, franchising and tax and is an IRS enrolled agent.
She has served on various boards and committees, including Kosciusko Cancer Care, the Kosciusko County Community Foundation, Syracuse-Wawasee Chamber of Commerce, a daycare, Rotary, Beaman Home and an international conservation organization.
She served the Turkey Creek Township and was the Fire Territory Board president for six years as it initiated Public Employee Retirement Fund (PERF) for firemen and remodeled the fire stations.
As a board member of Kosciusko Economic Development Corporation, she was involved with projects and groundbreaking events in the county, according to her campaign card. "Serving on the agri-business, infrastructure and community development committees, I was blessed to be on a team facilitating growth in new business start-ups, affordable housing, ag business, job readiness and broadband."
As a prior Council member, her card states she was fortunate to have worked with responsible council members, community leaders and attended many meetings such as Michiana Area Council of Government (MACOG), U.S. 30 Coalition, Opioid Crisis Awareness and others. She also attended all of the AIC government educational classes.
"I am a conservative proponent of limited government and do not support laws that would restrict or eliminate local government controls," her card states.
Four County Council District seats are up for election in 2022. Cates is the only person as of Thursday who has announced they are seeking the District 1 seat.
Retired State Rep. Dave Wolkins has announced he will seek the District 4 seat as Councilman Jon Garber announced he would not seek re-election.
Also not seeking re-election in 2022 is District 3 Councilman Ernie Wiggins. Two Republicans – Scott Clay, 24, and Tony Ciriello, 61, have announced they will seek the Council seat.
District 2 Councilman Mike Long reportedly will seek re-election.
No Democrats, Libertarians or Independents have announced their candidacy for the Council seats yet.
The other three Council members are at-large members and were elected in 2020. They include Sue Ann Mitchell, Joni Truex and Kathleen Groninger.