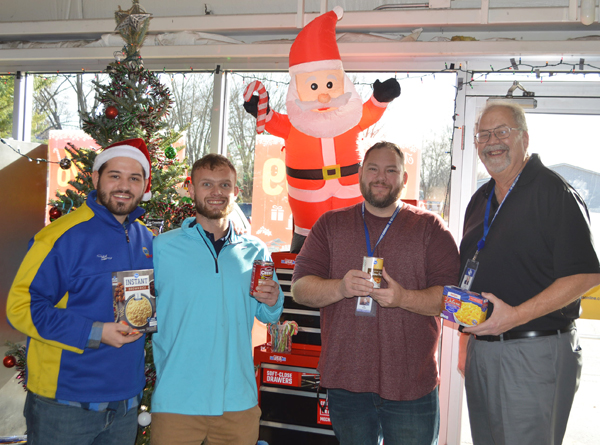 NAPA Auto Parts is bringing Santa Claus to its Warsaw store on Dec. 11 to help Combined Community Services assist those less fortunate this Christmas.
And the need is big again this year, according to CCS staff.
In 2020, because of the COVID-19 pandemic, CCS Director of Emergency Assistance Tim Frame said they saw record numbers.
"There was one month last year, right in the middle of the pandemic, where we served nearly 700 families in one month. We are seeing those numbers again this year. We just wrapped up November and we are well over 600 families served in November," he said.
With the rising costs in everything, he said that presents a new level of challenges for families.
"Every year, it just seems like there's another obstacle in our way, but we're always here to make sure we get through them together," Frame said.
CCS Executive Director Randy Polston said at this time of year, people are just wanting to reach out and help any way they can.
"Between food and utility assistance and coats – Kerlin did a coat drive and we're almost out of kid coats already, we're putting out a call out there to help us with kid coats, those go out really fast – there's such a need in our community and people like NAPA reach out and want to make a difference. It's fantastic," Polston said.
NAPA Regional Marketing Manager Scott Clay said people can bring their children to NAPA on Dec. 11 from 9 a.m. to noon to meet Santa.
"Santa will also be bringing a few events to families in need," he said. "Please message NAPA Auto Parts on Facebook with your child's wishlist and Santa might just have a gift ready for you when you get here."
To meet Santa, bring one nonperishable food item for CCS.
Clay said this was a new event for NAPA.
"We have not done this before. We were thinking of different ways we could get involved in the community and just continue to help bring good to the county, and we decided what better way than to bring Santa to NAPA and have a food drive so that everybody can keep full tummies."
CCS has a number of programs going on this month.
Frame said, "Right now, we are right in the middle of Adopt A Family, so we've had families in need that folks have reached out to us to adopt for Christmas time. So, that program is going to be wrapping up in the next couple of weeks right before Christmas."
Toy Time also is coming up in a couple of weeks at the fairgrounds.
"We will accept toy donations and it's a consignment sale. We will take those toys, we will get those sold and then we'll actually sell those toys for new toys and give those toys out to kids in need for free," Frame stated.
People can drop off used toys from Dec. 13-16 from 9 a.m. to 9 p.m., according to the Toy Time Facebook page. The toy sale will be from 9 a.m. to 9 p.m. Dec. 18 and 9 a.m. to 3 p.m. Dec. 19. The toy giveaway is then from 9 a.m. to 9 p.m. Dec. 21 and 9 a.m. to 3 p.m. Dec. 22.
Frame said during this time of year, when it's colder outside, people are in need of utility assistance.
"We know with the rising prices, with electricity and heat and things like that, there's always a need for that at this time," he said.
Polston gave a shoutout to Kettleheads, the local homebrew club, and the club's president, Jason Rich.
"Jason Rich and Kettleheads consistently want to help Combined Community Services to impact lives. He reached out to me earlier this week and they're going to have another event this weekend. They're brewing and he said, 'Can we donate more food to the food pantry?'" Polston said. "I said, 'You know what, we have been blessed so much right now with food because of the elementary schools and now Edgewood Middle School, we had so much food come in like that, but I said utility assistance, we need monetary donations to help us build the utility assistance back up because, as Tim said, gas prices are going through the roof, heating seasons is now here, so those are other ways. So Jason jumped on that and they're having an event this Saturday as well."
Frame said monetary donations are important as well. Tippy Creek Winery provided a donation Thursday, he said, and that was great.
Another way to donate is to go to CCSgives.com and give through that website.
"Also, keep in mind, this is the holiday season, the giving season, and folks in this community have really stepped up, but, honestly, when we get into January through May, that's our slow giving season. So if folks want to even wait until after the holidays to give, that's a perfect opportunity to give. That's when we start running low in the food pantry, that's when funds start running out for utility assistance, so there's never just a perfect time to give. It's all the time," Frame said.
Polston stated, "Needs don't go away. They keep hanging out there."
If you should find yourself in need, Frame said, "I always tell folks that no one is immune from hardship. Everyone is just one moment away from needing help, and you can come see us at Combined Community Services."
The food pantry is open 9 a.m. to 4 p.m. Mondays, Tuesdays and Thursdays.
"You can also reach out to us for utility assistance and things like that. Coats. And we have more seasonal events coming up in the spring, as well, so stay tuned and we'll make those announcements soon," Frame said.
Clay added that at NAPA's Syracuse location, they're working with the Syracuse food bank and Main Channel Marina to purchase a full cow to donate so meat can be restocked at the Syracuse food pantry. He said they've been challenging businesses to donate money to purchase the whole cow. Anyone interested in helping with that endeavor can contact Clay at NAPA or Main Channel Marina.