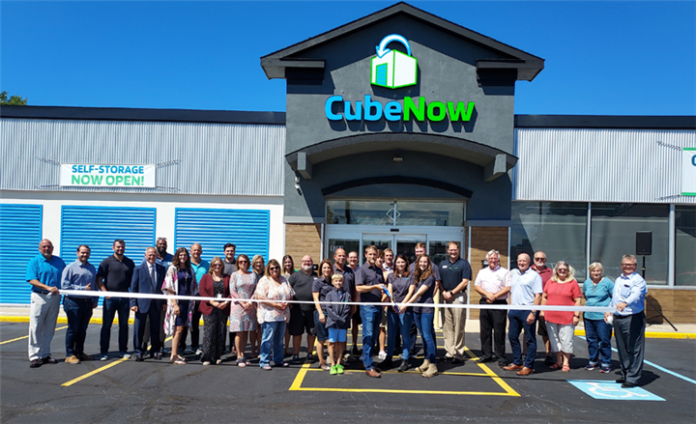 CubeNow Self-Storage, 1701 E. Center St., Warsaw, had a ribbon-cutting ceremony with the Kosciusko Chamber of Commerce Thursday before it officially opened.
There are about 230 climate-controlled units with 25 or 30 units already rented since a soft opening about six  weeks ago, said Dean Avey, of Swift Group, which owns CubeNow.
Before the soft opening, there was Beta testing, where all the bugs in the system were worked out since there's a lot of technology integrated in the system at CubeNow from the security systems, front door locks and individual units.
The units range in size from 5 feet by 5 feet to 10 feet by 10 feet. When you find climate-controlled units, people are usually trying to find small, safe spaces to put things like family memorabilia, he said.
People can sign up for the units at cubenow.com. Avey said people can sign up for the size of unit they want, review the terms of agreement and sign the lease. Once the process is complete, a digital key is sent to the person's phone, which lets the person into the facility and their unit or units.
Prices are $45 a month for  a 5 by 5, $64 for a 3.5 by 10, $75 for a 5 by 10, $100 for a 6.5 by 10, $110 for an 8 by 10, $115 for a 10 by 9 and $100 for a 10 by 10, according to CubeNow's website.
The facility is open for use between 6 a.m. and 10 p.m. daily.
CubeNow is where the old Ace Hardware used to be. Avey said a lot of renovations had to be done to get the building where it is now since the building sat empty for about three years. Renovations included a new roof and the interior was redone, including new concrete flooring. Avey said a lot of work when into the interior, as well as the facade of the building.
He said Swift Group has a passion for fixing up properties that have been ignored for a while, so the company was excited to find a new purpose for the building.
Avey talked about the benefits of having climate-controlled storage units at the Center Street location.
"There's very, very few (indoor facilities) in the community. So there's quite a few outdoor units, but hardly any that are indoor climate-controlled," he said.
Being in the center of town adds to CubeNow's convenience and people want convenient storage, he stated.
Outdoor storage doesn't have any climate control, while CubeNow's units are always "maintained to a comfortable temperature," Avey said. The indoor units are good for things that people don't want exposed to high heat, such a family photos or furniture.
Avey said he hopes people can find how convenient CubeNow is and it becomes an asset to the community.