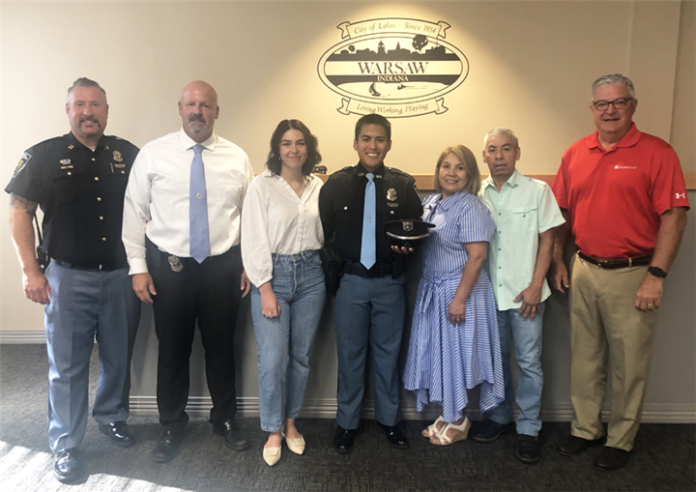 Alvaro A. Aguillon hit a few milestones this past week.

He and his wife Kendall just celebrated their three-year anniversary on Tuesday.

Friday, Warsaw Mayor Joe Thallemer gave Alvaro the oath of office as a Warsaw Police Department officer. The oath is taken upon initial hiring, but symbolizes the completion of the probationary year, according to information provided by Capt. Brad Kellar, WPD public information officer.

Before the swearing-in ceremony, WPD Chief of Police Scott Whitaker said Aguillon has been with the department for one year so he's off his probationary period, thus the ceremonial oath of office on Friday.

"We're excited to have brought him on. Alvaro completed the (Indiana Law Enforcement) Academy this year, in April," Whitaker said, with Academy class 226.

Class 227 was graduating Friday, so Whitaker said he and Kellar would be heading down to Indianapolis for that graduation as three more WPD applicants are graduating.

Whitaker said WPD was excited to have Alvaro, as he was, to get off probation and become a first-class patrol officer.

"It gives you just a different level of standards and employment rights, so it's an exciting day for him and his family," Whitaker said.

Thallemer said it's always a real honor for him to be able to give the oath of office.

"I know how hard you've worked. The family support that you've got. Your team members are here behind you as well. It's a really important day," Thallemer told Aguillon, then proceeding to give him the oath.

Aguillon then introduced his wife, Kendall; his mother, Marta Beltran; and his father, Alvaro Aguillon.

As a first-class officer, Aguillon will continue to serve on the afternoon shift where he enjoys the interaction with the public and the busy call schedule, according to Kellar's information.

Aguillon is a lifelong Warsaw resident, a Warsaw Community High School graduate and attended Grace College and Ivy Tech.

WPD is still seeking a few officers to get to full staff and encourages anyone with interest to fill out an application online at warsaw.in.gov, according to information provided.