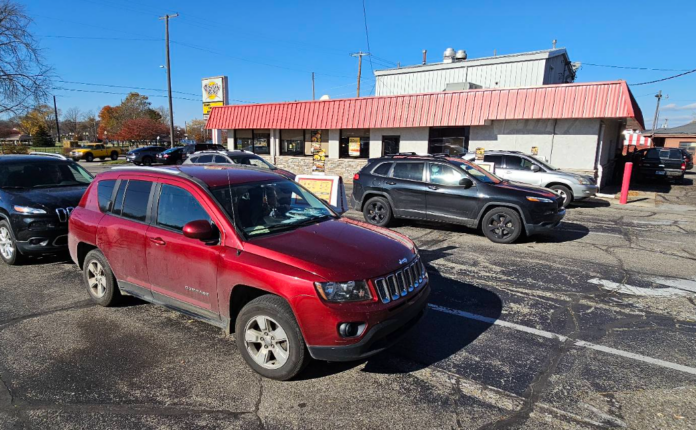 By Dan Spalding
News Now Warsaw
WARSAW — The sudden announcement Friday that Penguin Point would close its remaining stores in northern Indiana caused a frenzied reaction as fans of the "People Pleasing Place" rushed to get a final taste of their favorite menu items.
All of the remaining stores were expected to close on Sunday, but much of that depended on how much, if any, food would still be available.
Word spread of the closing though Facebook and other media and quicky led to long lines in the drive-thru and a quick depletion of menu items at some stores, including the North Detroit Street store in Warsaw.
It was unclear exactly how many stores were involved in the closing.
An employee at North Detroit Street confirmed the closings of all stores had been announced Friday morning, but she was unsure how many that involved.
Drive-thru lines had numerous vehicles lined up to place orders shortly after 1 p.m. on North Detroit Street and employees were trying to keep updated on what food choices were will available.
Workers were scurrying around in the store trying to fill orders and keep on top of items that were running out.
The announcement was the culmination of tough struggles for the company in recent months and came after a handful of other closing were made earlier this by by the chain. that  
Connie Phillips was in line along with eight or so other customers after learning of the closing on Facebook.
She said she's been a fan for 15 years and rushed out to get a Big Walley and french fries, but was told they were out of both items.
She heard the Columbia City store had already closed.
She said the news was "sad."
Inside the store, Lindsay Frazier, 24, a former employee of the company, was waiting to get a tenderloin with extra cheese and mustard.
She worked  previously during a two-plus year period at stores in Cloverdale and Syracuse as well as the restaurant on Center Street in Warsaw.
"When I worked over at the Lake Street location, it was a really close-knit group, so it's really sad to see it go," Frazier said.
She said she wasn't that surprised.
Below is a statement from management.