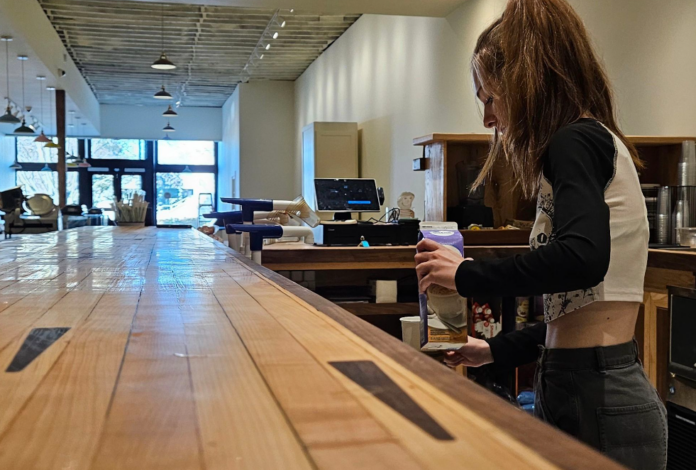 By Dan Spalding
News Now Warsaw
WARSAW — "Courthouse Coffee" has reopened in its original location across from the Kosciusko County Courthouse in Warsaw after three months of existing in a temporary location during extensive renovations that have transformed the business space.
The coffee shop, most recently known as the "Courthouse Coffee on the Square," is paired alongside a new urban grocery concept. Changes are about 99 percent complete.
The coffee shop in the back of the store reopened for business at 7 a.m. Friday.
The market, in the front, will include a large variety of grocery items as well as meals for breakfast and lunch — all of which will be available within a few weeks.
The new arrangement came to life after coffee shop owner Travis McConnell teamed up with Jason Brown, owner of One Ten Craft Meatery, located next door.
The combined business will be known as B&B Courthouse Market.
The potential for such a store came to light during conversations involving the Hyett Palma study, which pointed to the lack a market-style space in the downtown, Brown said.
Brown and McConnell said they believe the business can help overcome the lack of a nearby grocery store on the west side and also cater to the large number nearby daytime workers, many of whom from Lake City Bank and Zimmer Biomet.
The Buffalo Street property was gutted and includes new flooring and exposed ceiling, as well as new gas and electrical lines.
The interior is also much brighter than the previous environment, spruced up with fresh light-colored paint by Tim Ellis.
It also has an overall larger footprint achieved by expanding into a previous storage area further in the back.
"It's a rebuild. We basically changed everything," McConnell said. "Like, what did you not change?"
The business will have two distinct areas. The market will include a lunch counter and 42 feet of display cooler space, Brown said.
The coffee shop features a long custom-made countertop constructed by Nathan Wilson that uses wood from an old bowling alley in Muncie.
"We figured out we could kind of blend the two worlds and create this city market environment where not only is it a place you can you come get food, but its a place to come hang out, a place to bring your laptop and get a cup of coffee, get breakfast, get lunch," Brown said.
"On the other end of the world, after work, you can swing by, get your late afternoon coffee and get some groceries for dinner," he said.
The grocery will have a feel of a a big city market, McConnell said.
Foods will range from eggs, bread, dairy, deli meats, and cheeses, as well as seafood, beef, pork, chicken, duck, lamb and goat, Brown said.
Guests can choose from a sit down menu that will include breakfast sandwiches, pastries and deli foods, salads and soups.
Wine and liquor will also be available.
The market will also employ a butcher.
The business, Brown said, is intended to accommodate a wide variety of people.
"You'll have everything from commodity-style items all the way up to high-end items, but it won't be one environment. It's gonna cover all demographics," Brown said.
Below are some before-and-after photos provided by Travis McConnell.