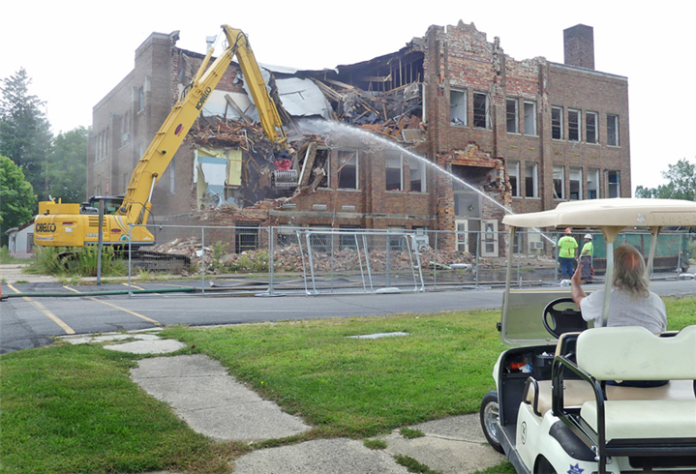 SILVER LAKE – Demolition of the former Silver Lake Elementary School, 202 E. Sycamore St., began Tuesday morning.
Advanced Demolition Services, out of McComb, Ohio, is doing the demolition, which is expected to take about three weeks from start to finish, according to Silver Lake Clerk-Treasurer Tonya Conley. Advanced Demolition had the winning bid for the work for $174,750.
Previously, a mason had taken the bricks off the building that the town needed to save per agreements the town had with the Indiana Department of Natural Resources Historic Preservation Department. The bricks off the front of the building will be included in any new building or a memorial on the site.
Windows also had to be removed by a special service before the demolition started because the windows had asbestos in them, Conley said.
The town plans to build a community center on the site.
"It's going to be an ongoing process and will probably take a few years," Conley said.
The town intends to seek a planning grant from the Indiana Office of Community and Rural Affairs to pay for an architect to draw up plans for a community center.
According to a previous Times-Union article, the school opened in 1930, teaching all 12 grades. The cost of the building was about $88,000. The school stopped being a high school in 1966 and was exclusively a grade school until it was closed.
Conley acknowledged that many people have sentimental memories of the school and the people there, but the building needed to be torn down, though it's sad for many to see it come down. Hopefully, she said, once the community center is up and people begin using that, new memories can be made.
In September 2003, Warsaw Community Schools voted to close Atwood, Claypool and Silver Lake schools in 2004. In 2008, the Warsaw School Board decided to reopen and renovate Claypool, build new Madison and Leesburg elementaries and renovate and expand Jefferson Elementary. The site of the former Atwood school became a park and walking trail.
Silver Lake Partners LLC eventually became the owners of the Silver Lake Elementary School property, but despite talk about having a charter school at the location or renting the gym out for community events, nothing ever materialized and the building became dilapidated over time.
Town meetings were held in 2012 on the school building, and there were rallies to save the school, but by 2020, the owner and the town came to agreement for the town to take ownership of the building after taking the matter to the courts. Nine bids were opened in March 2022, with Advanced Demolition Services awarded the demolition.