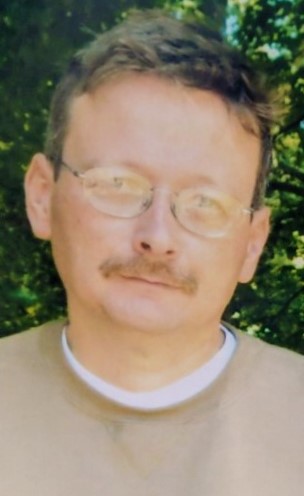 Mark DeWayne Sprong, 63, of Leesburg, died at 5:30 p.m. Saturday, Sept. 3, 2022, at St. Francis Hospital in Indianapolis, where he had been since July 17.
He was born April 2, 1959, in Warsaw, to Ralph and Evelyn Curtis Sprong. On Nov. 25, 1988, he married Deborah Ann McAuliffe, who survives. Mark graduated from Tippecanoe Valley High School in 1978 and earned an associate degree in photography from Ivy Tech. This led him to jobs with Slidecraft and the lab at Gene's Camera Store, both in South Bend, and as a photo lab manager in Goshen. He later worked at Printing Plus and retired from Tri-Namic Printing Co., both in Warsaw.
He had attended Warsaw Wesleyan Church and Bourbon Bible Church.
Mark grew up hearing he would never live to be an adult, but God gave him time for plenty of adventures: skiing in Europe; skydiving, with 23 jumps; motorcycles, camping, boating and canoeing. He and Deb drove to see lighthouses across the Great Lakes, the east coast and Canada, including one they stayed at on Prince Edward Island. They enjoyed traveling and RVing, and spent the last three winters in Florida.
Mark had a knack for fixing just about anything. He could tear something apart until he found the problem and get it running again.  After he retired, Mark loved watching how-to videos on YouTube. He also enjoyed tracking down treasures at online auctions.
Time had little meaning for Mark, he was often late, usually because he was talking to someone. He made friends everywhere he went; even over his many hospital stays he was known by the nurses and other caregivers for his kindness and his sense of fun.
Survivors include his wife, Deborah Sprong, Leesburg; a sister, Lona McKay, Warsaw; a brother, Rick (Faith) Sprong, Clunette; four nieces and nephews: Gretchen (Scott) Powell, Warsaw; John (Lena) McKay, South Bend; Kelly (Bo) Barasa, Elkhart; and Caleb (Chelsea) Sprong, Lake Stevens, Washington; nine great-nieces and nephews; and a special aunt, Martha Molebash, Warsaw.   He was preceded in death by his parents; his stepmother, Shirley Sprong; a sister, Candy Chupp; and a great-nephew, Michael Goble.
Mark's life will be celebrated with a service at 2:00 p.m. on Thursday, September 8, 2022 Redpath-Fruth Funeral Home, 225 Argonne Road, Warsaw, Indiana and officiated by Pastor Larry Goss.  A graveside service will follow at Leesburg Cemetery in Leesburg, Indiana.  Friends and family may visit prior to the service from 10:00 – 2:00 p.m.
Memorial donations may directed to Bourbon Bible Church – Missions, 2002 12th Road, Bourbon, IN 46504.
Online condolences may be sent through the funeral home's website at www.redpathfruthfuneralhome.com.