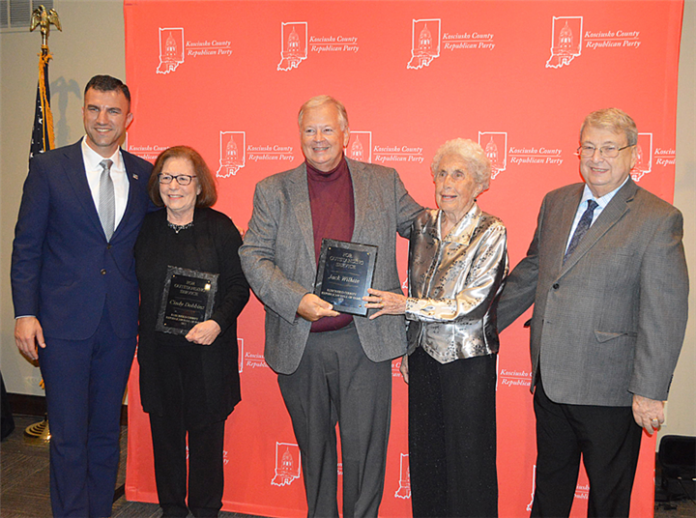 NORTH WEBSTER – Two Warsaw Common Council members were named Woman and Man of the Year Tuesday night during the Kosciusko County Republican Party Hall of Fame Dinner.
Cindy Dobbins received the Woman of the Year honors, while Council President Jack Wilhite was bestowed the Man of the Year title.
Before the award recipients were named, former GOP Chairwoman Jean Northenor presented a history of the Hall of Fame Dinner and the Man and Woman of the Year awards.
She said the awards were presented to say, "Wow! What a good job you've done at whatever job you have. It might be somebody who sweeps the floor, somebody's got to clean that place. It can be anybody from any position in any office throughout Kosciusko County government. So that can mean cities, towns, townships, it's been everything. And I've never been more proud of it, it goes on every year."
She said most of the time, people out in the county don't know the people in various offices of government and many times have no reason to go into the courthouse. "But there's somebody in there every day I'll guarantee you in the courthouse or a township or a city or a town that's doing a job for them," Northenor said.
She said the award recipients are kept a secret and the county party chairman chooses them from the "knowledge they have throughout this county of who wins these awards. Nobody helps him pick. He's got to pick the two people that he has noticed is making the biggest difference in government at any level in this county to be awarded that tonight."
Current Republican Party Central Committee Chairman Mike Ragan said citizenship is something that is really looked at. "Not just being a good Republican, but a good citizen, and the Woman of the Year probably loves Warsaw more than anybody I know, and she's been involved in about every civic organization that has to do with that, plus she's been heavily involved with the party. She's held elected office in the Women's Club, she's precinct committeeman, she's involved in just about everything we do."
Northenor then read Dobbins' name, which was greeted with a standing ovation.
"This is just overwhelming," Dobbins said. "It's been such a privilege to do everything I've been able to do. There's been so many people that have helped. I'm overwhelmed. I really am."
Moving on to the Man of the Year Award, Ragan said he had similar qualifications.
"He is a servant. He has a servant's heart. He has been involved in Kosciusko County Republican politics for many, many years. He even elected a mayor with his one vote once as a precinct committeeman. And he's been a great friend to me. Has been to about every caucus that we've done, and I think we've had about 40 in the last few years. We've got five more coming before the end of the year," Ragan said.
He said the Man of the Year is a "true Republican, a true citizen. He loves his country, he loves his community."
Northenor then read Wilhite's name as the award recipient.
"I don't have words," Wilhite said at the podium. "I only have one regret: That it's not the Jean Northenor Man of the Year."
Earlier, Ragan said this was the last year for the Man and Woman of the Year awards as next year they will be called the Jean Northenor Man and Woman of the Year awards.
"But seriously, folks, I appreciate this very much. Thank you," Wilhite concluded.
The Hall of Fame Dinner was held at The Owl's Nest, 7369 E. CR 800N, North Webster.